Palakkad to Bangalore – Quick Review Of KSRTC's 12M TATA Super Express Air Bus by vanderlust on BCMTouring.
From: Palakkad KSRTC Bus Stand
To: Silk Board Bangalore.
Bus: Kerala RTC Tata 12 m Super Express Air Bus .
Schedule: 2100 Thrissur Bangalore- KL 15 9196
Scheduled departure: 2230
Actual Departure: 2305(Acceptable considering heavy rains and poor roads)
Scheduled Arrival:0645
Actual Arrival: 0550
Distance: 402 kms
Time: 06 hours 45 minutes
Fare: Rs 388/-
Seat No: 52
Total occupancy: 55/55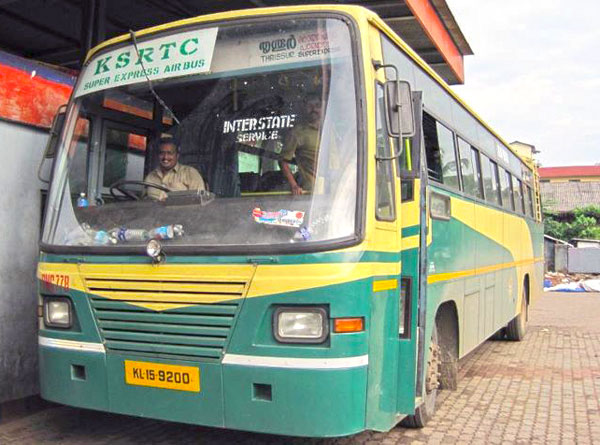 Points:
Reached KSRTC Bus stand at 10 pm- the 2000 Tsr-B'lore Express had just pulled in then
At 10.45 Kottayam Express and Kottarakkara Deluxe came in one after the other for refuelling.
My bus came in at 11 pm, about 10 of us boarded from Palakkad and bus departed in 5 minutes.
This bus offers excellent leg space and an 'ok' recline. You may not have an uninterrupted sleep.
The bus ran non stop from Palakkad to Bangalore.
The driver was ruthless even on bad stretches of road. Even though the bus has a rear air suspension, it did not dampen the impact of potholes as the driver rarely slowed down on gutters.
The bus overtook many cars and even some Airavat b7rs
The driver was ripping the engine to its maximum capacity, engine noise was fairly audible inside the bus..
As i got ready to get down at Silk Board and walked forward from my last row seat, i realised that vibrations could be felt towards the front end. And the ones sitting in the first row can even feel the heat radiation out of the engine. Therfore ideal seats to travel- 25 to 40.
The conductor confirmed that our bus had overtaken the Kottayam Express and Kottarakkara Deluxe on the way.
Got dropped at Silk Board at 5.50 am- a total travel time of just 6 hours 45 minutes from Palakkad to Bangalore which is almost at par with a Volvo !
Overall it was an 'okay' trip- not so comfortable but still good enough- This service is recommended if you fail to get tickets in the regulars, provides more VFM than the Airavat b7r special services.
Looking at the way the drivers are ripping the engine, the buses may need replacement within an year..
Ratings:
Bus Quality-3.5/5
Comfort-3/5
Punctuality-5/5
Staff-5/5
Driving-3/5