Air Arabia is an Emirati low-cost airline with its head office in the A1 Building Sharjah Freight Center, Sharjah International Airport.
The airline operates scheduled services to 170 destinations in the Middle East, North Africa, the Indian subcontinent, Central Asia and Europe to 22 countries from Sharjah, 28 destinations in 9 countries from Casablanca, Fez, Nador and Tangier, 11 destinations in 8 countries from Ras Al Khaimah, and 6 destinations in 4 countries from Alexandria.
Air Arabia's main base is Sharjah International Airport. There is also a hub in Ras Al Khaimah , Abu Dhabi and focus cities in Alexandria and Casablanca Air Arabia is a member of the Arab Air Carriers Organization.
Air Arabia was established on 3 February 2003 by an Amiri decree issued by Sultan bin Muhammad Al-Qasimi, the Ruler of Sharjah and member of the Supreme Council of the United Arab Emirates, becoming the first low-fare airline in the Middle East. The airline started operations on 28 October 2003 with the first flight from Sharjah, UAE to Bahrain International Airport. The airline was profitable from the first year of being in business. It launched an initial public offering for 55% of its stock early in 2007.
In March 2014, Airbus delivered its 6000th A320 family aircraft to Air Arabia.
Air Arabia launched in October 2003 and was the first low-cost carrier in the Middle East. The airline was listed on the Dubai Financial Market and traded under ticker symbol is now a holding company with assets worth over AED 10 billion. The airline began generating a profit in the first year of operation. Air Arabia today consists of a group of airlines and companies offering travel and tourism services across the Middle East and North Africa.
The headquarters is in the Sharjah airport Freight Center,[8] on the property of Sharjah International Airport. The airport is 15 kilometres (9.3 mi) away from central Dubai.
Air Arabia has had the same livery design since its founding in 2003. The aircraft body is painted in three different colors red, grey and white. The tail and each aircraft engine bear the company logo of Sharjah in the form of a bird.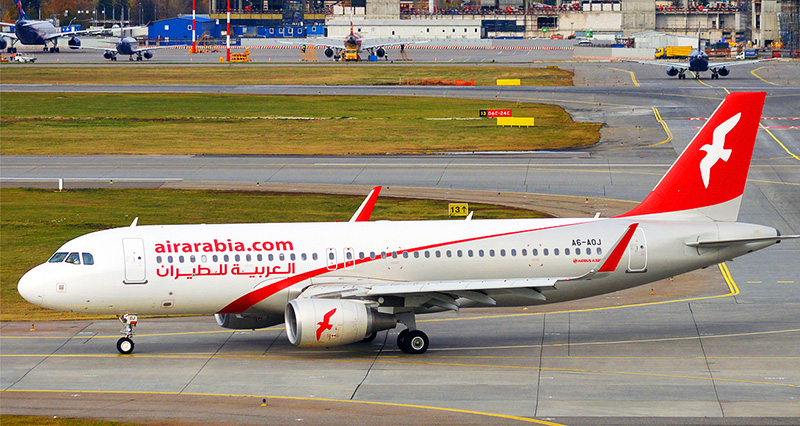 Celebrating their 15 years of service in October 2018, a new livery has been introduced and will be applied to the fleet progressively. It features a large red bird logo coming down from tail to rear fuselage with grey accents behind its wings and billboard style AirArabia title in English on the front of aircraft with small Arabic title placed next to it above the windows, bird logo also adorns the engines while title in applied on red winglets.
In 2015 Air Arabia rolled out the AirRewards program, the first loyalty programme by a low-cost carrier in the Middle East and North Africa region. The AirRewards model is based on the price paid towards Air Arabia services rather than the distance of the flight. This cashback loyalty program offers up to 10% cashback as points, maximum flexibility when redeeming points, with the availability of a variety of payment and reward options, without any blackout dates or limitations on availability. Points can be earned and shared with anyone, AirRewards points act like a currency.
Air Arabia is one of the few airlines which does not serve alcoholic beverages on its flights.
Air Arabia has not had any fatal accidents or incidents and has a very good safety record.