Various weird and wacky Maruti 800s
The Maruti 800 is a legendary car. The icon put much of India on four wheels and was around for nearly 3 decades, dominating sales charts until it was killed by Maruti itself. From the lofty heights of the Himalayas to the beaches of the south, Maruti 800s have been ubiquitous.
Along the years, plenty of people have exercised their creativity on the 800. While this has produced some tasteful examples, most others strictly belong to the weird and wacky side of design. Today, we bring you 10 crazy, modified Maruti 800s.
When your family gets larger but you just can't bring yourself to upgrade to a larger car, what do you do? You just stretch your Maruti 800, like this. Yes, this limousine based on the 800 indeed exists in India.
And someone decided to make a widebody version of the 800 but just sticking two cars together, cheek by jowl.
If you've been to the hilly areas of India, where even SUVs struggle, you'd have come across little Maruti 800s and Omnis bustling about comfortably. A fan of the Maruti 800, Pankaj Tegta, in this case, built himself a nice little SUV based on the 800.
You don't need to have a Lamborghini to have those oh-so-lovely, show stopping scissor doors. Even the Maruti 800 will do. Just make sure that you get it painted in canary yellow while getting yourself scissor doors.
And here is one more convertible, made of wood. A carpenter from down south built this example when his friends told him that he couldn't make one. Now, that's an ornate looking car, perhaps the most ornate that the 800 has ever looked.
And here's yet another convertible based on the 800, and perhaps the best looking one due to its sheer simplicity. Such designs sometimes make you wonder, why couldn't Maruti do one?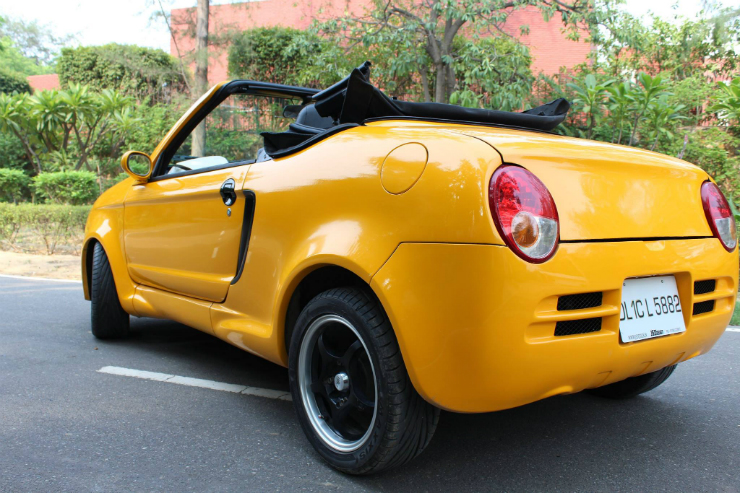 And why buy a Gypsy while you can have something like this for your jungle safaris, And we can't quite place what to call this weird and wacky, two seat, open top example of the Maruti 800 that actually looks like a Swift with its top down.
Disclaimer: Kindly avoid offensive, derogatory, unlawful and lewd comments while responding to reports. Such comments are punishable under cyber laws. Please keep away from personal attacks. The opinions expressed here are the personal views of readers and not that of Aanavandi.