This trip occurred on April 8, 2012, and it broke the record of my FASTEST journey to Kerala.The Bangalore-Ernakulam Airavat Club Class Multi Axle Volvo marked my fastest trip to Kerala in 2011 February (9hrs from end to end), and it stood strong for 14 long months. This journey in Garuda was completely unexpected, so ticketing was obviously done only 3 hours before departure. I initially planned of going by Thiruvalla Deluxe but chose this bus itself due to early arrival time (Around 02.45 in the morning).
Due to late booking, I had to choose Madivala as my boarding point.I started from my home at Marathahalli around 16.00. Quickly got a 500C Volvo and took a ticket to Silk Board. The bus was more than half empty. Around Bellandur, the bus got a tyre puncture and the crew decided to make it up to Agara, where they shifted the passengers to another bus. It was around 16.40 when we reached Silk Board. I didn't know then that buses won't stop near the flyover. Many buses went non-stop, but after all, one 365c Volvo stopped.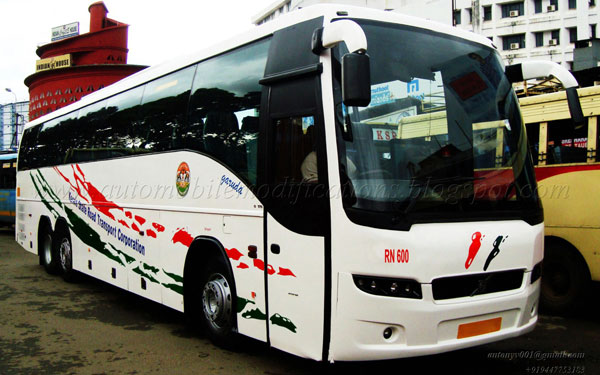 At last, we reached St. Johns Signal at 17.10. Around 20 minutes were simply wasted, but enough time was left for the arrival of my bus. Slowly, I walked over to Koramangala Road, and started the long wait for the bus. A lady standing there asked me if was going for the Garuda. I replied affirmative, and she asked me the arrival time. I said 17.30. I then decided to call up the conductor and enquire about the position of the bus, but the call went to Trivandrum-Bangalore bus. The other number was switched off.
Around 17.15, the Bangalore-Ernakulam Super Express came with '2' passengers on board!!! The conductor shouted 'Salem, Coimbatore' but no one got in. The bus left soon. There was a flow of buses to various parts of Tamil Nadu as well as some Airavats heading to Chennai/Tirupati. The clock ticked past 17.30, but there was no sign of my bus. The flow of Tamil Nadu buses and BMTC continued, and a Suresh Kallada Non AC bus also passed. Time moved on to 17.40 when I got caught of an old white beauty approaching, which was indeed my bus. The bus was RA 101 of TVM depot, as I expected. I was travelling in this bus for the second time. Boarding started immediately, and the Conductor made me to place my baggage in the luggage cabin.
We started off at 17.45, and made a good run ahead. There was moderate traffic, but the bus managed to clear them off with ease. Driving was beautiful, not rash but speedy. We crossed Silk Board Flyover quickly and soon were on the Elevated Highway. We overtook a KPN Multi Axle then. Speeds went up to 95 Kmh in Elevated Highway (GPS Data). There was mild traffic at Electronics City. We picked up the remaining passengers there. The bus was 100% full for a Sunday!!! The crew started playing the movie 'Dheera' which was the dubbed version of Telugu Flick Magadheera. I couldn't watch the movie properly due to a severe head ache.
The driver continued his heroic F1 skills, almost doing 3 digits wherever possible. We crossed the border around 18.15, only half an hour from Madivala!!! Hosur Town was passed eventless, with exception of overtaking every TNSTC buses ahead. It started getting dark; I tried to doze off to eliminate headache, and eventually it went off. Actually, it was not a simple headache but a severe attack of Sinusitis J which I learnt it from the doctor I consulted the next day, due to severe headache during day hours. However returning to trip events: The driver was going as fast as he could, we passed Krishnagiri at 19.30 and Dharmapuri at 20.15. Speeds increased after Dharmapuri, and it started pouring down for quite some time.
We pulled into a small wayside Hotel around 20.45 at Thoppur for dinner. I took food, and returned to my seat. We resumed the journey at 21.15. The movie got over after some time and the curtains were pulled down. I slept off after some time, but woke up when we were on to NH-47. The roads were practically empty, and the driver was making the best of it. I dozed off again, but my eyes automatically opened as the bus hit a rough patch on the Avinashi-Mannuthy Road, around 22.45. I was surprised at this-we were nearing Coimbatore and still it was not past midnight!!!
Somehow I had a not very well sleep till Mannuthy. We passed Walayar at 23.35, and entered the God's own Country. The bus kept going, and we reached the first drop off point – Chandra Nagar at 00.10. No one got off here. The worst roads kept irritating me all the time. Lights were switched on near Mannuthy around 01.20 and the conductor shouted 'Thrissur, Thrissur'. I was glad that the bus stopped at Mannuthy to drop off passengers. Going inside Thrissur is a waste of time indeed for Trivandrum bound buses.
We entered the best road in Kerala soon-Mannuthy-Aroor National Highway. I slept off soon, and woke up as we reached Edappally. One family got down here. I took my bags and went towards the door after Pipeline. Finally I was dropped at Vytila Jn around 02.10, only 8 hours and 25 minutes taken for the journey!!! I got an Auto quickly and made into home by 03.00, total of 11 hours from home to home.
The Garuda is such a wonderful product, worth of money. If they starts more services or atleast conduct this service properly, passengers to the South could be benefited like anything. And here I end this post, stay tuned for updates…….:)
Source: Journies Of Life Time