Karnataka State Road Transport Corporation (KSRTC) has launched a new online Live Support 24/7 service on its website www.ksrtc.infor public to avail online real-time support for any queries on booking/cancellation of tickets.
Speaking at the launch, KSRTC MD Manjunatha Prasad said "We want to keep the customer at the heart of everything. Our goal is therefore to establish an online communication channel that would truly enhance the website experience for visitors", he said.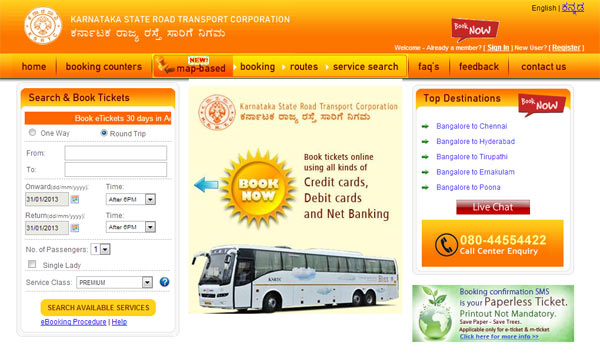 The online chat service will be made available on KSRTC website 24*7 to interact with visitors. In case the passenger has a query, one click on the 'LIVE CHAT' button in the website immediately connects the former with a customer support agent via the website. With this service, customers will now be able to chat with the customer support agent about information related to bus routes, online booking process, bus timings and even discuss problems that they have encountered during the journey.
With KSRTC customer base increasingly being tech-savvy, having a live chat on a website will help customers to get their job done faster. The new chat service on KSRTC's website will use the best technology and chat practices from around the world.