Loco Pilot's quick thinking prevents train tragedy
This is something unheard of in the Indian railways. A wheel of a moving train broke into two pieces; however, a tragedy was averted as driver of the train safely brought it to a halt.
A high level inquiry has been ordered to examine the cause of the incident. Railway sources said the incident occurred near Nagpur in Maharashtra when a wheel of the Gorakhpur – Yashwantpur express broke down.
A passenger was reportedly injured in the incident. "This is the rarest of rare cases of wheel defect. It is a matter of detailed investigation and laboratory test of materials has been ordered," said Ved Prakash, Director (press and information) of Railway Board.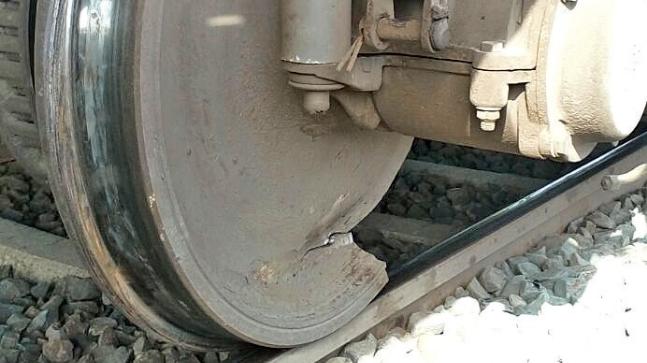 A senior railway official said the train was stopped immediately after some unusual sound started coming from the wheels. However, the train had already run for a few kilometers before it was brought to halt.
Sources said experts will examine the broken wheel of the train to assess whether it broke due to over-use or there was any defect in the material used in making the wheel.
The wheels currently being used in the modern Linke Hofmann Busch (LHB) coaches are imported from Europe and they are put to rigorous tests before being used in passenger trains.
A railway ministry official ruled out the possibility of more such incidents. However, he said the random samples could be picked up for further scrutiny.
The wheels of the high speed Indian trains like Shatabdi, Rajdhani and Duronto expresses which are currently being imported from Europe are indigenously manufactured wheels that can clock speeds up to 160 kmph.
A railway's technical staff member said the newly developed LHB wheels have a larger diameter that increases the area covered and the speed automatically increases.
The outer ring of the wheel is also made thicker so as to be able to bare the load even when it reaches its maximum speed. As a standard procedure, the wheels are checked on various railway tracks across India.
Sometimes the tracks are loose in some places while tracks may be wider is some areas. On some specific turns where the wheels are not aligned properly it could lead to major accidents.
The sand density is also checked in various areas. The sand density check is the second most important aspect to be considered in terms of rail wheels. This whole process takes three years.
Once testing period is over and the wheels are used on regular basis they need to be changed after completion of one lakh kilometers.