Bangalore: When a senior KSRTC official was surfing through TV channels, he realized the tagline meant for Airavat Club class, 'Sleep like a baby', was pasted on another bus from a neighbouring state which had met with an accident. After confirming that it was not a KSRTC bus, the transport organization filed a patent for its brand.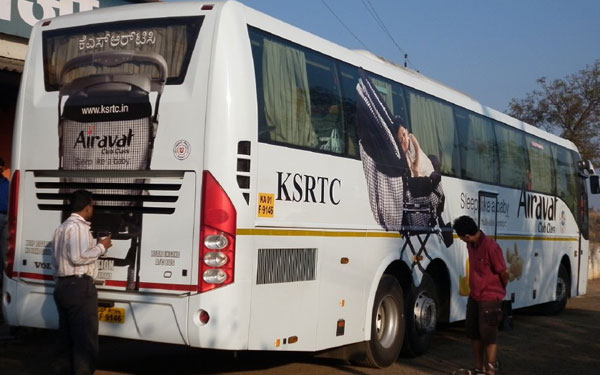 "When we enquired into the case, we found it was a private bus which had copied the brand's image and was trying to reap profits from it. We have decided to take serious action if our brands are copied again. Many state road transport units (SRTU) come to us to study our systems and operations. Hence, we thought it befitting to protect our brand image," said Manjunath Prasad, managing director, KSRTC.
The tagline, printed on all Airavat Club Class buses, has been created by advertising agency Ogilvy and Mather. KSRTC has 90 Club Class buses which operate to various destinations. Ogilvy and Mather has created the look, visuals and brand image of the recently launched Airavat Superia and Airavat Bliss, with mini inhouse pantry and toilets in the buses itself.
KSRTC has already got the service and brand Rajahamsa patented and is on the process of getting copyrights of Airavat Club Class, Airavat, Vaibhav and Ambaari.
"We have applied with Trademark Authority of India," said Chennabasappa Herur, chief manager (marketing and commuter relations), KSRTC.
MANY LAURELS
The transport corporation's Facebook interaction with commuters, Go Green campaign and prompt alerts to passengers if a bus is delayed has won KSRTC the Digiratti 2012 award at Futurist Conclave in Delhi. PROTECT BRAND
'Sleep like a Baby' (in pic) is one of our milestone ads which describes the comfort level in KSRTC buses. The state transport corporation gives tough competition to private companies too. We have designed its brand images for many services and are happy that they are trying to protect their brand and our ideas Tithi Ghosh | VP, O&M
Source: Times Of India