"No one can overhaul KSRTC," is the quip… Not from disgruntled passengers but the head of government in Kerala himself. Oommen Chandy's public admission throws up titillating possibilities of titivating the transport giant.
When I was a kid, the aana vandi (elephant bus) was a quintessential part of living in Kerala… They were noisy, cumbersome beasts festooned in red and yellow, with the company logo of two jumbos splashed on its side earning it the pachydermal nickname. Unlike the elephant though, KSRTC buses were neither gentle, nor smart. They were simply big and slow. And big and slow is what the road transport corporation continues to be. Too big to manage and too slow to adapt.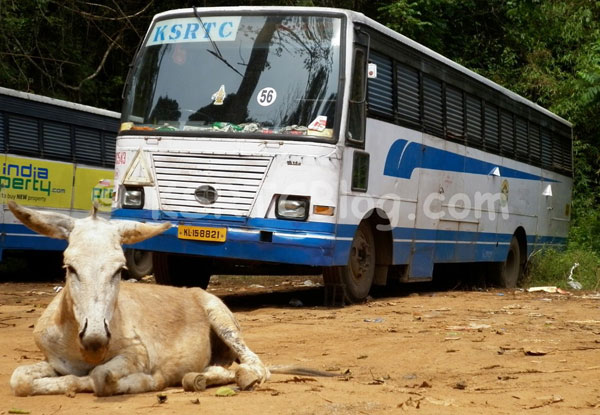 The corporation has a negative revenue-expenditure gap of around 55 crore rupees every month. 30 crore rupees is spent every month just to meet the pension bill for 33000 'pensioners' who retire at the ripe old age of 55! And this month, even that bill hasn't been met, prompting the retirees to contemplate strike. The recent fuel hike has added to the monthly tab of 6.5 crore rupees. Put simply, single largest bus operator in Kerala is living hand to mouth on prayers and government patronage. And even the government patronage comes a price… like the 476 crore rupees the company has to forgo every year because it is forced to provide subsidised tickets.
In neighbouring Karnataka, a massive modernisation program for the road transport corporation (also KSRTC) has been on since 2005. In Kerala, small efforts have borne even smaller fruit… The aana vandi continues to remain a white elephant, largely due to mismanagement verging on the criminal.
Take for example the introduction of low floor buses in Kochi… It was supposed to be a big step into modern times. Yet revenue is down, despite KSRTC's bluster over the popularity of these buses. The roll out of these buses initially ran into trouble after the Volvo subsidiary refused to deliver any more until dues were paid. In Kochi, the low floor buses remained off the roads because the corporation simply didn't have a paltry 40 lakh rupees to pay for their repair. Perhaps they should've asked for an unsecured loan from DLF (Sorry, bad joke. But it's Vadra season, after all!).
Talking of buses, the corporation's double-decker service in Thiruvananthapuram and the recently introduced ring road services are also making losses. The height of mismanagement was recently revealed when 2000 of 5000 electronic ticketing machines issued to ticket collectors simply stopped working!
The corporation had announced ambitious plans using funds from the Kerala Transport Development Finance Corporation to modernise bus depots. This announcement by its head in 2008 talked about upgrading depots using 1000 crore rupees in 2 years. It is now 2012. Just a trip to the KSRTC bus stand in my native Palakkad is enough to give you an idea of what India's first moon buggy will have to be modelled on. Yes, the aana vandi!
What the KSRTC needs is a 'cunning plan'. What it needs to do is rejig priorities.
Localise & Split Operations
At present KSRTC runs both city services in cities (like Kochi & Thiruvananthapuram) and long distance services, both intra and inter-state. Most operations are managed by the corporation centrally or zonally, which breeds inefficiency. As this news report shows coordination is very poor, there is duplication of services and capitalisations of routes leave much to be desired. In this scenario, it is high time that operations and management are rationalised.
Ideally, KSRTC should be looking to launch city services as a separate arm, managed independently. Removal of non-profit making city services from the inventory would help the parent corporation divert funds to maintaining and modernising the more lucrative long range fleet.
Private Partnership
In the city of Delhi, the majority of bus routes are operated by Delhi Transport Corporation. The advantage of this is uniformity, in fares and service. But in Kerala, the situation is different. Public transport in towns largely relies on private buses. But these private bus operators are often a law unto their own. Greed for profits forces them to operate at breakneck speeds with little care for passengers or pedestrians, as this viral video demonstrates. Private operators, most of whom operate only a few buses, complain they have to throw caution to the wind so that they can meet unrealistic schedules.
The KSRTC has several years' experience running a large fleet. It could explore launching services in cities like Kochi on a Public-Private Partnership model. KSRTC could partner with private bus owners wherein buses and resources are pooled to rationalise operations and profits.
Private operators can be encouraged to own shares in these units. They provide the bulk of buses to the fleet, while KSRTC which owns depots, repair and refuelling facilities provides the logistics and management. Private operators will benefit through marginally higher ticket rates and a share in the profits. Their repair & fuel bills could also come down.
KSRTC, on the other hand, would benefit by freeing up many buses for use in more lucrative, long-distance routes. The profit sharing model can help boost the corporation's revenues by negating the need to compete with private buses in cities.
Passengers too would benefit through uniformity in services, and better safety norms. The only problem may be a lack of uniformity in bus models, which could add to maintenance costs. But, over time, private share holders could be encouraged to replace ageing buses with standardised, fuel efficient models.
Empower
KSRTC already has a fairly efficient system to monitor fuel economy. I am told that drivers found wasting fuel are regularly reprimanded. But the corporation has another problem. It's over reliance on a bloated and bureaucratic system. It needs too many hands per bus (on an average 9) to operate..
In the recent Malayalam hit, Ordinary, there is a scene where the protagonists (a KSRTC driver and his ticket collector) have to wait for hours until a maintenance team shows up.
More training for drivers to carry out basic repairs would help reduce over-reliance on such roving teams. More efficient workshops would also help reduce breakdowns. Further training is urgently needed in workshops. Most workshop personnel have nothing more than a diploma from ITIs. Very few mechanical engineering graduates are recruited. Existing mechanics should be urgently given training to upgrade skills, while efforts should also be taken to hire qualified engineers to supervisory posts.
Modern buses (like low-floor ones) inducted in the fleet are currently repaired under annual maintenance contracts with the suppliers. This results in delayed repair times, higher costs and payment issues as demonstrated in Kochi. Imparting special training to KSRTC personnel to repair these buses would help save a lot of money.
My uncle, who retired from KSRTC, tells me that the corporation's middle management is terribly weak. Most middle managers start off as ticket collectors, and don't have any formal project management skills. While the ideal scenario would be to hire qualified management graduates to these positions, this may not be easy. So, urgent steps need to be taken to train the younger middle-managers in modern practices. Implementing transportation management system relying on GPS etc would help immensely.
Purge
But at the end of the day, the most important and urgent measure the corporation needs to take is to cut down on loss making practices. KSRTC, as a government owned enterprise, has an obligation to operate services to remote areas where private players don't find profitability. This cannot be compromised. However, running services in areas where there is already a significant private presence, or where trains are aplenty, is a criminal waste of resources. A prime example is the Thrissur-Palakkad route.
Another way the corporation is losing money is through provision of free passes to all and sundry, as the CM himself admits. What is the need for providing free passes to MLAs and MPs, who rarely travel in anything other than official cars? Largesse is the reason the corporation has earned the nickname of white elephant today.
The CM is wrong… aana vandi can be overhauled. It just needs some creative thinking and solid management.
A blog article written by Achyuth Punnekat on IBNLive