Albin Prince John is a frequent traveler from Bangalore to Bathery. Onve he booked a ticket for 11:45 pm Bangalore-Calicut Super Deluxe Air bus via Sulthan Bathery – with Muthanga night Permit to Bathery.
It was an Ashok Leyland – KKD – Old bus. The bus was fully packed. It was displaying a board which says "Mysore-Mananthavady-Calicut " instead of "Mysore-Sulthan Bathery-Calicut". When asked they covered those words with newspaper.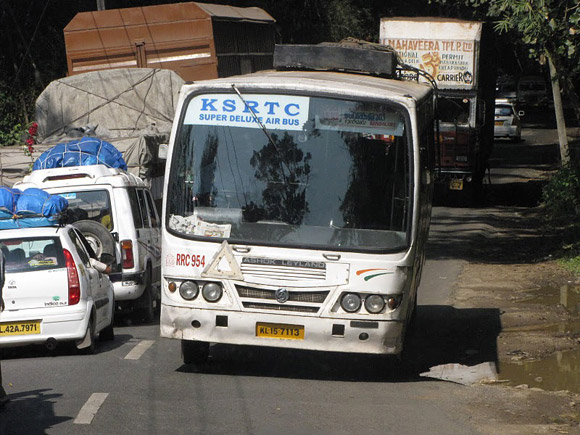 @ 1:30am. Diesel leak from plunger pump – Breakdown near Mandya.
Waited for next bus – Then came another Super Deluxe Air bus to Nilambur. Luckily only 3 passengers. So only 3 of us had to stand. Reached Mysore Bus stand and tat bus left.
KSRTC arranged a bus for us at around 3am – A super express which had a scheduled departure after 5 am. TATA bus. Muthanga Permit given to new bus. All of us got seats.
3:40am – after Nanjanagud. Some sound heard from bonnet. Air pressure falls from brake circuits and it was not building up when throttle was given. Result : BS-III Vehicle stopped automatically and they said they will send another bus. Previous Nilambur Semisleeper passed us with 1 passenger. They stopped for a while – but lack of "crisis time policies" made them leave.
KSRTC should have arranged a Taxi to that single passenger and gave us that Semisleeper bus instead of providing buses with less fare.
Next bus came – this time a Super-Fast. Ashok Leyland. Muthanga Permit again re-allotted, all got seats and we somehow reached Sulthan Bathery at 6 am. Dont know whether KSRTC SBY provided any Semisleeper / agreed not to take any new passenger to compensate time / agreed to provide compensation.