Bajaj Auto Rickshaw modified into a house with Terrace, Toilet, BedRoom, Kitchen.
A 23-year-old architect, N.G. Arun Prabhu, has designed on an autorickshaw a portable house, which he claimed would fulfil the needs of two adults. The effort was to create awareness on small scale architecture and affordable housing, he said.
As an ambitious child, Arun always wanted to achieve something in life. He has had many innovative ideas in his mind, but the concept of a home that runs on three wheels clung on. Over the years, there have been many one-off and commercial examples of four-wheeled homes.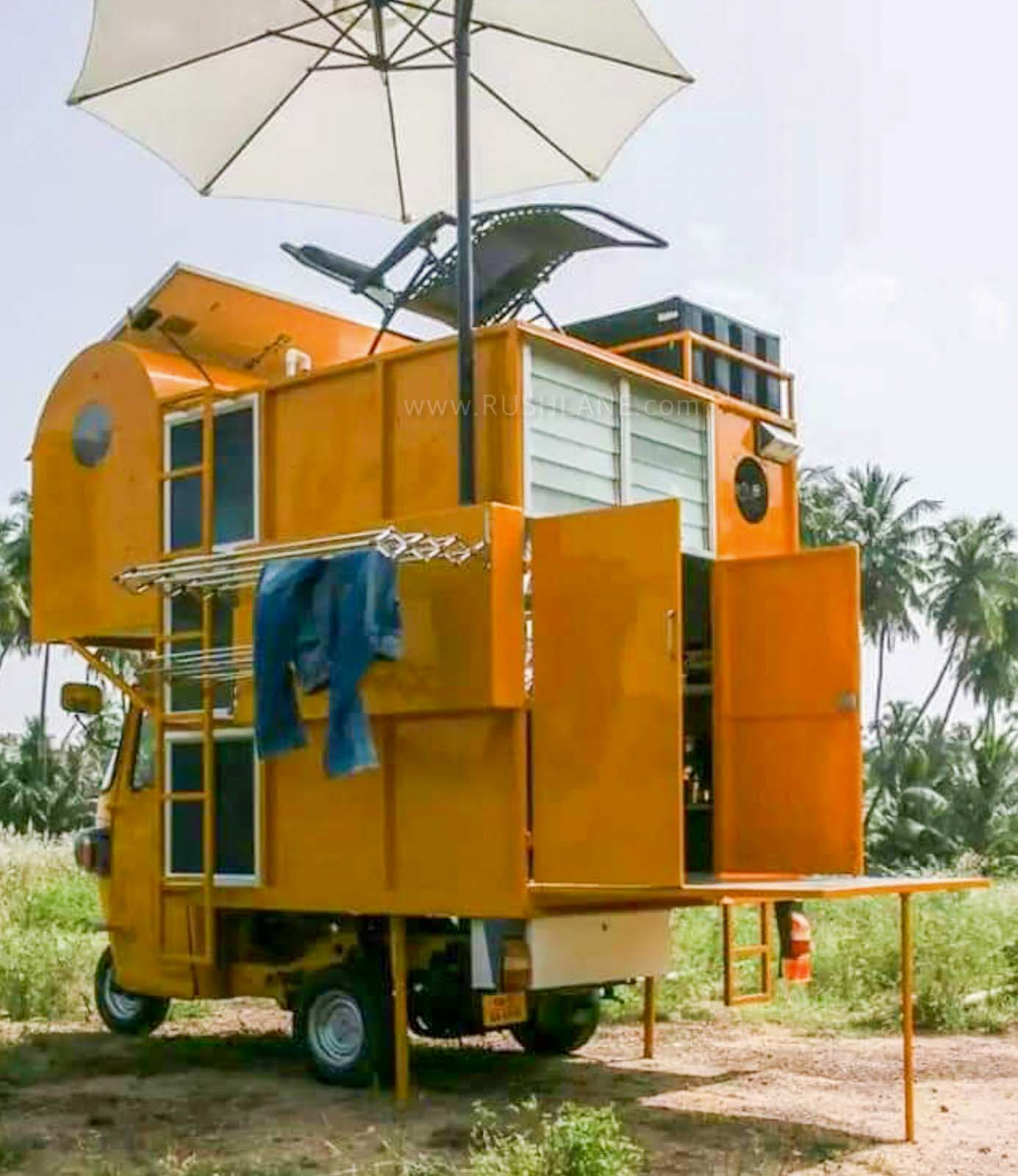 For the same reason, a three-wheeled living space was a challenge worth taking up since a lot of factors such as stability, space utilisation, lack of reference projects, etc., had to be accounted for. However, there was one area where a three-wheeled home excelled over a four-wheeled example — cost efficiency.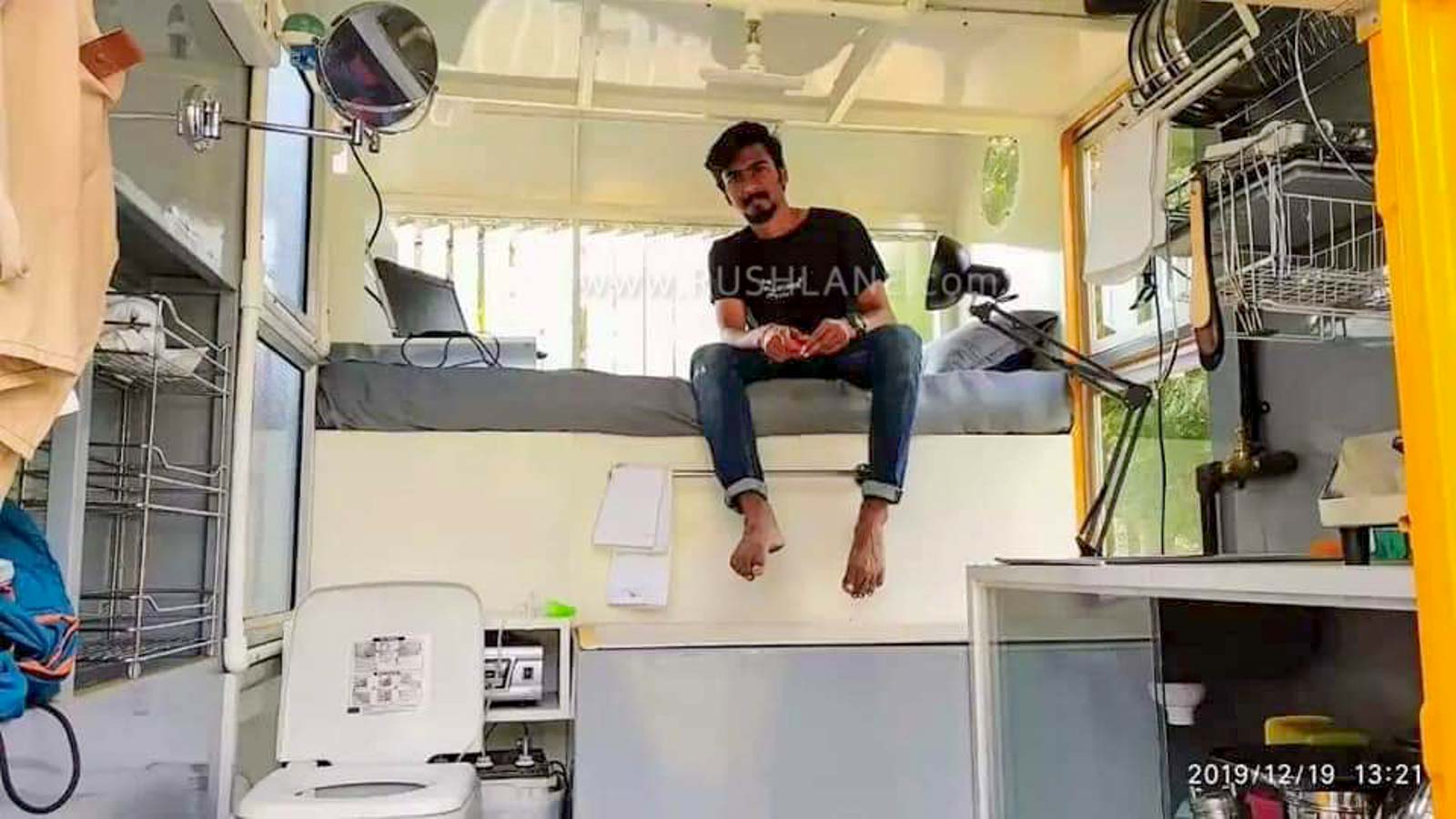 The project began with an old Bajaj three-wheeler. Arun removed its loading area and started making the basic framework using old bus parts. Of course, he had to go through a lot of research and understanding in order to make the project viable. The aim was to create a space to rest for small traders and travellers who would otherwise have to go a long way in search of one.
However, Arun's home-on-wheels project is more than just a space to rest and is loaded with all the amenities one would ever want. Inside, there's a bedroom (on the upper deck), bathroom, kitchen (with space to keep all the utensils), workspace, water heater and even a toilet. Speaking about the toilet, its open placement in the living area accentuates the fact that this project is meant for one-person use. There is no in-house cocoon of privacy. The whole cabin is 'the privacy'.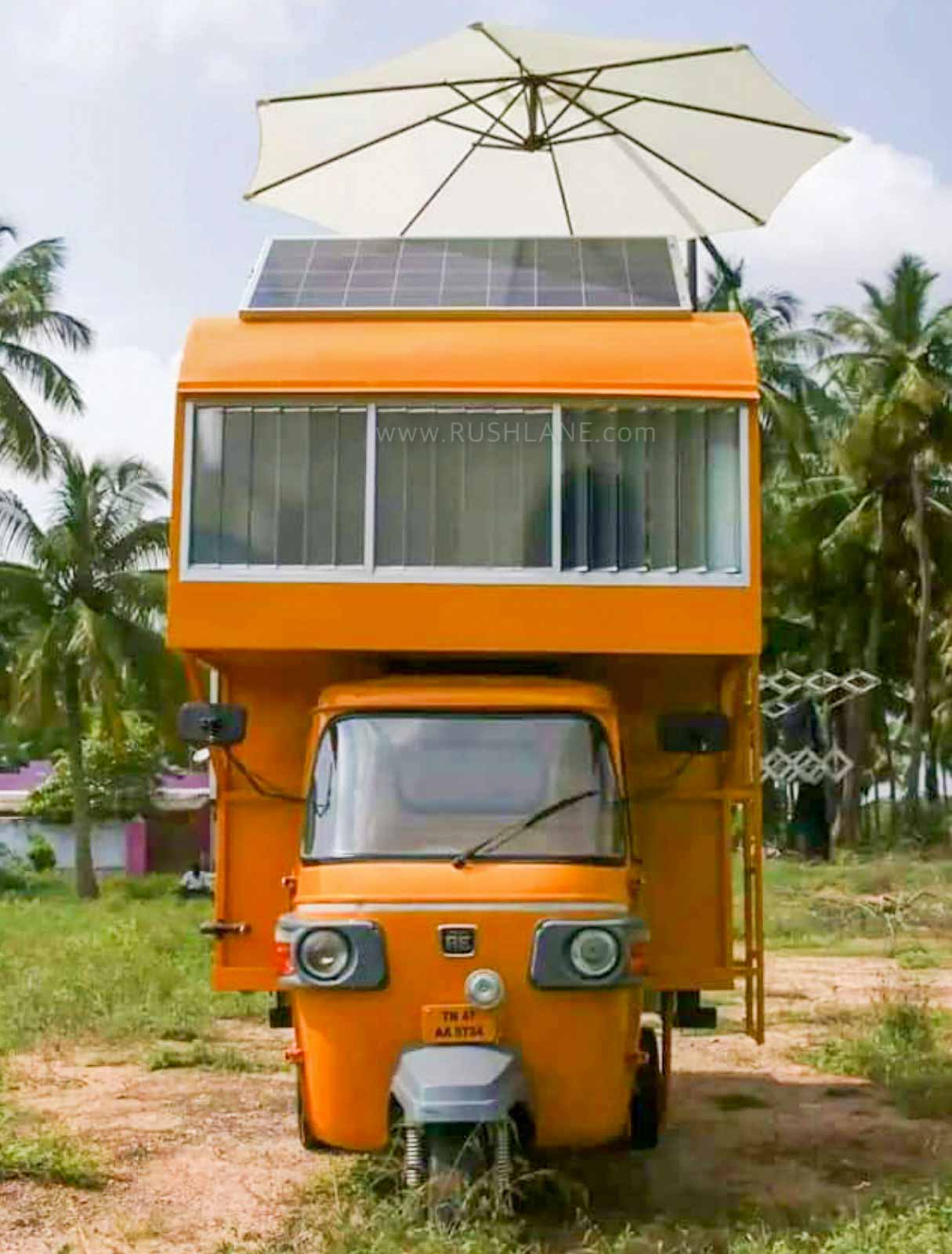 "I chose an autorickshaw keeping in mind travelling people, like gypsies. Gypsies are often seen moving around dumping their materials in an autorickshaw. Once they reach a camping place, the vehicle would be idle and they would be living in tents with no proper amenities", said Mr. Arun.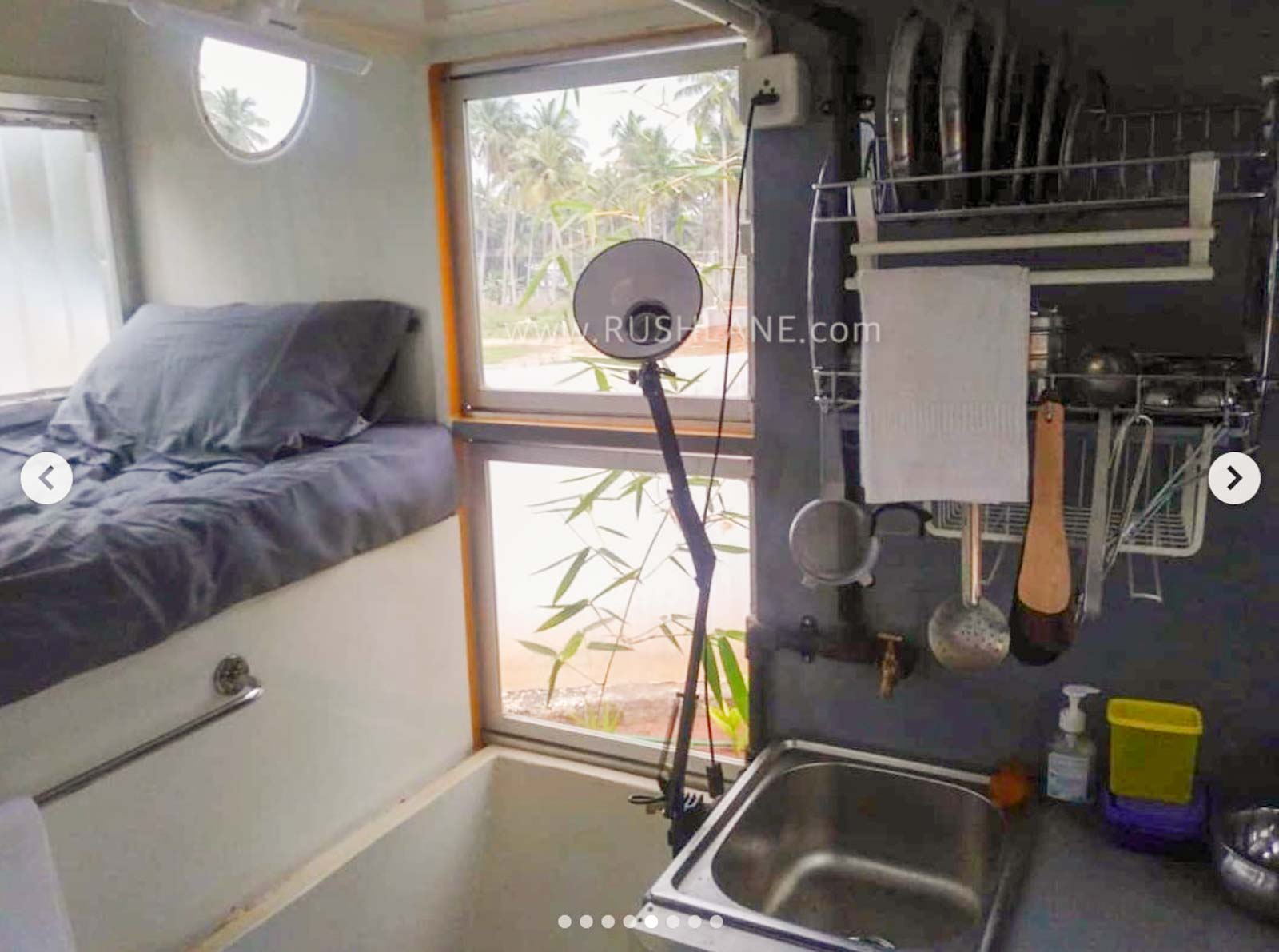 The vehicle has a 250-litre water tank at the top, along with a 600W solar panel coupled to a battery inside the cabin that can power all the essential electrical equipment. Various additions such as cupboards and extendable outside cloth hangers, further increase overall practicality. The ladders and doors are placed in a way to provide the best ingress and egress possible.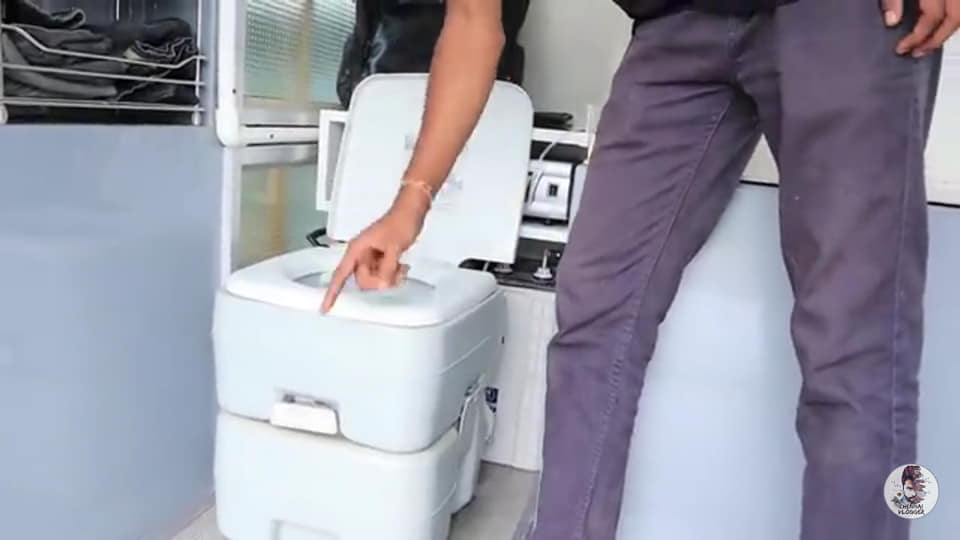 The cabin is well lit with ample greenhouse. If that isn't enough, there is a six-foot perimeter umbrella on top under which you can sit back and relax on a lounge chair, with a good view of all other conventional forms of wheels and walls across the eyes' reach.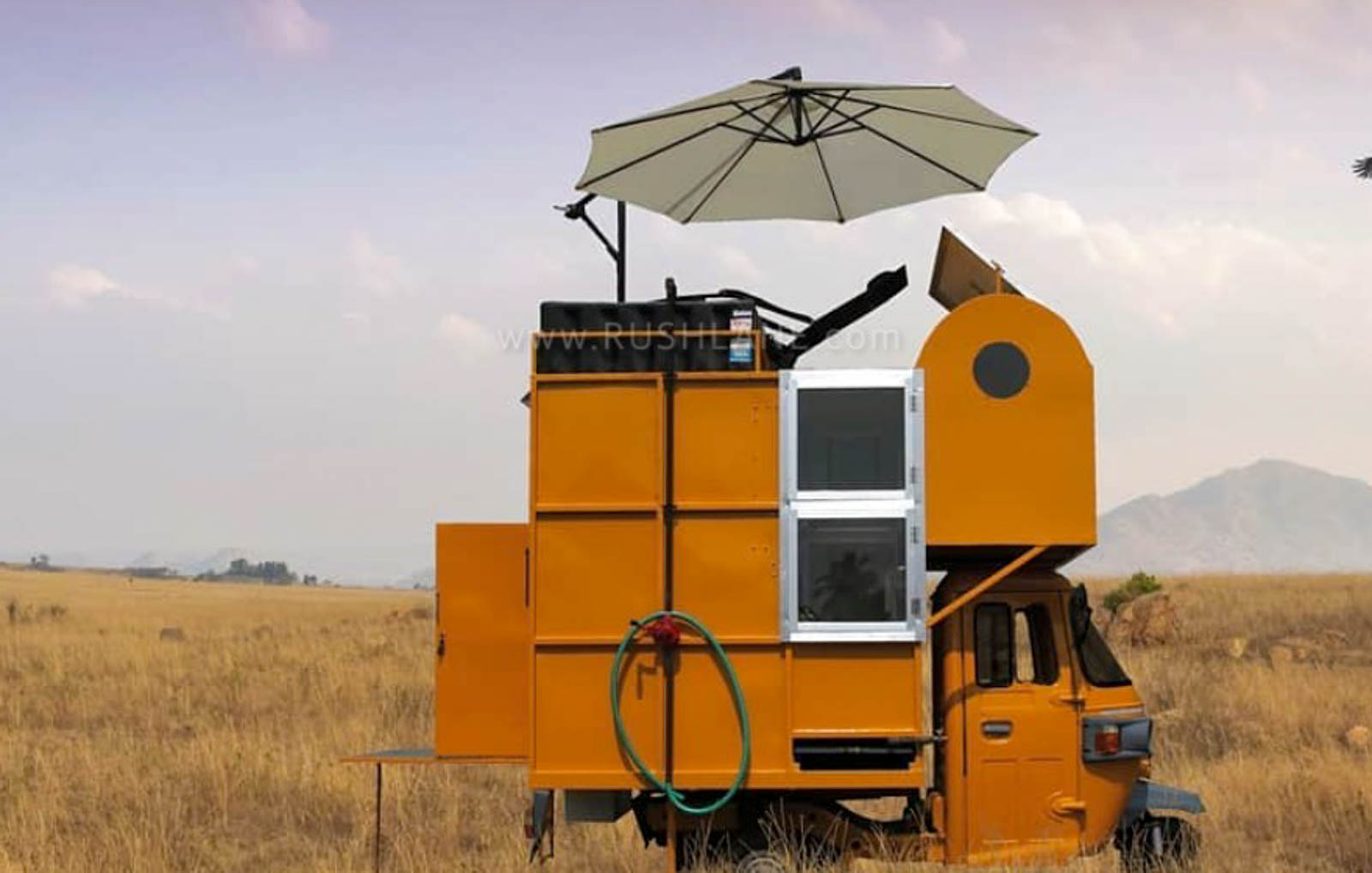 At least some would spend time pointing out the all the negatives and safety/stability concerns (despite having additional support columns) of the project and we do not entirely blame them. However, there's no denying that Arun Prabhu's interesting project is a work of art and architecture; a far cry from a mere makeshift.
Source- Rushlane, The Hindu.