VOLVO BUSES DELIVERS 55 COACHES TO KSRTC
Volvo Buses has delivered a new batch of 55 coaches to the Karnataka State Road Transport Corporation (KSRTC). With the fulfilment of this prestigious order, Volvo has the proud distinction of having deployed around 600 buses with the KSRTC.
"The delivery of these best-in-class coaches is another great milestone in our treasured relationship with the KSRTC. Throughout our shared journey, KSRTC and Volvo have worked together to provide sustainable high-quality public transport solutions that addresses emerging aspirations of passengers.
These latest lot of buses meet with newly introduced safety regulations and thus offer exceptional safety and comfort over other products in the market." said Suresh Chettiar, Business Head, Volvo Buses South Asia.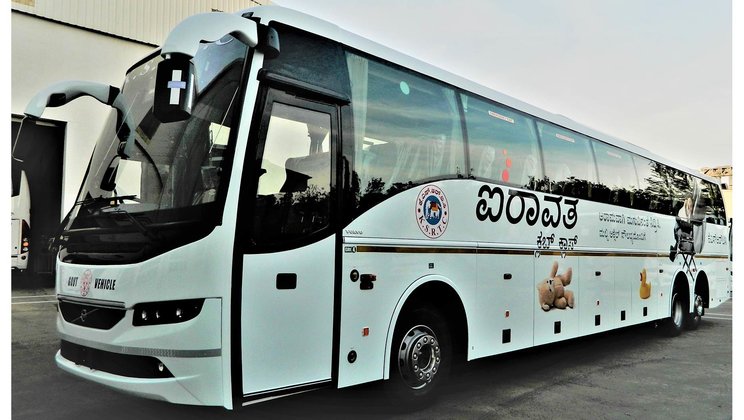 Commenting on the addition of the new buses to an already robust fleet, Shivayogi C Kalasad, IAS, Managing Director, KSRTC, said, "A growing class of passengers in Karnataka demand public transport solutions that are in sync with their evolved mobility needs. Hence, we proactively update our fleet with state-of-the-art buses."
Comfort and Safety: The best of both world
The BSIV buses feature engines that combine reliable power with fuel economy. The advanced engine management system is ably complemented by the Volvo I-Shift gearbox.
At Volvo, it's always safety first. That is why, the company has continuously gone beyond legislation and has introduced active and passive safety features long before they become a legal demand.
The buses are fully compliant with Indian Automotive Industry Standards when it comes to areas like multiplexing, fire detection and suppression system, braking, acceleration, lighting, vehicle location and tracking and panic buttons.
Excellent road control and stability are ensured by Volvo's independent front suspension and the Electronic Stability Programme. The powerful engine brake, an integrated retarder together with EBS brake, deliver exemplary braking capacity.
The driver's cabin has ergonomic design, low noise and comfortable climate which further contributes to passenger comfort and safety. Large glass panels, broad exterior mirrors, powerful lighting including fog and cornering lights and a reversing camera ensure superior visibility.
When it comes to occupant safety, energy-absorbing panels behind the instrument panel reduce the risk of injury to the driver's knees and legs in a frontal collision.
The front of the bus features a force-distributing structure which protects the driver and passengers in the event of a collision. The passenger seats feature deformation zones, eliminating sharp edges and minimised pinch points.
As a mandatory practice, drivers are trained with the sale of every Volvo Bus. Thus far more than 37,000 drivers have benefitted from this programme.
In order to ensure optimal uptime, Volvo Buses has in place 70 major touch points for nimble onsite support options.
Source – volvobuses.com.