Trump shows off his armored limousine to Kim Jong-un
Minutes after the historic summit, the US President Donald Trump and North Korean leader Kim Jong Un were seen taking a stroll in the hotel gardens in Singapore on Tuesday. Trump took this opportunity to show his famous 'The Beast' — limousine Cadillac One, which is a fully-armored vehicle with shotguns and tear gas cannons. While people have been wondering about the outcome of the deal, netizens have a different concern.
The US has been asking North Korea to give up its nuclear power and Kim agreed to do so in a document signed by both leaders. Buzzing Twitterati wondered if Kim, perhaps, asked for Trump's limousine in return.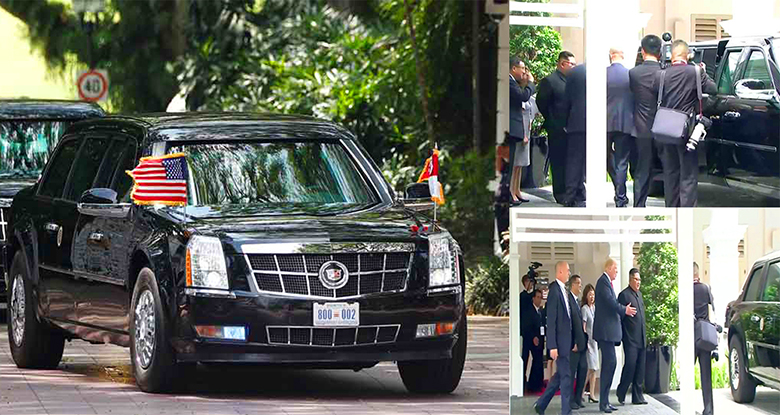 The limousine, after all, is like no other.
Both men walked to Trump's limousine and looked at the rear seat, with Trump clearly showing Kim something inside. Kim was seen smiling as the two stood to chat.
The car is an eight-tonne bulletproof, bombproof vehicle with heat-resistant Kevlar tyres that are puncture-proof. The limousine has an armor-plated fuel tank covered with special foam to negate any possibility of an explosion.
The car has 5-inch thick bulletproof windows which insulate the President from all sorts of threats including chemical attacks. Its doors weigh similar to those on a Boeing-757 aircraft.
Kim arrived in Singapore in an Air China plane which is an American manufactured Boeing 747. Kim, on other occasions, uses his Ilyushin Il-62, which is a 38-year-old Soviet model which are not manufactured anymore.