Seat belts to be made mandatory on KSRTC premier buses
The Karnataka State Road Transport Corporation (KSRTC) will make it mandatory for all passengers on board its premium buses, with individual seats, to wear seat belts.
The decision comes in the wake of several fatal accidents in the recent past. On January 13, seven people died and more than 10 were injured after an AC bus heading to Dharmastala from Bengaluru fell off a bridge on the National Highway in Hassan district. Every year, accidents involving KSTRC buses claim an average of 250 to 270 lives.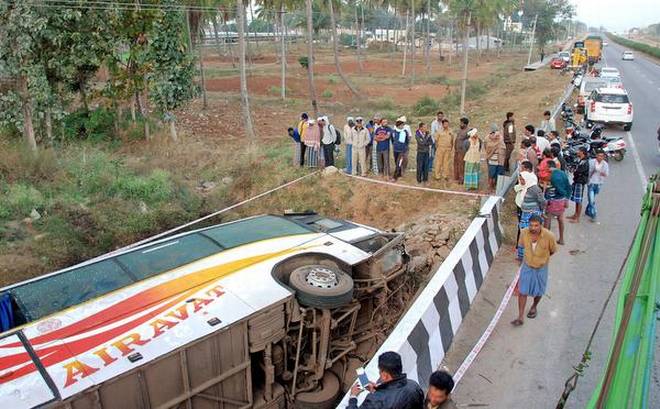 KSRTC Managing Director S.R. Umashankar said, "The corporation is taking various measures to prevent accidents and minimise casualties. We are going to fix seat belts on all the individual seats in the premier services," However, it remains to be seen whether passengers will abide by the rules. The seat belts, however, are not a new initiative.
"Eight years ago, around 40 AC buses had seat belts, but passengers were not using them," said a senior official. Over time, the belts were removed. "Now, we have belts only on the front seats."
The KSRTC is also working on fitting sensors in buses to track the driver's movements and sound an alarm if he or she dozes off. The sensor will also work as an anti-collision device. The corporation is likely to begin trials for both technologies within a month. Bus drivers will undergo refresher courses twice a year.
The KSRTC has fleet of 735 premier services which include the Diamond club class, the Airavat and other lines. The corporation operates these buses on long distance routes — to intra-State as well as inter-State destinations. The longest inter-State route operates from from Bengaluru to Mumbai.