The decision of Transport Department officials to stay away from the crackdown on errant private buses operating in the city has raised many eyebrows. The inspection launched by the City Police on Thursday has unearthed serious discrepancies, including route and  timing violations.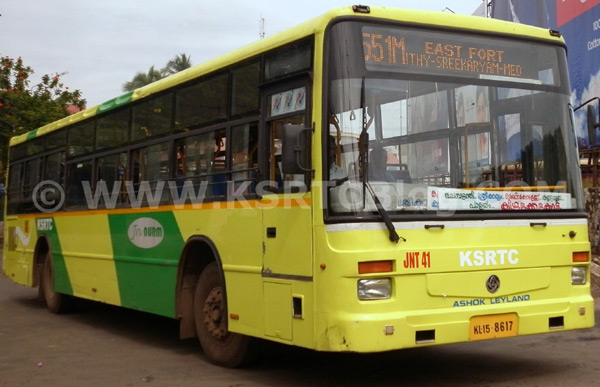 Notably, the Kerala State Road Transport Corporation (KSRTC), which raised a clarion call on the issue, has registered a huge increase in collections since the crackdown began. The police action followed a petition filed by the Chief Transport Officer of the Corporation. As many as 63 buses were found violating the norms on Thursday and 29, 16 and 9 were the figures on the following days, till Sunday.
The serious violators were those operating to Beemapally, Poonthura, Mudavanmugal, Thrikkannapuram, Venpalavattom and Sreekariyam. The increase in collection for the KSRTC on Thursday and Friday was ` 1,80,000 and ` 2,69,400 respectively. The depots that benifited from the police action included City, Pappanamcode, Vikas Bhavan, Peroorkada and Vellanad.
The police officials who carried out the inspections said several private buses were operating like parallel services in the city. ''A bus which was operating to Beemapally had to ply to Beemapally according to its permit. Several buses were found operating to profitable locations of their choice,'' an official said.
''If we had the cooperation of MVD officials, it would have been helpful,'' the official added. The cops are now assisted by the KSRTC officials in identifying the private buses violating rules. The KSRT Employees' Association has demanded
checking on a regular basis to prevent the malpractices. ''Together, the police and MVD have 113 surveillance cameras installed at various locations in the city. Joint efforts by the police and the MVD could effectively put such illegal practices of private buses to an end,'' said an office-bearer.
 'Counterattack' by Private Buses
It is alleged that the private bus operators have approached the Transport Minister's office to soften the stand of the police. The KSRTC management is also being pressurised by the racket to transfer two employees of the Corporation who took the lead in filing a complaint against the erring operators.
Source: New Indian Express