The commencement of private bus services through the Vallarpadam Container Road will reduce the travel woes of passengers in Mulavaukadu, Kadamakkudy, Cheranalloor, Varappuzha and Pizhala areas. Though the Vallarpadam Container Road was opened for public in February, 2011, only KSRTC buses were allowed to operate on the route.
The KSRTC services had also opened an easier route for those who come from North Paravur, Kodungalloor and Guruvayur to reach the city.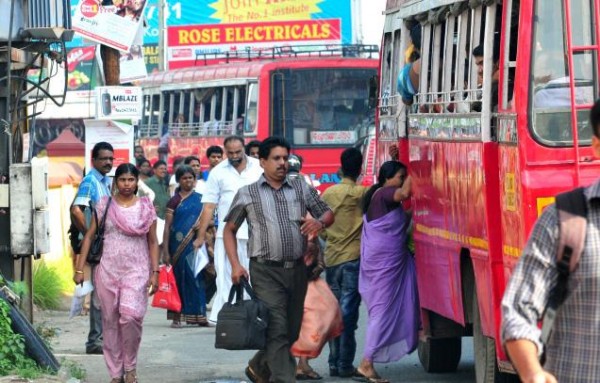 However, private bus services were not allowed in these areas. But last week, the RTO gave permission to eight private buses to commence services in the area. It was later decided that six buses from North Paravur and two buses from Varappuzha will conduct services through the Container Terminal Road.
Due to the ongoing construction work of the Kochi Metro rail, the vehicles coming from Paravur through Edappally used to get struck for hours in traffic block. Hence a majority of the passengers depend on the KSRTC buses which are operating through the Container Terminal Road. Considering the increase in the number of passengers, the KSRTC has pressed 15 buses into service through the route from Paravur, Guruvayoor and Kodungalloor depots. However, these buses too proved inadequate to meet the passenger demand. The buses coming from Paravur side used to reach areas like Mulavukadu and Kadamakkudi in a jam-packed manner and the people waiting in the areas were not able to board the buses. Usually, women and students from these areas depend on autorickshaws and two-wheelers to reach their destination. However, with the launch of private bus services, the situation is expected to change.
The Private Bus Operators Association office- bearers said that once the procedures are completed, they will be able to commence more services from Paravur area to Ernakulam High Court junction via Container Terminal Road.
The timing of the buses will be finalised after holding discussions with the bus owners, the office-bearers added.
News: New Indian Express