Onam Special Bus Services by Karnataka State Road Transport Corporation
Special Buses by Karnataka State Road Trasport Corporation (KSRTC) for Thiruvonam Festival: In view of Thiruvonam festival, KSRTC has made arrangements for operating extra buses in addition to the existing schedules to provide transport facility to the traveling public from 06/09/2019 to 15/09/2019.
Special buses from Mysore Road Satellite Bus Station and Shanthinagar Bus Station in Bangalore will be exclusively operated to Kerala i.e, Kannur, Kozhikode, Ernakulam, Palakkad, Thrissur, Kottayam, Thiruvananthapuram, etc. from 06/09/2019 to 15/09/2019. Passengers can book tickets in advance for these special buses.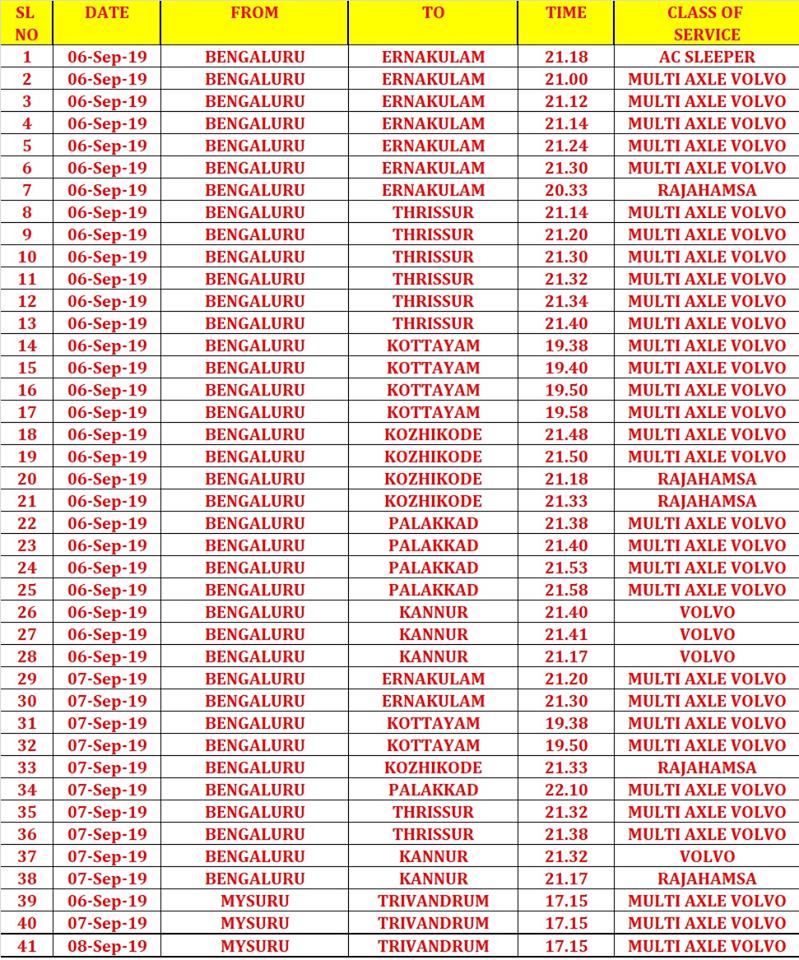 Reserved passengers should note the place of boarding in their reservation ticket. Passengers can book tickets through online and also by mobile, logging on to www.ksrtc.in
A discount of 5% on the fare will be extended, if four or more passengers' book tickets in a single ticket and a discount of 10% is offered on the return journey ticket if onward and downward journey tickets are booked simultaneously.
With the majority of the schools closing on Friday, which is also the weekend before Onam, Karnataka RTC plan to conduct special services to Kerala.
Passengers can log into www. ksrtc.in to know more details on the special operation.More buses will announce soon.
Contact Numbers:- Bangalore Shanthinagar Bus stand – 07760990988, 07760990531; Ernakulam – 9447166179, 04842374000, Thrissur – 9495155100 ,04872421151; Kozhikode – 9497427179,04952728000; Kannur – 9388702839, Palakkad – 9847473796.