Travelling on the Moozhiyar-Kochu Pampa stretch of the Angamoozhy-Gavi forest road has become a nightmare for commuters. The reason is the rough, damaged road.
Vehicles ply at a speed of five to 10 km on this bumpy stretch, making the trip through the otherwise verdant forests a near-disaster. Many local tourists, on their maiden tour to the eco-tourism destination of Gavi in jeeps and other vehicles, find themselves tired after the drive.
Four services
The Kerala State Road Transport Corporation operates four services in the area — two each of the Pathanamthitta-Kumily and the Kumily-Pathanamthitta via Gavi services every day.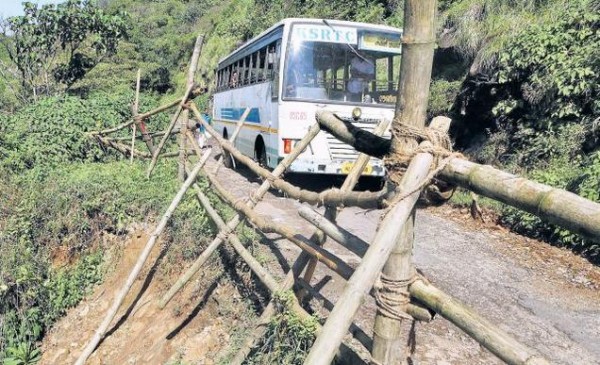 The journey duration along the 106-km Pathanamthitta-Gavi stretch has been extended by 90 minutes due to the bad condition of the road.
Satheesh Kumar and Raju, conductor and driver of the Gavi-bound KSRTC bus, told The Hindu that several tourists had expressed discomfort while travelling on the bumpy forest road, which has seen minor landslips and soil erosion at several places.
Death trap
The landslip that took place along the narrow road near Kaattadikkunnu has made the path a literal death trap.
Settler families as well as tribal people and a majority of the staff on duty in the forest areas of Kochu Pampa, Gavi, Meenar, Pachakkanam, and Moozhiyar depend solely on the two KSRTC buses for their transportation needs to the towns of Vandipperiyar and Angamoozhy.
The plea of the Kerala State Electricity Board employees at Moozhiyar and the commuters before the PWD officials for repairing the damaged portion of the road have not yielded any results so far.
Bamboo fence
Though the KSEB staff and some tribal people have erected a bamboo fence along the landslip-affected portion of the road, the condition of the road continues to be alarming.