KSRTC cashes in on festive spirit
A slew of initiatives by the financially stressed Kerala State Road Transport Corporation (KSRTC), backed by whole-hearted staff support, have resulted in an increase in the daily collection from its fleet during the festive season.
Compared to the total collection of Rs. 5.03 crore from 5016 schedules operated on September 13, 2016 (First Onam), the KSRTC could garner Rs. 5.92 crore from 5,077 schedules on September 3 (First Onam) this year. Of this, the revenue from 4,663 schedules of the KSRTC was Rs. 5.48 crore and that from 414 schedules of the KURTC was Rs. 43.91 lakh.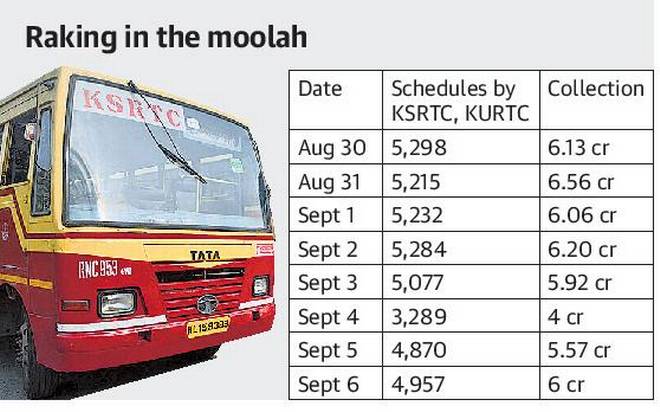 On Thiruvonam day, September 4, when the State transport utility operated only 3,289 schedules, including 190 of the KURTC, due to less movement of commuters, the ticket collection was Rs. 4 crore.
Onam collection
On Thiruvonam day in September 14 last year, the total collection from 3,287 schedules, including 229 of the KURTC, was 3.69 crore.
Even on September 6, a public holiday in the State, the utility was able to generate Rs. 6 crore from ticket collection from 4,957 schedules, which included 392 of the KURTC.
The daily ticket collection of the KSRTC on August 30 from 5,298 schedules was Rs. 6.13 crore, Rs. 6.56 crore from 5,215 schedules on August 31, Rs. 6.06 crore from 5,232 schedules on September 1, Rs. 6.20 crore from 5,284 schedules on September 2 and Rs. 5.57 crore from 4870 schedules.
Yielding results
The rise in ticket collection from August 30 onwards shows that the initiatives launched under Chairman and Managing Director, KSRTC, M. G. Rajamanickam have started yielding results.
Changes in the duty pattern of mechanical and operational staff, more inter-State services to Bengalaru and Mysuru and back from various depots, long-distance schedules using spare buses on end-to-end fare and opening additional ticket counters in major depots were some of the key measures launched by the KSRTC to coincide with the festive season. The series of guidelines issued for operating the special services from August 30 to September 13 and asking the employees of the operating wing to report at least one day of the four holidays for duty had paid dividends to the utility, a senior official said.
With the KSRTC coming up with super express and super deluxe stage carriers that have pushback seats, commuters responded positively to the initiatives. The state utility was also able to put brakes on the alleged fleecing by private luxury operators in the inter-State routes.