Kerala Government in its next cabinet meeting, in all probability, will increase the fare of Kerala State Road Transport Corporation (KSRTC) as recommended by the Ramachandran Committee on fare revision. It is a respite for KSRTC which is struggling to make ends meet though it is doubtful whether this will be a solution for its financial distress.
The Ramachandran commission has recommended an increase of minimum fare hike from Rs.6 to Rs.7. The commission also recommended to increase the per km charge by 5 paise, which will go up to 63 paise/km from 58 paise/km. In November, 2012, the per km charge was increased from 55 paise to 58 paise. In Tamil Nadu the per km ticket price is 42 paise and the minimum bus ticket price is Rs 3. The minimum bus charge in Karnataka is Rs 4.50. In fact, Kerala charges the highest fare in South India. So is this justified?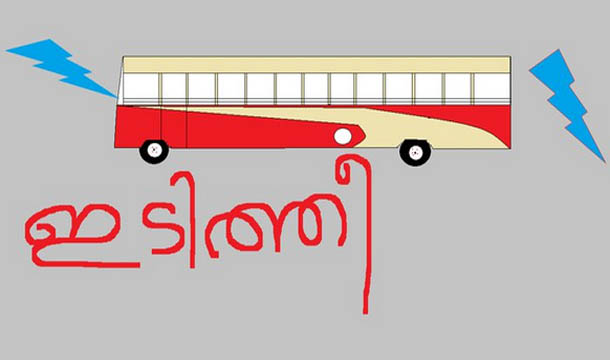 The reason why transport services of other South Indian states perform better is because of the Government aid they receive, explains a KSRTC official. An official who does not want to be named explains, "For KSRTC diesel and its employees are its raw materials. Central Government policies prevent the State Government to decrease the price of diesel. Considering the remunerations of its employees, their basic pay is apparently less than the other government institutions. Further, their dearness allowance is only 31% of the basic pay while it is 66% in other Government institutions. That is, KSRTC employees are paid 35% less." He adds, "Thus our only source of revenue is fares and an increase can help us confront our difficulties."
The same official rules out CNG as an alternative to diesel. A decisive factor is that the cost of the vehicle will almost double for a CNG combustion engine. KSRTC buys buses with Bank loans. Such a massive investment is not possible for the corporation unless Government provides a helping hand.
The official stresses that one who does not provide even a subsidy for the fuel cannot be expected to take such an initiative. He adds, "Further, CNG bunks are not widespread in Kerala. The CNG fitted buses can only run 100 kilometres with one filling while a full tank diesel will run for 1000 kilometres. Thus it is not only enough to bring CNG stations here, it has to be made available all across the state at close proximities as well."
The official adds that KSRTC buses undergo maintenance checks every six months and is very fuel efficient. He explains, "The condition of roads and traffic blocks affects KSRTC's performance." He admits that KSRTC has a large number of employees but says it is needed for its smooth running.
So all indications are that a fare hike is inevitable and the common man has no choice but to grudgingly smile and pay!