The Kerala State Road Transport Corporation (KSRTC) will start purchasing diesel from select retail outlets of the Indian Oil Corporation (IOC), Hindustan Petroleum Corporation Limited (HPCL), and Bharat Petroleum Corporation Limited (BPCL) in the State from Wednesday.
The decision comes close on the heels of the corporation's purchase of diesel from the six retail outlets of the Kerala State Civil Supplies Corporation (Supplyco) in Thiruvananthapuram, Kollam, Alappuzha, Kottayam, and Ernakulam for its 6,129-strong fleet.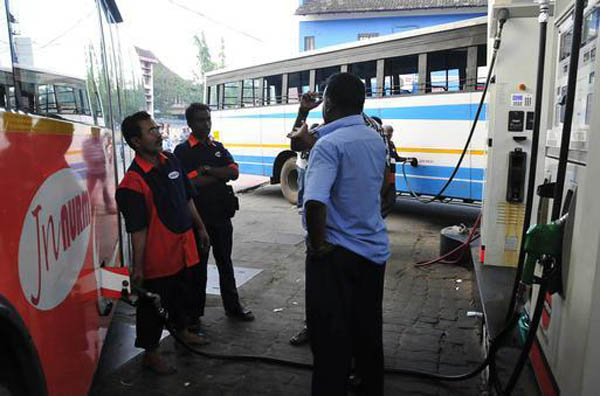 In the State capital, low-floor buses were seen queuing up before 6 a.m. to fill diesel from the Supplyco outlet at Statue."There were no hitches", KSRTC Chairman and Managing Director K.G. Mohanlal told The Hindu
The retail outlets of three oil majors were selected so that the buses do not have to travel more than two km from the depot, he said. The outlets were selected based on convenience. The oil companies recommended the outlets.
Bank transfer
The cost of the fuel will be transferred from the banks through RTGS to the account of the retail outlets as there is no cash transaction in the KSRTC now.
With this, the KSRTC will be able to get diesel at the subsidised rate of Rs.54.91 a litre. The transport utility was paying Rs.71.25 for a litre to IOC and HPCL since September 17 following a Supreme Court order. The KSRTC was forced to depend on retail outlets as the plan to lease the corporation's 67 fuel pumps to the Supplyco was time-consuming.
The daily collection of the KSRTC from its 5,306 buses touched a record 6.5 crore on Monday, the first day after the educational institutions in the State opened after Onam vacation.
The Hindu