Had it been for any other vehicle, a new series of vehicle registration number would have made for a pompous affair worth lakhs. Nevertheless, without any fanfare, Kerala State Road Transport Corporation (KSRTC) achieved a rare feat by rolling out new registration series for its buses on Saturday.
KSRTC's first bus in the new registration series — KL 15-A — left the central workshop at Pappanamcode to Kasargod in the drizzling evening to join the other buses in its fleet.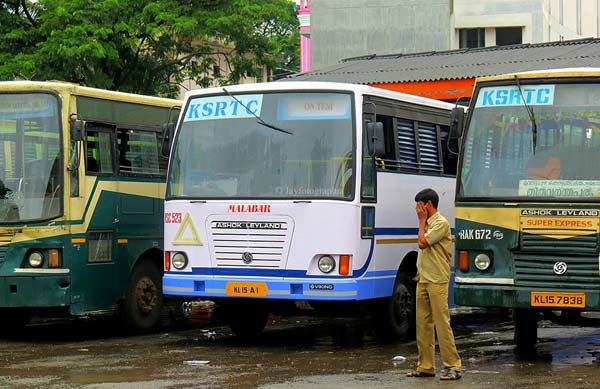 KSRTC executive director (technical) M T Sukumaran said the first bus in the new series, KL 15-A 1, will ply between Kasaragode and Mangalore from next week. "The bus body was built at the central workshop and of course it's a remarkable achievement for KSRTC. We are trying our best to introduce more buses to our fleet and have added 3,500 vehicles since 2007," he said.
KSRTC came into existence on April 1, 1965 starting with just 30 new buses and eight new lorries. Today, KSRTC has 6,068 buses, including 622 off-road ones, apart from the 320 Jawaharlal Nehru National Urban Renewal Mission (JNNURM) buses. KSRTC had been given a separate vehicle registration series — KL 15 — from the first day of registration process beginning in the State in the 'KL' pattern. Though the registration number touched 9999, the total number of buses stands at 6,068 only as the corporation scraps old buses as they turn 15 year old and cancel that registration number.
Picture: Jayasankar, Sankar V