'Fly Bus' will cut journey time by more than an hour; buses to have toilets and pantry; one-way journey to cost Rs 1,000.
For air travellers from Mysore who have to drive all the way from home to the Bangalore international airport, to catch an international or domestic flight, there is some cheer in store.
The Karnataka State Road Transport Corporation (KSRTC) is all set to launch a Mysore-Bangalore international airport (BIA) direct bus service from August that will eliminate the need for at least two local commutes that flyers from Mysore are forced to take.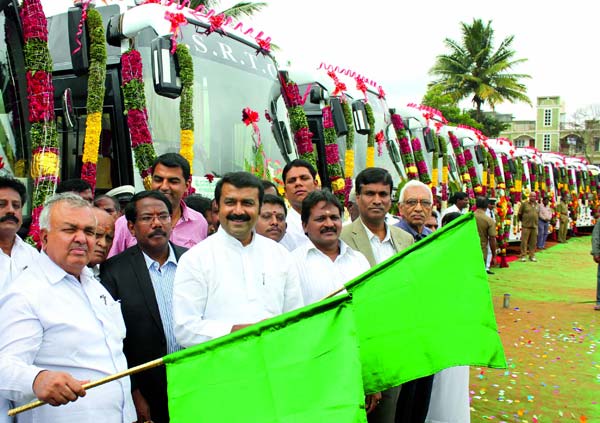 Currently, they take an auto or taxi from home to bus station or railway station and again take local transport in Bangalore to the airport. The direct bus will cut the journey time by more than an hour.
The route of the Fly Bus will be Mysore-Bangalore road up to Kengeri, NICE road, Nelamangala, Hebbal and BIAL. It will avoid all busy city roads in Bangalore, Manjunath Prasad, the managing director of KSRTC. The buses will have toilets, pantry and TV. The journey will cost Rs 1,000 one way, and include snacks and drinking water.
The 'Fly Bus' will be launched in association with the Bangalore International Airport Limited (BIAL), Transport minister Ramalinga Reddy said here on Sunday, after launching 50 new BMTC and KSRTC bus services from Austin Town in Bangalore to various parts of the state.
Prasad said similar direct services, from Mysore to Puducherry, Coimbatore and Ooty among others will also be launched. The buses would be Airavat Club Class.
He also said that work on the Peenya Satellite Bus Terminus will also start from August and will cost Rs 32 crores.
"Hassan, Belur, Mysore and Vijayanagar will get new bus depots this year and we plan to add 1,528 buses to the roster this year," he said.
Furthermore, three institutes for training drivers will be also be introduced at Malvalli, Mallur and Chikmagalur to train 1,200 drivers free of cost. The institutes will cost Rs 5 crore each. KSRTC also announced that eight new bus stops will be constructed and the Intelligent Transport System which is in place at Mysore will also be upgraded from 400 buses to 4,000 buses.