Jet Airways Cancels Flight, Passengers Protest At Delhi Airport Runway
A Bhopal-bound Jet Airways flight with 71 passengers on board was forced to return here on Tuesday evening due to a technical snag, an airline official said.
The airline arranged an alternative aircraft which also developed a technical glitch and subsequently the airline had to cancel the flight.
The cancellation of the flight triggered protest from the affected passengers, who came down on the tarmac at the IGI airport.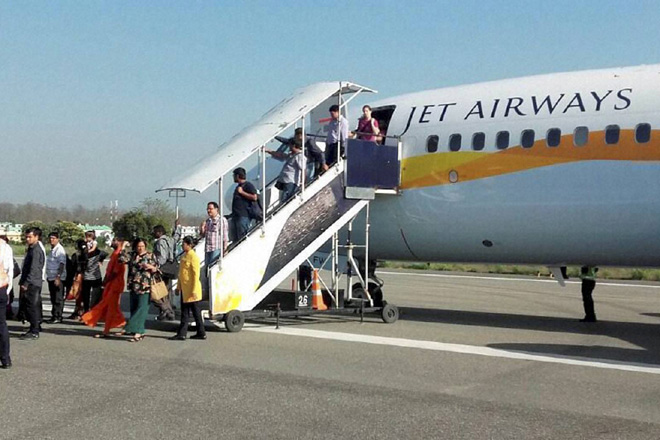 An airline spokesperson today confirmed the cancellation of the flight but said that it was due to technical snag coupled with the expiry of duty hours of the crew.
The passengers were seen in a video footage sitting on the tarmac, complaining about not being offered food despite the delay, and the AC being shut down. They alleged the airline also failed to give them information about the departure.
The airline spokesperson, "regretted" the inconvenience to the passengers.
"Jet Airways flight 9W 927 of 10th July 2018, from Delhi to Bhopal was delayed following an air turn back due to a technical defect. Unfortunately an alternative aircraft arranged to ferry the guests also developed a technical issue, further delaying the flight. Eventually the airline was forced to cancel the flight owing to Flight and Duty Time Limitations (FDTL) of the operating crew.
"Guests were offered accommodation at hotels or were hosted at the airport lounge as per their preference. The airline also extended appropriate compensation to affected guests besides making alternate travel arrangements for their journey to Bhopal today. Jet Airways regrets the inconvenience caused to guests," he said.