The Kerala State Road Transport Corporation (KSRTC) which usually nets maximum profits during August and September months every year is facing a downward spiral this season.
While the average collection for Ernakulam zone was supposed to be Rs 1.10 crore a day during this time of the month, the earning is stagnated to just about Rs 95 lakh, thus creating huge loss for the Corporation, officials said. Hence, in an attempt to increase its revenue prior to the Onam season, the Ernakulam zonal office is gearing up to introduce a slew of measures.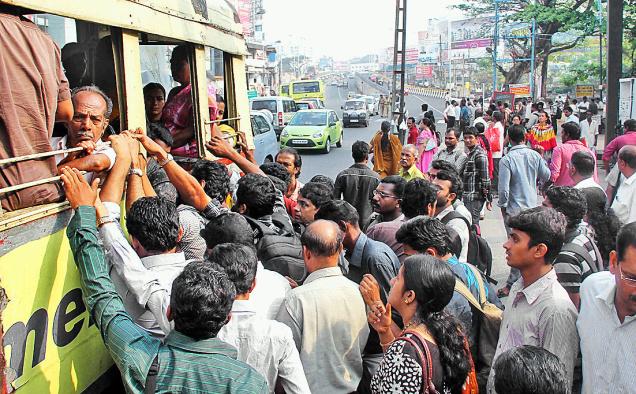 Recently, Ernakulam Zonal Officer Prema Kumar had called a meeting of all the Assistant Transport Officers (ATO's) and District Transport Officers (DTO's), urging them to identify routes that are most viable for the Corporation.
All buses that are lying idle at various conductor-less depots will be utilised in places that has ample staff strength. Starting from Saturday, more services will be operated along the Tripunithura-Kakkanad route, Paravoor-Vyttila and Kalamassery routes, which have much passenger patronage.
"Currently, there are several buses lying idle in depots like Aluva owing to paucity of conductors. These buses will be utilised elsewhere. More routes will be identified by the officers in the coming days," Ernakulam ATO C K Radhakrishnan said.
In Ernakulam depot alone, eight ThiruKochi buses and 28 ordinary buses are lying idle owing to staff shortage. Immediate assistance will be provided to the depots that have an acute shortage of spare parts. Minimum leave will be provided to conductors to avoid frequent cancellation of services.
Conductor shortage
The delay in inducting 600 conductors into the Corporation in the Ernakulam zone itself is generating huge losses for the KSRTC. "We had hoped that the conductors would be inducted this month. However, there has been an indefinite delay due to several reasons. We are not hopeful that we will receive them prior to Onam which would have been good for KSRTC," the officials added.
Source: New Indian Express