Offering relief to the residents in Elamakkara-Aluva region, the Kerala State Road Transport Corporation has launched its services in the area. Transport Minister Aryadan Mohammed flagged off the new Thiru-Kochi service in Elamakkara on Friday. The service was made available following the efforts taken by Hibi Eden MLA. He said that this is the first KSRTC service plying on the route.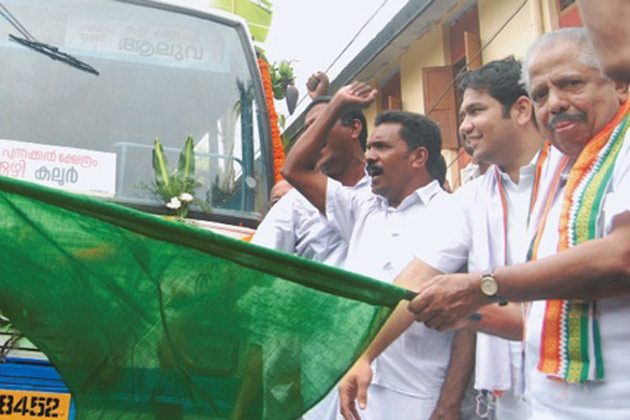 "I have requested the state government for two KSRTC bus services – one in the Cheranello0r route and the other in the Elamakkara-Aluva route. Though we could easily start off the first route, owing to shortage of conductors and the drivers in the KSRTC, there occurred a delay in obtaining the second service. But now it is all set to go," he said.
Assistant Transport Officer C Venugopal said they have prepared a temporary time schedule for the bus. "A final time schedule will be fixed after conducting the trial runs for two days. Private buses are also plying on the route. The services should not overlap with each other," he said.
Venugopal said that at the outset, KSRTC had two or three trips in the area. But that had to be cancelled owing to several reasons. "One service was from Kochukadavanthra via Elamakkara to Ponekkara while the other was from Vaikom to Elamakkara. But that did not earn much collection," he said.
The services had to be withdrawn and diverted for the Pampa duty, the ATO said. "The department used to spare about 200 buses for Sabarimala duty. But last year we fell short of buses owing to several reasons. It also acted as one of the primary reasons to repeal the KSRTC services," he said. He added that this is the first Thiru-Kochi service in the area and hoped that the service would fare well as it would be plying through a thickly-populated area.
Source: News and Picture: ExpressBuzz