The Kerala State Road Transport Corporation (KSRTC) will have to incur an additional burden of Rs.6.5 crore monthly for fuel alone following the hike in the price of diesel.
The hike is a setback to the loss-making corporation whose monthly fuel bill is Rs.57 crore. The KSRTC, which has a fleet of 6,153 buses, cannot pass on the burden to the commuters immediately.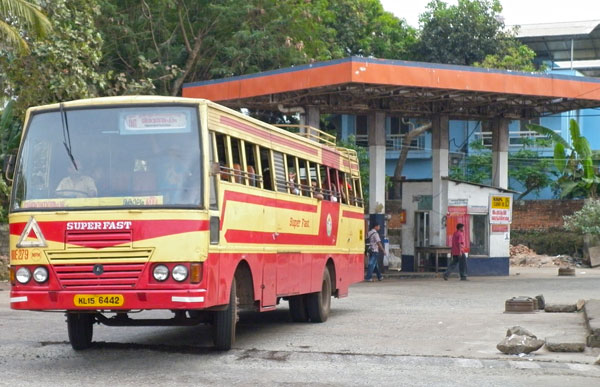 The KSRTC had recently adopted financial discipline measures and streamlined schedules to overcome losses.
Only solution
"Increasing the bus fare is the only solution to tide over the crisis created by the hike in the price of diesel. The corporation is not in a position to absorb the price hike. The fuel bill will go up to Rs.63.5 crore. The fuel bill is well within the credit limit now," KSRTC sources told The Hindu.
Cascade effect
The hike will also impact the price of tyre, tube, spares, and engine oil. The salary bill will go up in view of the likely inflation. The KSRTC with a monthly income of Rs.130 crore has a revenue-expenditure gap of Rs.55 crore. The corporation operates 5,491 schedules on an average and the staff strength is 40,180.
The corporation needs Rs.30 crore every month to pay pension. In addition, it has to find Rs.30 crore monthly for repaying a loan taken from the Kerala Transport Development Finance Corporation for paying pension.
The public sector oil companies often restrict the supply of diesel to the corporation when it exceeds the credit limit.
When the diesel price was increased by Rs.3.37 a litre in June 2011, the government had hiked the minimum fare for ordinary services from Rs.4 to Rs.5.
The minimum fare for fast passenger services was hiked from Rs.5 to Rs.7. The fares for superfast, express, and other services were left untouched.
The minimum fare of 50 paise for students for travelling up to 2.5 km was also not hiked.
Private bus operators have demanded that the minimum fare be increased at least to Rs.7. Over 22,000 private stage carriers ply in the State.