The Akhila Bharatha Ayyappa Seva Sangham (ABASS) has come out strongly against KSRTC's decision to allow other passengers, including women, in Sabarimala special bus services during the two-month pilgrimage season beginning from November.
Talking to the Express, ABASS national vice-president D Vijayakumar said the latest order of the KSRTC management will hurt the religious sentiments of Sabarimala pilgrims, who comes for darshan of Lord Ayyappa after observing strict religious practices.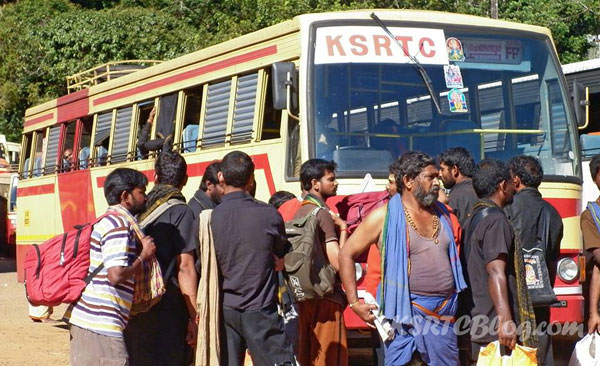 Vijayakumar said the KSRTC management issued the order with vested interests as a similar directive was issued during the last pilgrimage season and was withdrawn in the last minute in wake of protest by the ABASS. The ABASS will oppose any move by the KSRTC to dilute special schedule status, Vijayakumar said.
He said an ABSS team will  submit a memorandum to the Minister for Transport Thiruvanchoor Radhakrishnan seeking the immediate withdrawal of the order. The team will also meet Chief Minister Oommen Chandy and the Minister for Devaswom V S Sivakumar in this regard.
News: Times of India