Dog travels from Hyderabad to Palakkad on top of Sabari Express
Without any speculations about the welcome treat waiting in God's Own Country, the 'special guest' from Hyderabad boarded Thiruvananthapuram Sabari Express that runs with a speed of 90-120 kmph and reached Kerala. A street dog that managed to travel from Hyderabad to Palakkad Olavakkode railway station standing on top of the train later became star of the day.
All stations en route to Thiruvananthapuram were put on alert after the passengers noticed that someone was moving on top of the coaches.
For about 9 hours, the dog managed to stay on top of the train and drove away those who tried to get him down by barking at them furiously. The dog was first spotted above the train by Sasthamkotta Karadimukku native Sooraj, who is a Head Constable in Pallippuram CRPF camp, and Bineesh, who is an RTC of Kannur Peringom CRPF camp. Sooraj said that the dog probably got on top of the train from Hyderabad itself.
When the train gained speed, the dog would get down to the vestibule in between the compartments. This also helped him to duck from the high voltage electricity lines above the track. The dog would again get on top of the coaches when the train stopped at stations and would run to the length of the train.
Though some of the CRPF personnel tried to take it down, the dog fiercely barked at them until they withdrew. Many attempted to tame the dog by offering biscuits and bread. However, the dog did not notice them and continued the thrilling journey that passed the states of Andhra Pradesh, Telangana and Tamil Nadu, and finally reached Kerala through Walayar.
The train reached Olavakkode railway station on Saturday by 10 in the morning. Overhead power lines with a capacity of more than 25 kilowatts run on the route overhead, so the dog had to be rescued before the rain resumed its journey.
When the CRPF personnel and railway police hesitated to save the dog, Sooraj and Bineesh initiated the mission. Sooraj managed to drag the dog down by pulling on its legs. Without making much of a fuss, the 'guest' took shelter in the bushes near the station ending his long journey on the train.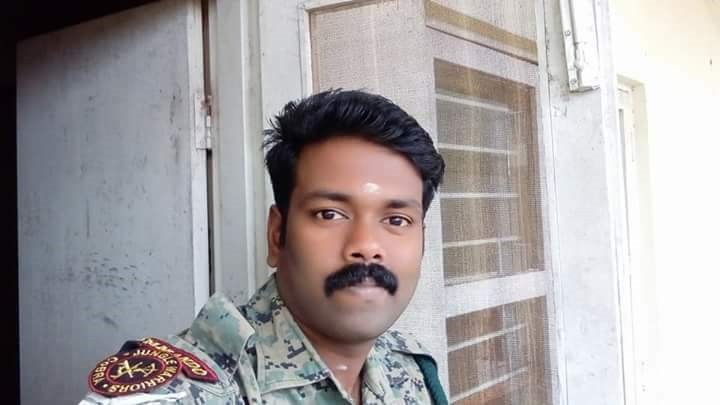 The train was held up at Palakkad by half an hour on account of the rescue bid.
Photos – Mathrubhumi , Manorama Online.