The Volvo bus service between Agartala and Kolkata will start on Friday, Tripura Transport Minister Manik Dey announced on Wednesday. Threats from a rival private operator from Bangladesh Shyamoli Poribohon — which is also running daily bus service between Agartala – Dhaka – Kolkata route for several years now — forced the state government to reschedule the operations.
Officials of State-run Tripura Road Transport Corporation (TRTC) earlier informed that workers of private Shyamoli Poribohon owned by Bangladeshi businessmen Romesh Ghosh and Abani Ghosh had manhandled their liaison officer L.J. Rokhum who was sent to Dhaka to procure road permit and snatched away papers from him. Mr Rokhum had gone into hiding amid threat on his life, but returned to Agartala unharmed on Tuesday with copy of permit at intervention of the High Commission of India.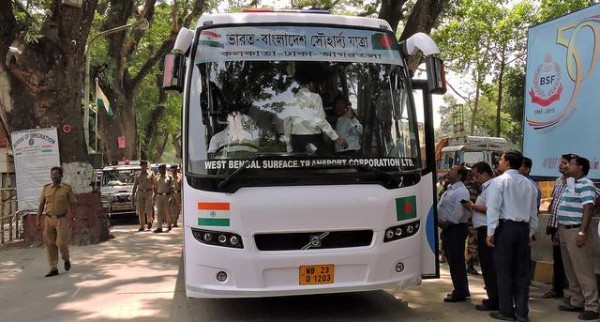 Tripura government has on Wednesday sent a letter to the External Affairs Ministry and also sent a separate letter to Bangladesh government detailing the incident and requesting security to the passengers. TRTC has recently purchased a luxury Volvo from Bengaluru at a cost of Rs 92 lakh for this purpose.
The TRTC completed prepration to launch service on Wednesday. Enthusiastic officials even drove new Volvo to Tripureswari Temple in south Tripura, to seek divine blessing for smooth conduct of the service.
Meanwhile, opposition parties have criticised the left front government for commencing the Volvo service without assurance of security from Bangladesh government. They sited the burning of Dhaka-bound TRTC bus near Dhaka in 2012 though passengers escaped unhurt.
"There are reports that goons linked to Shyamoli Poribohon have threatened to attack the bus once it reaches territory of Bangladesh. The left front government is dragging the bus and passengers in great risk", leader of opposition (of Congress) Sudip Roy Burman stated.
State BJP and Trinamool leaders also expressed anxiety over protection of passengers. Bangladesh and Tripura launched bus service on Dhaka-Agartala route in 2003, but it had been disrupted on different occasions due to political volatility and violence in Bangladesh.
For the Kolkata-Tripura route, the state has proposed to run the services from Kolkata thrice a week, with the buses passing through two Indo-Bangla checkposts, one at Petrapol-Benapole and the other at Akhaura-Agartala. The fare, which is yet to be finalized, is not likely to be more than Rs 2,000.

West Bengal Surface Transport Corporation managing director Nilanjan Shandilya said they planned to run 45-seater Volvo buses to Tripura on Mondays, Wednesdays and Fridays from the Karunamoyee international bus terminus in Salt Lake. The return journeys will be on Tuesdays, Thursdays and Saturdays with no services on Sunday. According to an official, the 350-km distance till Tripura will take over 15 hours to reach as there will be two immigration and customs checks; for that, passengers will have to wait for over three hours. The officials have estimated the time going by the long hours that Dhaka bus commuters usually have to wait at the Petrapol-Benapol immigration checkpost on the Indo-Bangla border. But foreign officials are exploring ways to reduce the time for the Kolkata-Agartala trips.
News: The Hindu