On one hand the KSRTC officials are racking their brains to find out ways to bail out the corporation from revenue loss. On the other hand the erroneous driving of KSRTC drivers is posing serious threat to human lives.
During the past nine months the city police detected as many as 85 traffic violations on the part of KSRTC. Among these, 56 are of violation of traffic signals, 24 relate to speeding and five for not slowing down at zebra line markings for pedestrian crossing.
Police have registered cases and sent memos in this regard to the KSRTC managing director to levy penalty. The list of the people died on roads as a result of errors committed by KSRTC drivers should also be read along with this.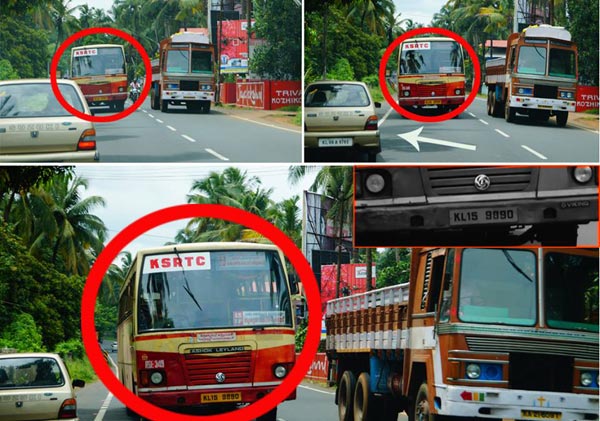 "The statistics may not be very high when compared to the offences committed by the drivers of private vehicles. But it is high when compared to KSRTC's own statistics in the previous years," assistant commissioner (city police control room) P Bijoy said.
Even the Onam celebrations in the city saw KSRTC turning killjoy. KSRTC buses were involved in three accidents and claimed two lives during the Onam week.
On Friday Rajani (26) of PTP Nagar died while riding pillion with her father Madhavan Potti when a KSRTC bus knocked them from behind at Statue junction. On Wednesday, a pedestrian, Sharada (61) of Vazhimukku, Balaramapuram died after a speeding KSRTC bus ran over her near the KSRTC bus terminal at Thampanoor. Her 15-month-old grandson, whom she was carrying in her arms, had a miraculous escape after being thrown away in the impact.
Hours later on Wednesday around 10pm another youth riding a motorcycle was trapped under a KSRTC bus at Statue junction. The traffic police have registered a case against the driver of the bus for careless driving. The driver was unaware of the bike suddenly coming in the way of the bus as his attention was diverted to the roadside Onam illumination, it is learnt. The youth, Rahul of Vellarada, is under treatment at Medical College Hospital after undergoing a major emergency surgery on his right leg.
This accident spree indicates that the money spent by the KSRTC on orientation programmes for sensitising its drivers and other staff on the consequences of erroneous driving has gone in vain. According to a senior KSRTC official, these orientation classes are handled by experts in the field of law, clinical psychology and criminology.
However, members of the Kerala state road transport employees association affiliated to CITU alleged that the orientation programmes have become a farce as they have turned a platform to blame the drivers, who are members of the Association.
"Till 2011, the classes were being conducted properly. We have even submitted a memorandum to the authorities to correct their ways for better results in this regard," said an official on condition of anonymity.
Source: Times of India