Scania India is expanding its reach in the Indian government bus sector after commencing local bus production in India in March this year. Scania continuously winning bus orders in India is giving sleepless nights to Volvo India as the later is an established player in the Indian luxury coach segment.
Scania India bagged orders from Maharastra State Road Transport Corporation (MSRTC) to supply 38 Metrolink buses, a top official of the company said.
Addressing media persons today in Bengaluru, Anders Grundstromer, Managing Director, Scania India and Senior Vice President, Scania Group, said, "We won the MSRTC orders by participating in their government tender process. The company will start supplying its locally manufactured Metrolink buses to MSRTC from this month."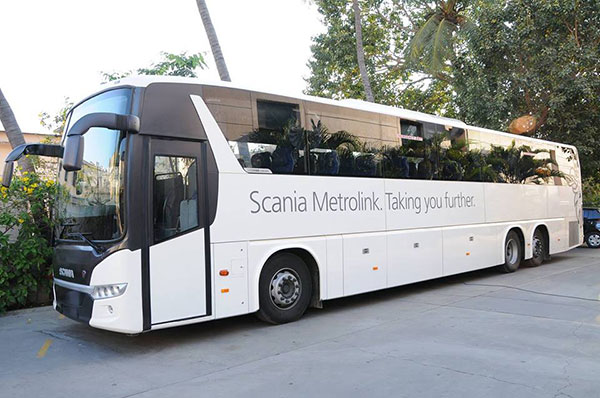 This is second major order from the public transport corporation for Scania India as already it has bagged an order to supply 35 buses to Karnataka State Road Transport Corporation (KSRTC). The Swedish commercial vehicle maker has already executing orders to KSRTC since last week .
So far the company has been importing its Metrolink luxury coach buses from Malaysia. In March 2015, Scania India has commenced local production of buses at its integrated manufacturing facility in Narasapura Industrial Estate in Bangalore. Since commencing the local production, the company dispatched 20 locally made Scania Metrolink buses to its customers including KSRTC and other private fleet operators in India.
Scania India continuously winning bus orders in the country is seen as a tight and new competition to Volvo as it is an established player in the luxury coach bus market in India.
Besides winning government orders, Scania India is also pulling Volvo India's traditional business from the private fleet operators.
For instance, the private fleet operators like SRS Travels, KPN Travels, Parveen Travels and Kallada, who were the customers of Volvo buses, have started buying Scania buses after Scania establishing its bus business through import route in India two years ago.
In addition to selling luxury coach buses, Grundstromer said the company is also in talks with the state public transport corporations like Bangalore Metropolitan Transport Corporation (BMTC) to sell low floor city buses. It may be noted that BMTC is the single largest customer for Volvo India. BMTC has around 700 Volvo buses in its fleet, servicing across Bengaluru city. Now Scania entering into all premium bus segment in India is expected to give sleepless nights to Volvo India.
Source: Automotiveindianews