KSRTC is running a Super deluxe air bus from Bangalore to Thiruvalla and vice versa. This service started around 5 years back when Mathew T Thomas was the transport minister. This is one of the finest and perfect schedule of Kerala RTC. Most of the time the bus used to maintain the proper timings. The bus is well maintained and timing is also perfect.
The schedule started with two Super Fast Buses (RR 48 and RR 49 then RRC 151 and RRC 161) and later they upgraded the service to Super Deluxe Air Buses RRC 966 and RRC 979 and now its running with RSC 674 and RSC 675 .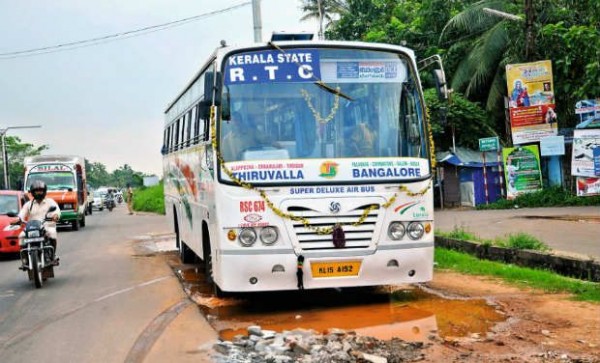 The bus would depart from Thiruvalla at 2.20 p.m. on all days to reach Bangalore by 6.00 a.m. the next day.
From Bangalore, The Bus leaves at 6.20 p.m on all days to reach Thiruvalla by 8.30 a.m the next day.
Visit
for latest and updated bus timings of KSRTC