25 thrilling experiences around Bangalore on a college budget
Written By – PRAJNA RAO.
To find that perfect balance between an exciting experience and a reasonable cost can be a mammoth of a challenge. Making your task easier, we list 25 thrilling experiences around Bangalore on a college budget. Go rafting on gushing waters, scale up towering boulders, camp in the midst of wilderness, enjoy night trekking, learn surfing and do a lot more, albeit, without draining your wallet.
1. Night Trek at Kunti Betta
Add one more to your list of crazy midnight adventures. This time around, explore the nocturnal mysteries of Kunti Betta with your friends. Stunning to look at, it is believed that this is the very hill where the Pandavas and Kunti resided during their exile.
A rather off-beat experience, you would begin your trek around the wee hours of 1.30am. Reach the peak, relax by the campfire, sleep under the starlit sky and if you wish, enjoy kayaking and swimming the next day. This whole experience would cost you around 1250 rupees.
2. Coorg Camping
Why stay cooped in the confines of the house when you can explore the fascinating outdoors? And if it is the lack of pocket money holding you back, fret not. You can enjoy this experience amidst rich green, dream like destination of Coorg. It comes at a reasonable price of 1575 rupees.
Over two days and one night, relish the thrills of camping with a bonfire, visit to the waterfalls and a night walk which offer a great romantic package for honeymooners in coorg.
3. Day Outing at Bheemeshwari
Instead of lazing around and doing nothing on a holiday, you can whisk yourself way to Bheemeshwari, where adventure and nature awaits. Resting on the banks of River Cauvery and on the edges of Mutati forest range, Jungle Lodges, Bheemeshwari offers the ideal setting for exciting times.
Unwind by the serene surroundings, spot some wild animals and birds, choose between zip-line, Burma loops, rappelling, kayaking, coracle rides and more. This experience would cost you roughly 1650 rupees.
4. Wine Tour At Ramnagara
Wondering what a wine tour is doing in the midst of these activities? At a throw away price of around 150 rupees, we had to kind of mention this. If you are of the legal age, enjoy your occasional glass of wine and are curious to know more, then this is your kind of tour. And even if you are not one of them, you can still make a picnic out of it!
After you reach the winsome town of Ramangar District, get to know fun facts about the wine making process, learn to appreciate the drink the professional way. The best part though is you get to sample 5 different types of wine that include Indian and French. Much cheaper than your local pub, don't you think?
5. Star Gazing and Night Trek in Skandagiri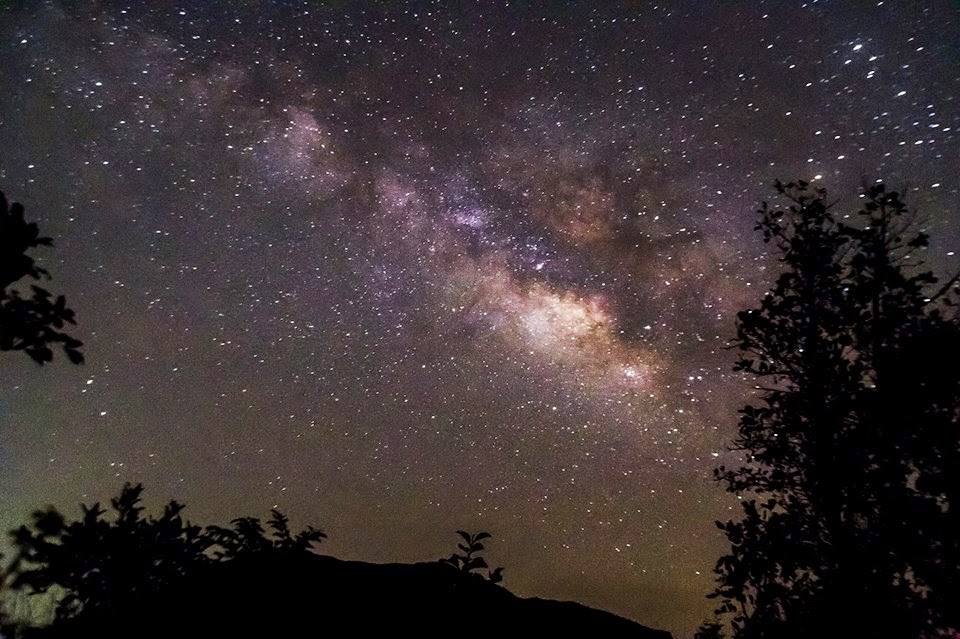 Now this is an experience worth convincing your parents to break the midnight curfew. With a tiny price tag of just 990 rupees, you won't even have to rely on them for the money either. Ideal for thrill seekers and romantics alike, get to encounter night charms as you meander on the moderate and challenging trail of Skandagiri, an ancient mountain fortress near Bangalore.
Once on top, warm up by the campfire, make the night interesting with ghost stories, gaze at the stars that come out alive, wake up to the first rays of the sun and head back. In the process do some soul searching too. Now how often can you boost of such an experience?
6. Overnight Manchanabele Camp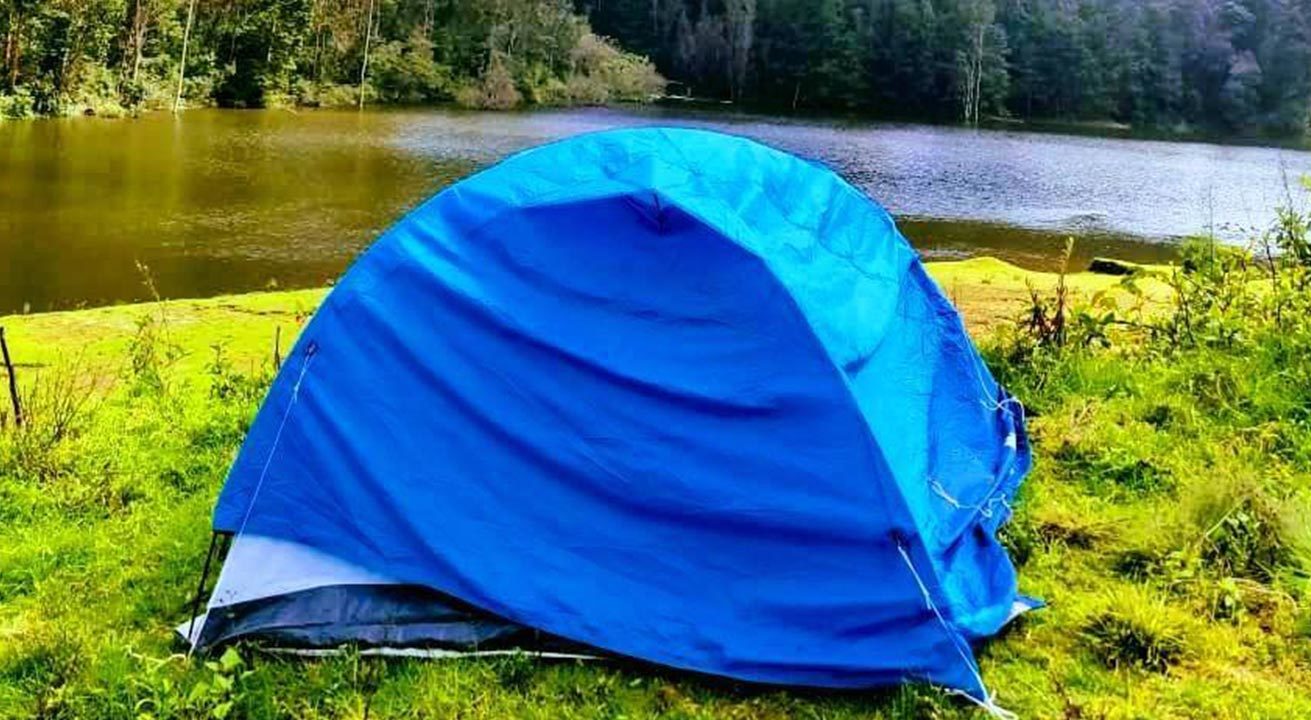 If you are one of those bored college kids looking for some adventure, then this is just what you need. Take a deep dive into a myriad of adventure activities at the unsullied land of Manchanabele Camp, located on the outskirts of Bangalore. Over two days, go hiking, obstacle river crossing, tube-rafting, kayaking and more. Relish the meals by the bonfire and get your beauty sleep in an outdoor tent. Rest assured, there will never be a dull moment.
7. Fun day at Jain Farms, Bangalore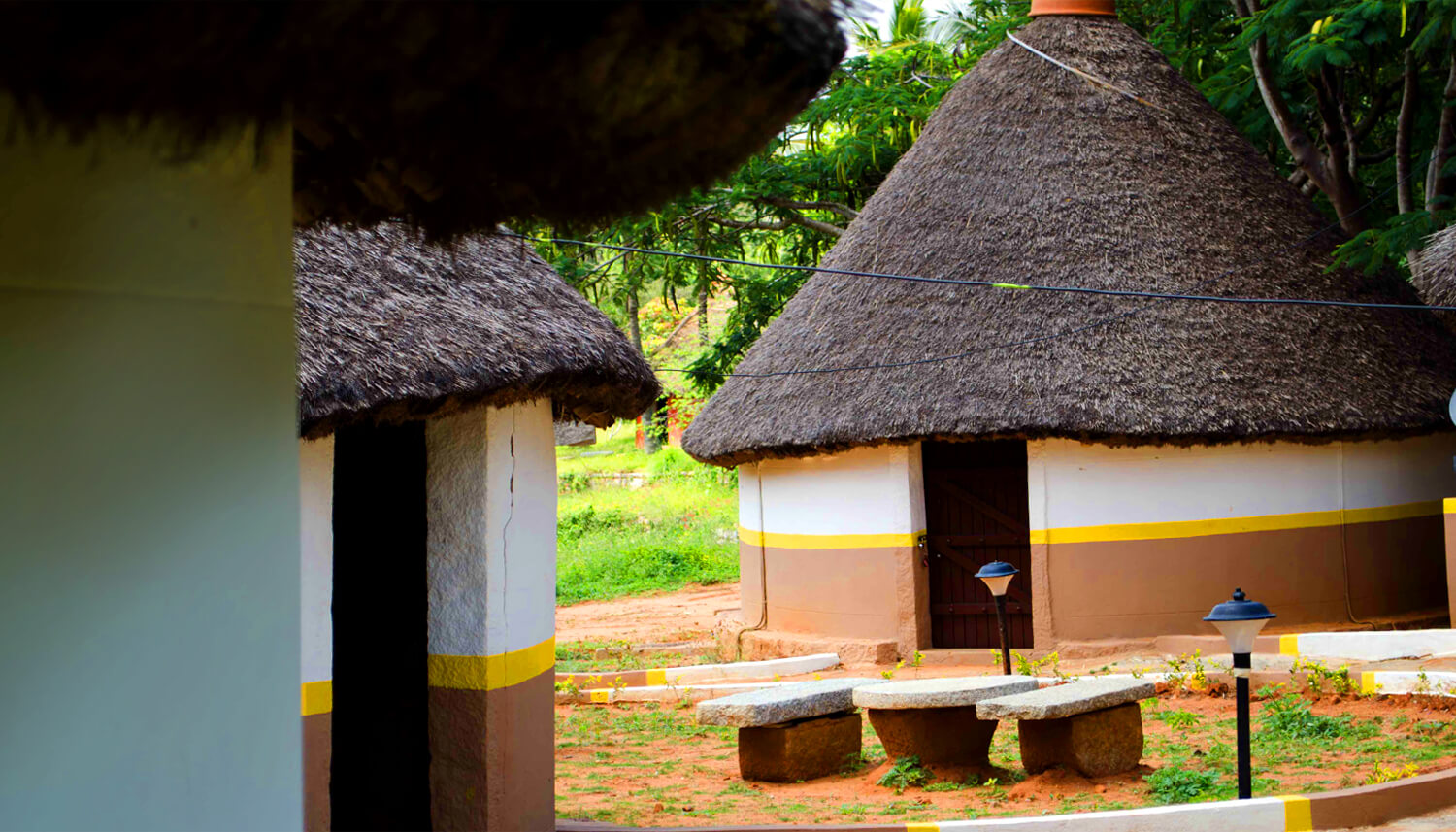 Sometimes, you have this crazy desire to get out of the city and not spend too much money in the process. If you and your friends are bored of your monotonous lives, then head to Jain Farms, around 44 kilometres from the city.
In the span of a day, engage in activities like bullock-cart rides, astrology, pot making and magic shows. Participate in fun games, take in the serene atmosphere and come back to the city refreshed. This experience would cost you only around 740 rupees per person.
8. Adventure in Ramnagara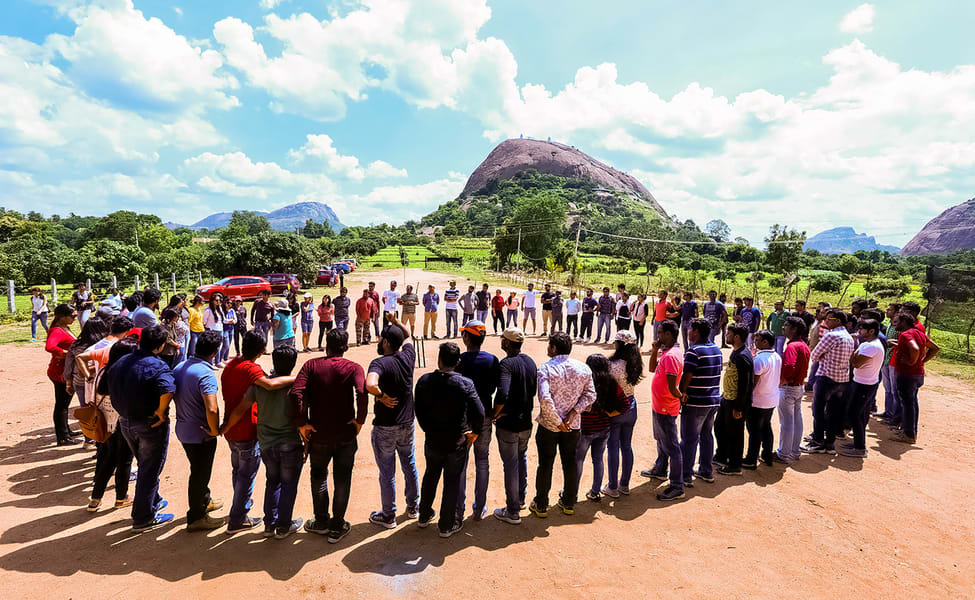 Thought your last exam was a challenge? Now here is something that would require you to push your mental and physical boundaries. For adventure aficionados, the rocky and steep mountains of Ramnagar make for an appealing destination.
Go hiking, rappelling at 120 feet and challenge yourself to Chimney Climbing. The experience might not give you an A in an exam, but will certainly prep you up for all the tests that life brings along with it. This rip-roaring jaunt will cost you around 1260 rupees.
9. Mountain Biking in Dandeli Jungle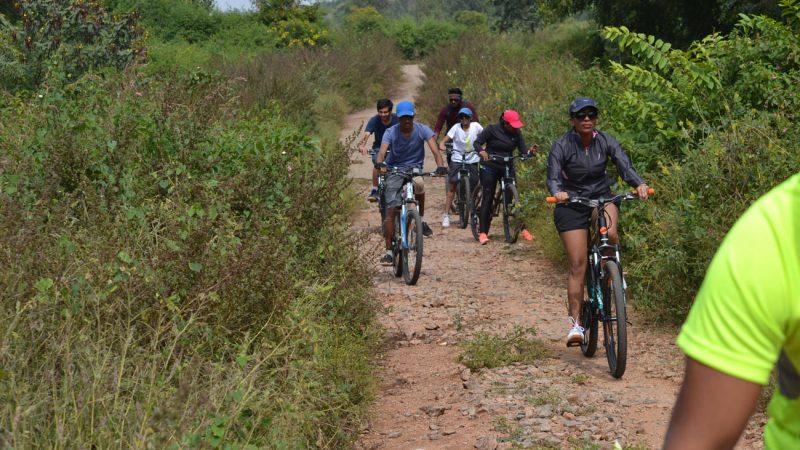 If you thought offbeat adventure comes at a heavy price, then let us break the bubble for you. In case you are already in the pristine land of Dandeli, add another experience of mountain biking (at only around 450 rupees) to your kitty. There is not a better way for to you explore this land of greenery and natural delights.
Hop onto mountain bikes suited for the rough terrain and learn how to manoeuvre them as you enjoy two hours exploring the land.
10. Dudhsagar Waterfall Trek, Belgaum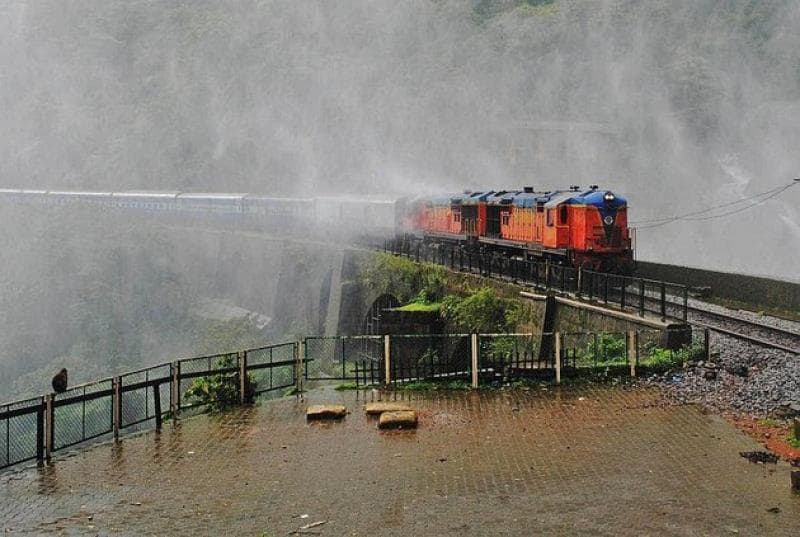 So the trek in Ladakh might be a stretch on the budget, but there is something exciting that you can avail of at a much lesser price. In this four hour long trek, witness the Dudhsagar Waterfalls, world famous for its milky white cascade. Not only that, make your way through several tunnels, gorges and enjoy the bountiful of greenery. Have a date with nature as you enjoy lunch in the openness. This experience would cost you around 790 plus travel charges to and fro Belgaum.
11. Trekking through Masinagudi
Unravel the charm of the famed Nilgiris over a four hour trekking experience. Find out the secret that what makes this mountain region so popular.
Make way through deciduous forests, feel the crisp mountain air, take in the dewy sights and do not be surprised if you come across exotic species from the bird and animal kingdom along the way. The trekking experience would cost you around 470 rupees.
12. Coorg River Rafting
Enter the misty land of Coorg and enjoy an exulting experience of white water river rafting for 4-6 kms as you encounter fierce rapids. Some interesting levels of rapids like Morning Coffee, Grass Hopper, Ramba Samba, Wicked Witch and Big Bang make for thrilling rides. Along the way, catch sights of the Brahmagiri Wild Life Sanctuary. All at a cost of 1430 rupees.
13. Anthargange Night Trek and Cave Exploration, Bangalore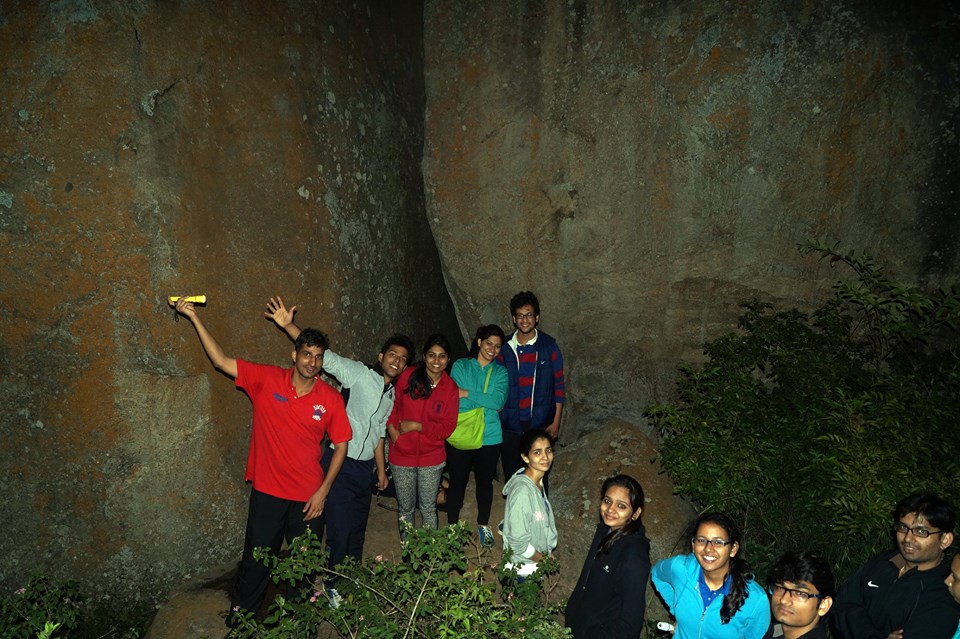 Aren't you curious to know what lies within the dark depths of the caverns? With Anthargange Night Trek and Cave Exploration, find beauty in the blackness. Also, witness an unbridled view of the night sky and horizon as you relish fetching moments by the bonfire. The experience would cost you below 990 rupees.
14. A relaxing day at Anandadhama, Kanakapura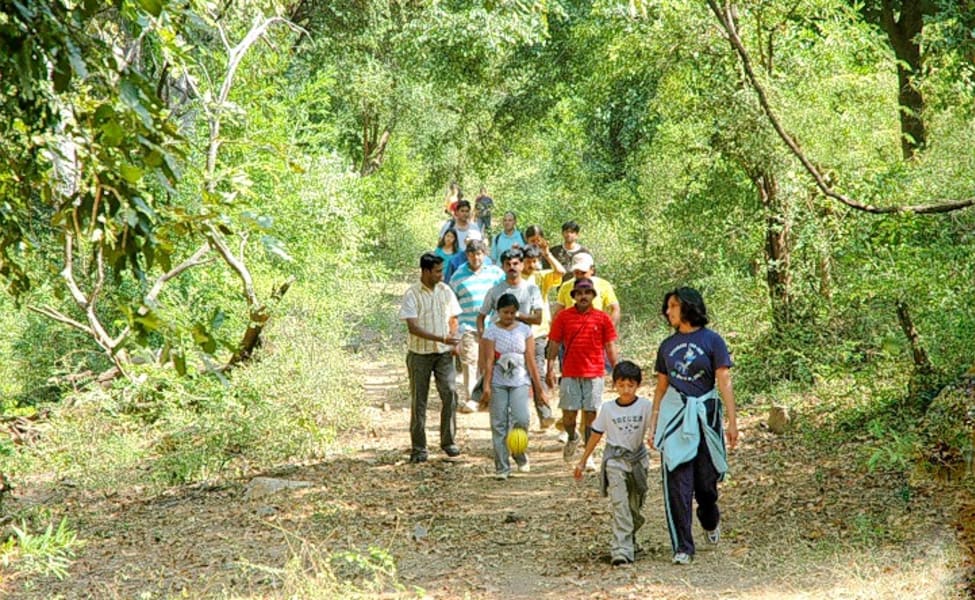 For a short and sweet getaway, escape to Anandadhama, Kanakapura. Lolling on the banks of Cauvery River and sheltered by forests, it lends a serene atmosphere.
Relax in the quiet environs and bond with loved ones. Partake in activities like coracle cruises, jungle trekking, archery, Tarzan jumps, ditch jumps, balancing beams and more. All this will cost you around 850 rupees.
15. The Gokarna Beach Trek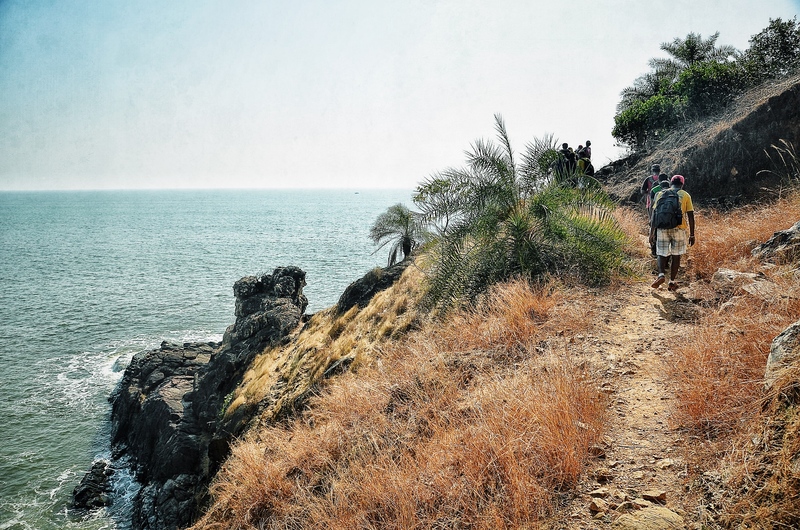 If you are beachy by nature, this might interest you. Apart from lazing around the sandy delights of Gokarna, you can also avail a beach trek in Gokarna.
Over two days, take in the beauty of the azure waters on one side and rocky terrain on the other. Moreover, you get to trek through the dense tropical forest. The cost including transport to and from Bangalore and meals comes to around 3000 rupees.
16. Surfing at Malpe Beach, Udupi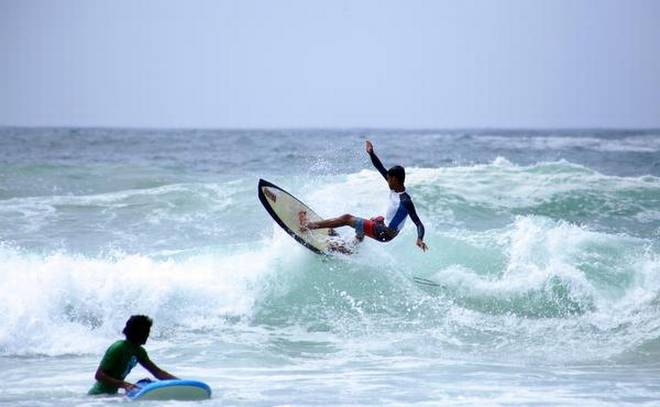 If you are into surfing and always wanted to manoeuvre the waves, then this would be money worth spent. In the pristine Malpe Beach, over a span of 4 hours, learn the basics of paddling and surfing and get to put your teachings into practice. The course would cost around 1200 rupees.
17. Kadumbadi Bicycle Tour, Mahabalipuram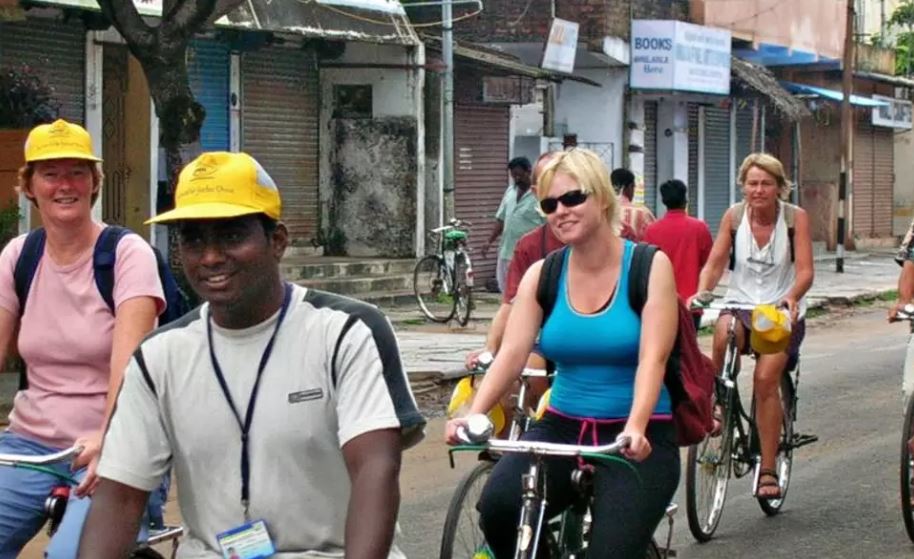 Not only is this an exciting experience but it can change your perspective about things too. This cycling ride unfolds many thrills along the way. Peddle through the country side, feel the wind in your hair that triggers all your happy zones. Additionally, meet local potters and try your hand at pottery too. All of this in a span of one day costing around 750 rupees.
18. Hebri Nature Camp, Udupi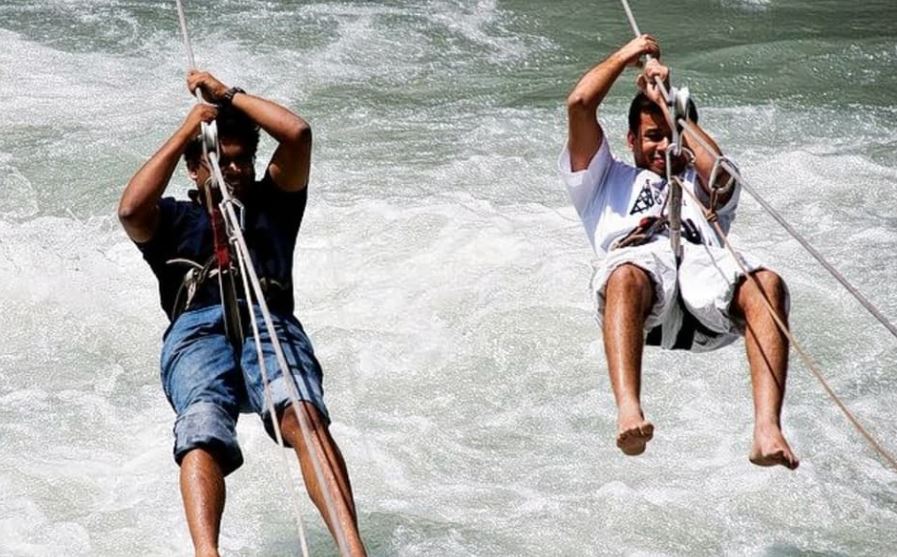 Cuddled up in the foothills of the Western Ghats, the Hebri Nature Camp in Udupi is the stop for adventure in the wilderness.
Trek through winding trails and enjoy river rafting in the gushing waves. Unwind beside a campfire and an overnight camping experience. Including transport to and from Bangalore, stay and meals, this would be around 3,400 rupees.
19. Stand up Paddle Lessons, Goa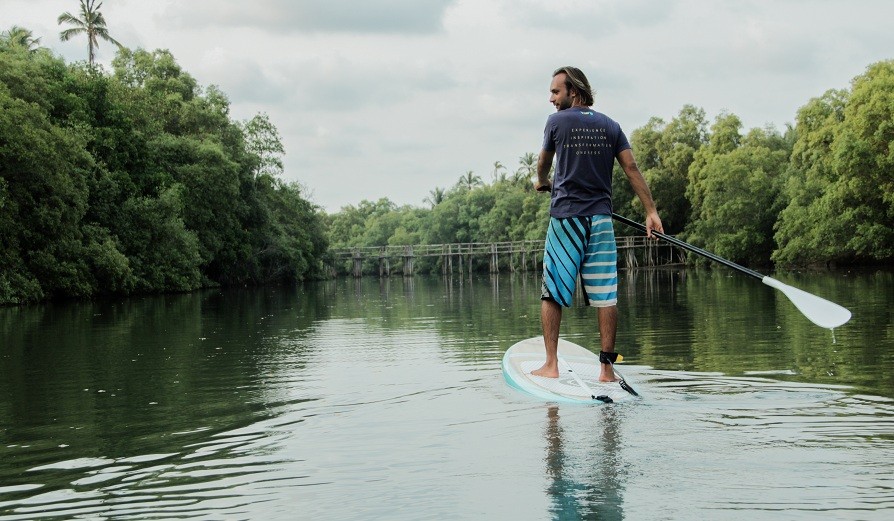 Everyone loves the party capital Goa with its never-ending beaches, shacks and groovy happenings around the city. But taking the excitement up a notch is a paddle lesson where you learn the basics over one hour.
As you paddle and surf the waves, discover a whole new fascinating world. Those who are into this will know that an approximate of 1800 rupees is a small price to pay.
20. Kayaking at Aligadda Beach, Karwar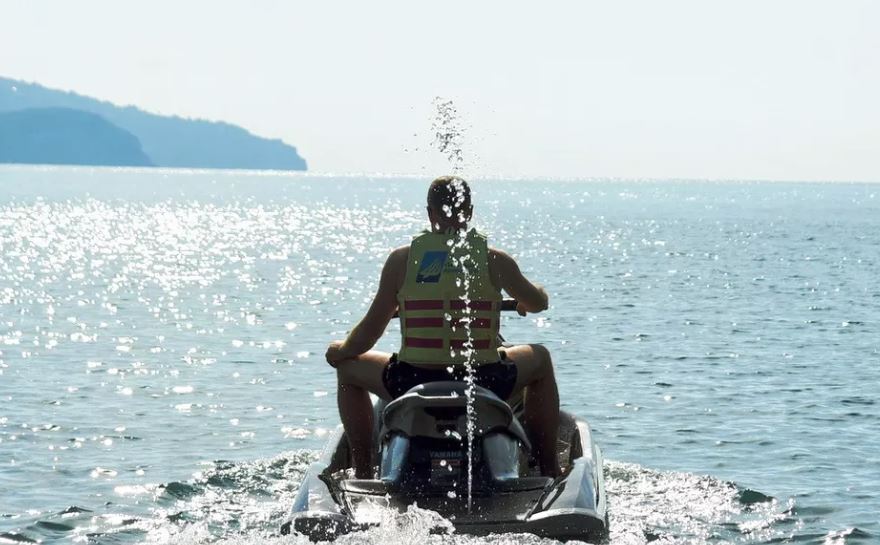 Whoever said that you need a lot of money to enjoy what life and nature has to offer? For a mere 250 rupees, indulge in an hour of kayaking in one of the most beautiful beaches in Karwar. Enjoy rowing in the tranquil waters and get expertise from the specialists. On a plus note, uncover sweet sights along the way.
21. Island Trip at Murudeshwara Beach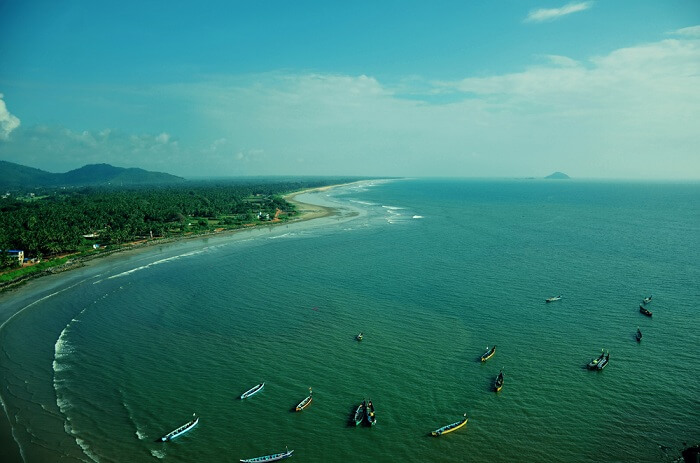 If you happen to be by the Murudeshwara Beach, club this experience of an island beach at a small price of around 250 rupees for 4 hours. t will be like a picnic with friends like no other. Lap up a boat ride to the Netrani Island. When there, take in the beauty, go swimming and witness corals, butterfly fish, parrot fish and eels in the clear blue waters.
22. Bandipur Wildlife Safari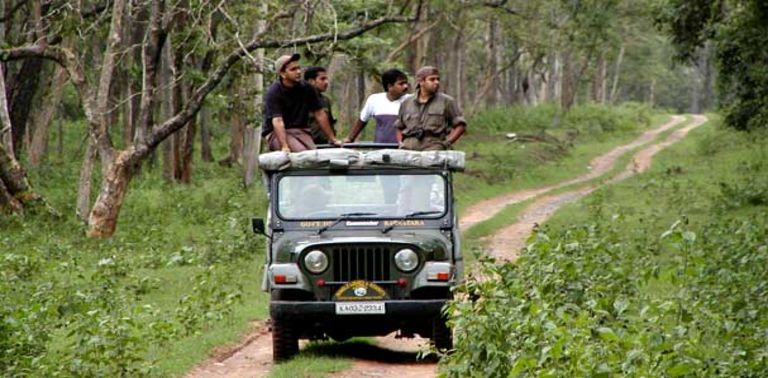 Think beyond movies, games and restaurants for your pastime. Have a tryst with the wild as you set off on a safari in the land of Bandipur. The National Park houses endangered species like sloth bears, Indian elephants, gaurs, tigers, muggers, Indian rock pythons, four-horned antelopes and dholes. The experience that would cost you around 1200 rupees is worth it.
23. Rafting in Bheemeshwari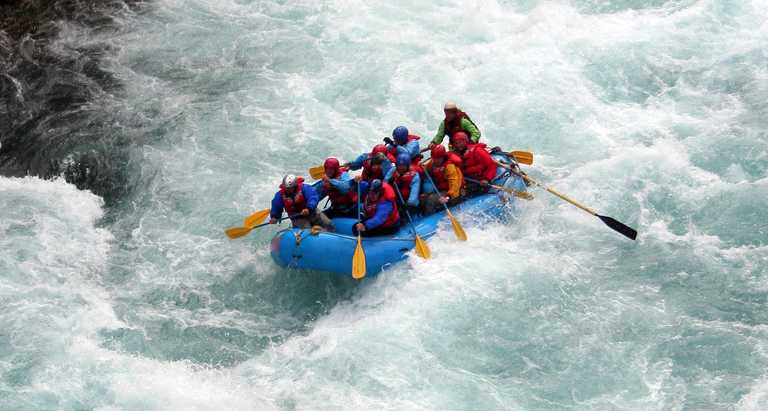 Nestled between the Shivasamudra and Mekedatu falls, and on the banks of river Cauvery, Bheemeshwari makes for an exciting getaway. And the best part is that it's not too far from the city. Amongst the spate of adventure activities available here is rafting. Moderate in nature, make way through luxuriant forests, stunning valley, and picturesque landscapes. The activity would set you back by approximately 1250 rupees.
24. Night camping at Chikmagalur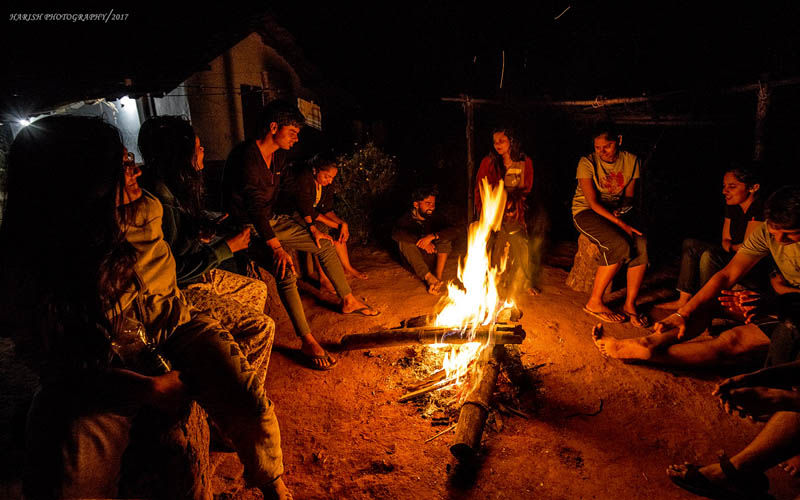 Don't we all love a slumber party? Now what if we said, that you can have the same at the green hills of Chikmagalur? . Discover the joy of overnight camping here. Bond with fellow buddies and witness the how the mountains wake up to the sunrise, all for an approximate of 2500 rupees.
25. Nagarhole Wildlife Adventure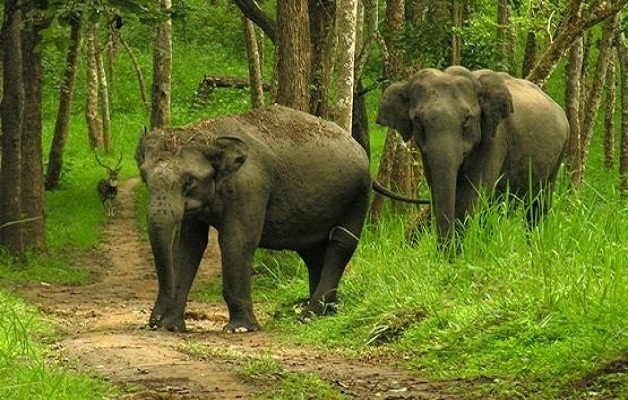 Explore the wilderness of Nagarhole with a jungle safari and dwell in an eco-friendly jungle resort. Sprawling over 34 acres of manicured gardens and mango orchards, this retreat lies on the edge of the Rajiv Gandhi National Park.
Asian Elephants, Gaurs (Indian Bison), several species of Deer, Sambars, Sloth Bears, Marsh Crocodiles, Otters, Indian Wild Dogs are said to be spotted at the National Park. Avail the package of two days and one night at around 4000 rupees.
Source – thrillophilia.