10 Romantic Resorts In India
Every now and then it is important to sneak away from the routine and take a romantic getaway with your partner. To make it a memorable affair for couples, the most romantic resorts in India are nothing less than fantasy worlds. They offer a mix of beautiful settings, utmost privacy, and unmatched comfort.
Here's a download of the dreamiest romantic resorts in India that you must visit at least once – because we all deserve to pamper our bae once in a while!
1. Ri Kynjai Serenity by the Lake in Shillong, Meghalaya – Living to its name
The Abode of Clouds, Shillong is already a paradisiacal hideout that makes the perfect destination for romantic vacations for couples. Ri Kynjai Serenity By The Lake assures an enchanting experience for lovebirds with its breathtaking settings.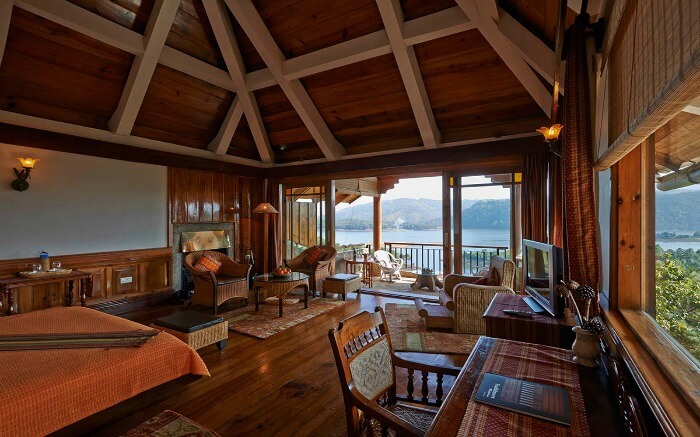 Come here to titillate your tastebuds to authentic Khasi cuisine, rejuvenate with traditional spa treatments, and hail the beauty of nature with your loved one by your side. When you're on exploration mode, go on treks in the verdant hills.
Nearby attractions: Umiam Lake, Elephant Falls, and Shillong Catholic Cathedral Church
What's special: The lakeview is one of the key features of the resort. It lives up to its name and the serene environs totally set the mood right.
Tariff per night: INR 9,000 per night onwards
2. Butt's Clermont Houseboats in Srinagar, Kashmir – A secluded spot offering an amazing vista
Butt's Clermont houseboats are moored on the secluded western edge of the charismatic Dal Lake, overlooking the snow-capped peaks. They are the best among houseboat romantic resorts in India, and offer unbeaten luxury and comfort. Also, the famous Mughal Garden, built by Emperor Akbar, is located right beside it.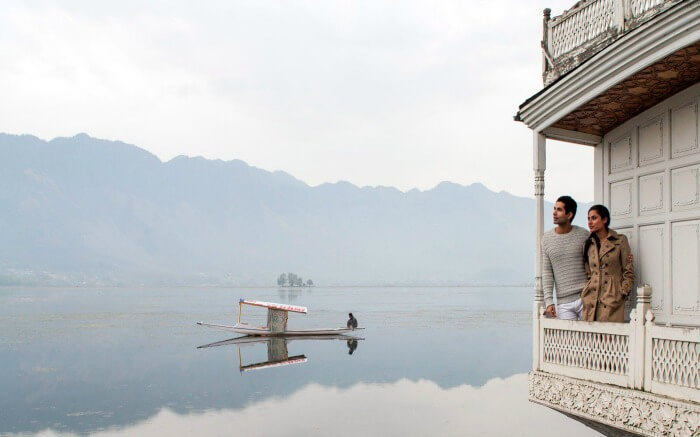 The wooden houseboats with signature-carving of Srinagar's artistry and delicious local cuisine, flaunt the rich heritage of Kashmir. Plan an escape here to live your romantic fantasies.
Nearby attractions: Dal Lake, Mughal Garden, and Jamia Mosque
What's special: All the houseboats feature a big hall with dining area and TV. You also get a cozy sitout area where you can chat over a hot cup of coffee and simply enjoy the vista.
Tariff per night: INR 10,000 per night onwards
3. Machan in Lonavala, Maharashtra – Eco resort in a biological hotspot
Lonavala- one of the best road trips from Mumbai is the picturesque location for Machan. This eco-resort is among the best romantic resorts in India and features tree houses nestled about 35 meters above the woods. And while providing nonpareil comforts to their guests, it is made sure that the nature isn't harmed.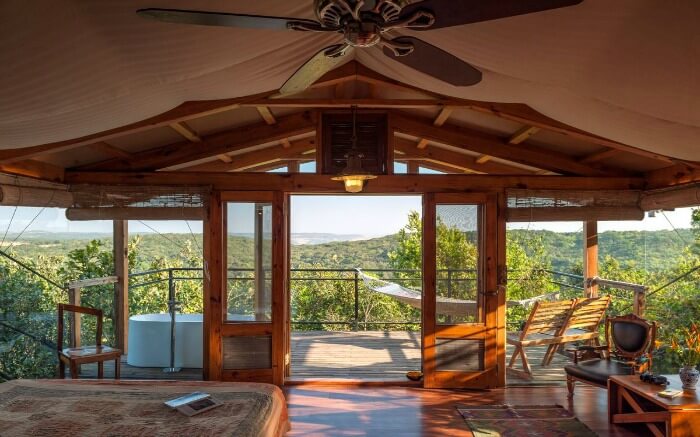 Nearby attractions: Karla Caves and Lohagad
What's special: The resort is located in Jambulne, which is among the 25 biological hotspots in the world. So be prepared to experience a rich biome as you take a break in one of the most romantic retreats ever
Tariff per night: INR 12,000 per night onwards
4. The Windflower Resort & Spa in Coorg, Tamil Nadu – Luxury property in a coffee estate
Windflower Coorg is settled amid a verdant coffee estate and spread across an area of 25 acres. Not just that – a glistening lake, private waterfalls, an outdoor infinity pool, and a refreshing spa promise a rejuvenation staycation with your partner. The panoramic views of lush green hills further make it one of the best honeymoon resorts in India.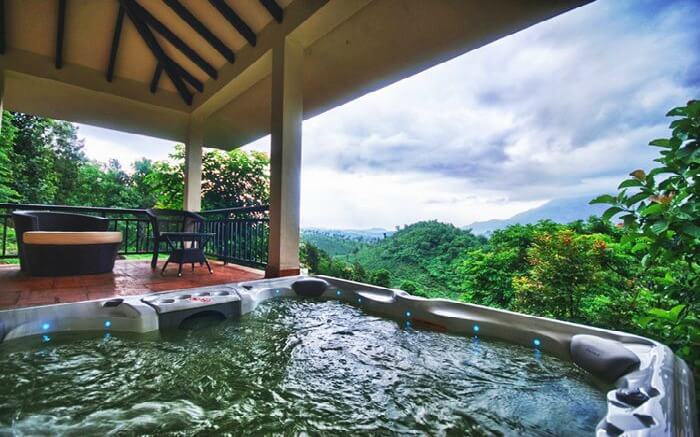 Nearby attractions: Nagarhole National Parks and Abbey Waterfalls
What's special: Special Candlelight Dinner Package that features a four course meal
Tariff per night: INR 12,000 per night onwards
5. Suryavilas Luxury Spa & Resort in Solan, Himachal Pradesh – A short getaway from Delhi
You both need a romantic getaway, but have little time? Well, Surya Luxury Spa & Resort is merely 5.5 hours away from Delhi. Covering an area of 15 acres, this opulent property boasts of being one of the largest in Solan and among the top 5 romantic resorts in India.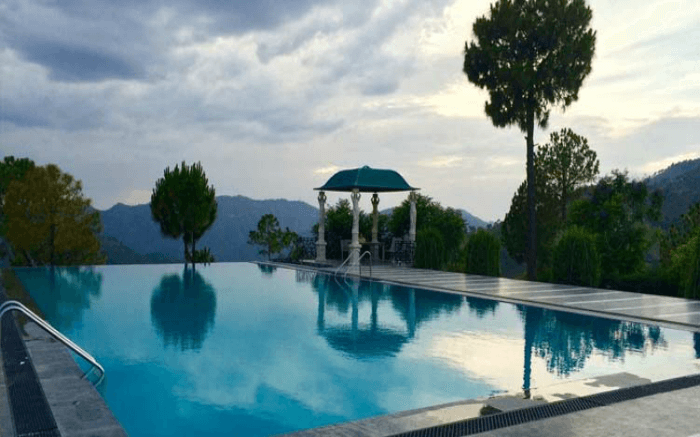 Come here to relax in the gentle breeze and have a cosy time with your spouse in the infinity pool. Couple Yoga is available too.
Nearby attractions: Shimla Mall Road, Christ Church, and Jakhoo Temple
What's special: The infinity pool of the resort is the perfect place to unwind while glancing at the views.
Tariff per night: INR 13,500 per night onwards for resort rooms
6. The Khyber Himalayan Resort & Spa in Gulmarg, Kashmir – Right amid the coniferous jungle
One of the most famous romantic retreats in India, Khyber Himalayan Resort & Spa is a 7-acre grand property, nestled amid the coniferous trees. A little away from the Gulmarg Gondola that goes high up till the Kongdoori Mountain, this property is perched at a height of 8,825 feet. Pamper yourselves in the in-house luxurious spa by L'Occitane, go skiing, and explore the virgin woods hand in hand.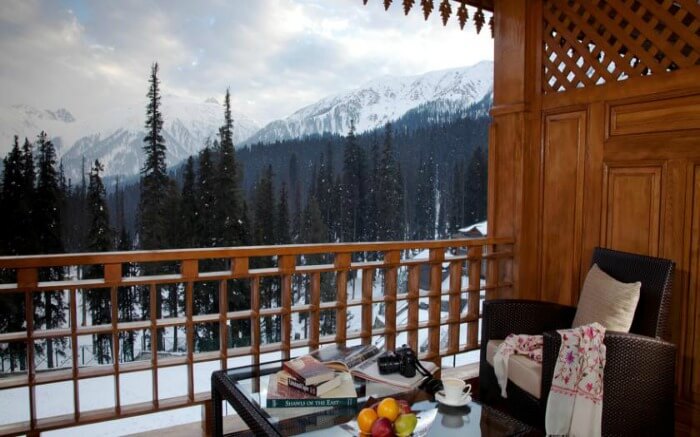 Nearby attractions: Gulmarg Gondola, Gulmarg Biosphere Reserve, and Gulmarg Golf Course
What's special: The Khyber Himalayan Resort & Spa allows the guests to indulge in various activities, right from trekking to skiing. They also provide expert guidance for some of the winter activities in Gulmarg.
Tariff per night: INR 14,500 per night onwards
7. Park Hyatt Resort And Spa in Cansaulim, Goa – Romance in the backdrop of coastal sunsets
When you want to choose the best for your Goa vacation, go for Park Hyatt Resort & Spa – a breathtaking pick among the romantic resorts in India. Thanks to the scenic views of the beach, lagoon, and lush gardens, the overall beauty of this resort is spellbinding.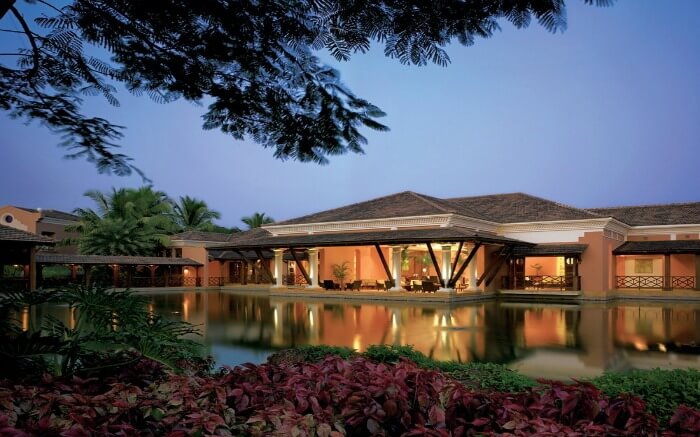 Park Hyatt Resort & Spa was designed to replicate an Indo-Portuguese township. Featuring one of the largest pools in India, Park Hyatt Resort And Spa boasts of Pausada-style guestrooms that come with spa-inspired bathing experience.
Nearby attractions: Cansaulim Beach, Majorda Beach, and Church of St. Thomas
What's special: There are a number of experiences you can enjoy while in this property. Yoga programme, horticulture tour and water sports are among the best of them.
Tariff per night: INR 15,000 per night onwards
8. Marari Beach Resort in Alappuzha, Kerala – A mushy tropical escape
Dreaming of that perfect tropical escapade with your significant? Marari Beach Resort is all you need. The property is located in Alappuzha – one of the best places to visit in Kerala – and features tropical-themed cottages that come with a minibar, a sitting area, and a terrace. You can relax by the pool, go out for a lovely ride aboard Kettuvallam (traditional Kerala houseboats), and enjoy couple massages too.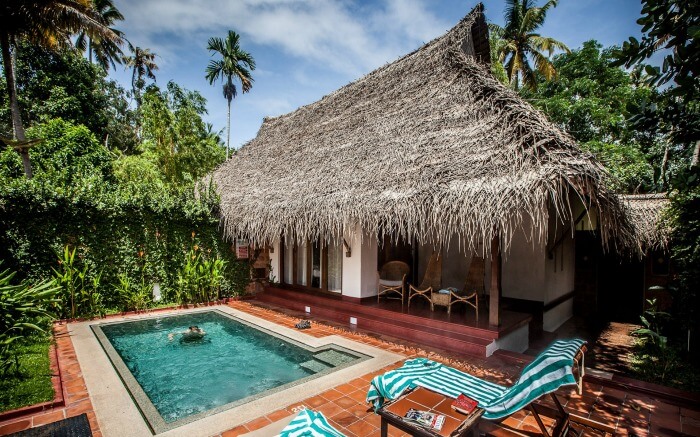 Nearby attractions: Marari Beach and backwaters
What's special: The in-house restaurant of Marari Beach Resort is renowned for serving delicious regional and seafood dishes
Tariff per night: INR 21,000 per night onwards
9. Oberoi Udaivilas in Udaipur, Rajasthan – Charm of the Venice of the East
Venice of the East, Udaipur features many romantic retreats, but nothing beats the royalty that Oberoi Udaivilas is. The lake resort masters the art of perfection in every sense, be it decor or gracious hospitality! Standing on the 200-year-old hunting ground, the property showcases the heritage of Rajasthan merging gracefully with world-class luxury.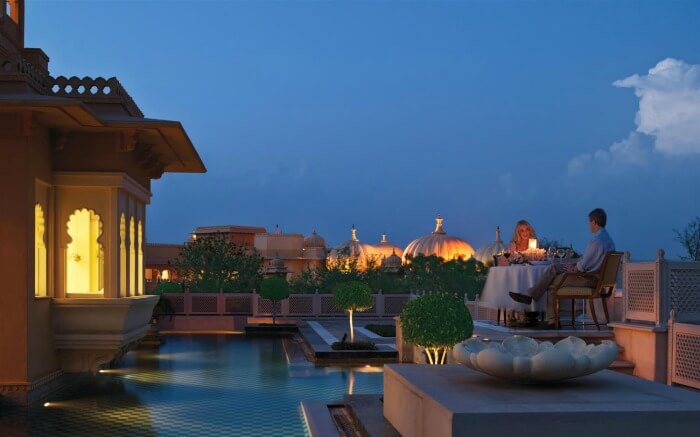 Nearby attractions: Lake Pichola, City Palace, Jag Mandir, and Lake Palace
What's special: A private lakeside dinner, under an ornate dome, in this luxurious property is an affair you can never forget.
Tariff per night: INR 49,000 per night onwards
10. The Oberoi Vanyavilas in Ranthambore, Rajasthan – Combining wildlife with romance
When it comes to wildlife-loving couples, resorts like Oberoi Vanyavilas is the best choice they can make for a getaway. Oberoi Vanyavilas is located merely ten minutes away from one of the largest tiger reserves in the country, Ranthambore Tiger Reserve. Their Observation Deck overlooks the bordering woods and watering hole where you can spot many animals and birds.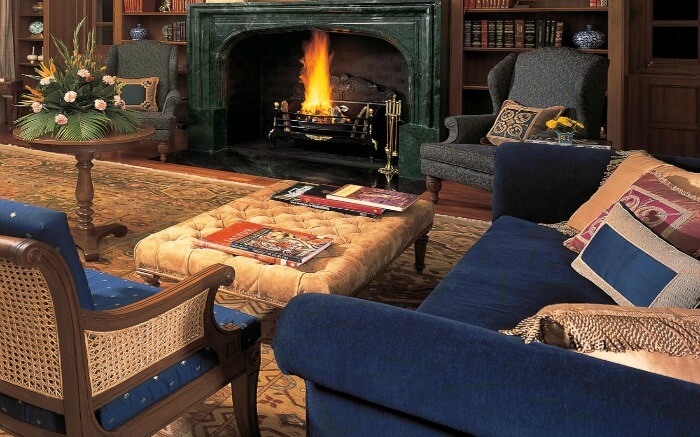 When the sky changes its color, and the sun is about to set, pop the champagne and enjoy your luxurious stay.
Nearby attractions: Ranthambore National Park and Tiger Reserve and Ranthambore Fort
What's special: Wildlife safari, art walks, private Yoga sessions, camel cart rides, star gazing, and a romantic a dinner by the lake – there are a lot of romantic things to do in Oberoi Vanyavilas, Ranthambore
Tariff per night: INR 48,000 per night onwards
So, all set for a memorable escape with your partner? Pack your bags and get going, now!