What are the merits of LHB coaches over ICF coaches?
Linke Hofmann Busch (LHB) coaches are the new generation passenger type coaches of Indian Railways that have been developed by Linke-Hofmann-Busch of Germany. The others being ICF(Integral Coach Factory) coaches and Hybrid coaches. These coaches are manufactured at Rail Coach Factory in Kapurthala, Punjab.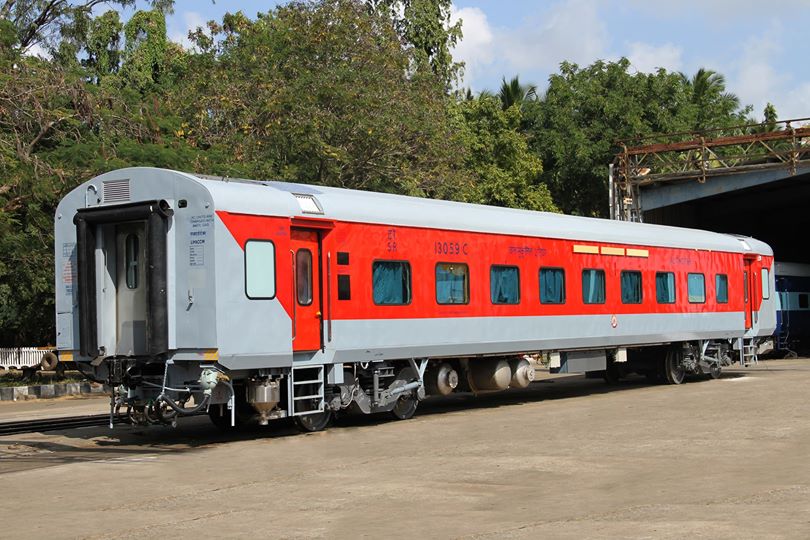 LHB Coach advantages over ICF Coaches:
The LHB coaches can travel at a higher speed. The maximum permissible speed for LHB coaches in 160 kmph. These coaches have been tested at speeds ranging 200 kmph. While the ICF coach is permitted to travel at a maximum speed of 110 kmph.
The LHB coaches are anti-telescopic. These coaches do not penetrate into the adjacent coaches in case of accidents.
During collision or derailment, the LHB coaches do not climb on the adjacent coaches, due to the use of Center Buffer Couling(CBC), instead of the dual buffer system.
The LHB coaches are 1.7 meters longer than the conventional ICF coaches. This enhances the seating capacity of the LHB coaches.
The coaches are equipped with FIAT bogie, which has lesser moving parts than the ICF bogie. This results in high durability of the bogie and requires less maintenance. FIAT bogie facilitates higher speeds.
The weight per meter of this coach is less than the ICF coach and is easier to haul.
As the coach is newly designed, the materials used for manufacturing the coach are of superior quality and require less maintenance.
Ride Index of the LHB coaches is 2.5–2.75, less than the ICF ride index of 3.25.
These coaches are equipped with "controlled discharge toilet system" (CDTS) and Bio-toilets, which are environmental friendly.
The LHB coaches use "advanced pneumatic disc brake system" for efficient braking at higher speeds.
The coaches have Modular interiors.
Noise generated by these coaches is 40% less than the ICF coaches.
The Air Conditioning in theses coaches is of higher capacity and is controlled by a micro-processor.
These coaches are of lower cost when compared to the ICF coaches.
The ICF coaches require Periodic Overhaul(POH) once in 18 months. While the LHB coaches requires POH once in 24 months. EVen the maintenance cost is less than that of ICF coaches.
Demerits:
Due to CBC coupling, the LHB coaches experience more jerks.
The LHB coaches are not self generating like ICF coaches. A separate generator car has to used for its power usage purpose.