What are the advantages of Train 18 over Shatabdi Express?
ABOUT TRAIN 18
Train 18, the country's first engineless train which is being regarded as a successor to the 30-year-old Shatabdi Express, is set to hit the tracks for trials on October 29.
Driven by a self-propulsion module sans a separate locomotive, the train, capable of running at a speed of up to 160 kmph, comes with technical features for enhanced quick acceleration.
The swanky 16-coach prototype without a locomotive (engine) will cut travel time by 15 per cent compared to the Shatabdi.
Developed by the city-based Integral Coach Factory in 18 months, the full AC train is designed in such a way that passengers can have a look at the driver's cabin.
Integral Coach Factory (ICF) General Manager Sudhanshu Mani told PTI that it cost nearly Rs 100 crore to build the prototype and subsequent production would bring down the cost.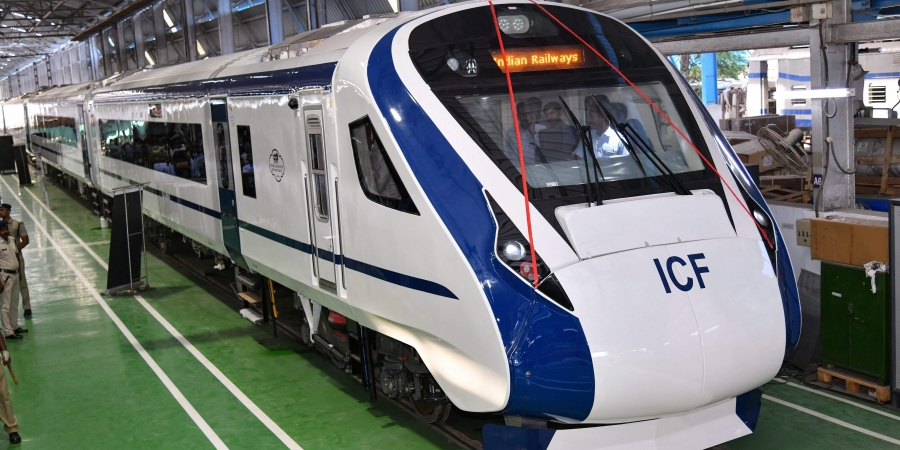 "It will be unveiled on October 29, then it will do three to four days of trial outside the factory and then will be handed over to Research Design and Standards Organisation (RDSO) for further trials," he said.
The self-propelled train, fitted with CCTV cameras, would have two executive compartments in the middle with 52 seats each, whereas trailer coaches would have 78 seats each.
It has a potential to travel up to the speed at 160 kmph as against 130 kmph of Shatabdi and would result in the travel time being reduced by around 15 per cent once the tracks are fit to suit Train 18's speed.
Train 18 has diffused lighting, automatic doors and footsteps besides GPS-based Passenger Information System.
The footstep in a coach's doorway slides outward when the train stops at a station enabling passengers to alight safely with comfort in view of the variation in height between a train's floor and the platform.
Shatabdi was introduced in 1988 and is presently running on over 20 routes connecting metros with other important cities.
Train 18's top features:
Automatic doors and a sliding footstep
The T-18 experience begins before you even get on the train. The sliding automatic doors come with a sliding footstep that opens up when the train arrives at the platform. (No need to practise your high jump skills any more).
Fully air-conditioned and designed for space
Train 18 has 16 coaches in all, with a capacity for over 1,100 people. This includes two executive chair cars with a maximum seating capacity of 56 and 14 non-executive chair cars which can seat 78 passengers.
The train is expected to cut travel time by 15% compared to Shatabdi Express trains, operating at a maximum efficiency of 160 kmph. It is designed to save diesel and is fitted with an advanced regenerative break system that saves power.
The train is fitted with CCTV cameras in each compartment. This is to monitor movement of passengers around the doors, as well as for security within the coach. The automatic doors open only when the train has halted, and the train starts again only once all the doors are closed.
If using the bathrooms on the train is your biggest worry while travelling, don't fret. Train 18 has zero discharge bio-vacuum toilets with touch-free bathroom fittings. No more carrying around litres of hand sanitizer!
The connecting areas of the train are spacious and can be accessed through the automatic doors. Perfect for that mid-journey jog or stretch. Even the luggage rack has more space than regular trains. (But we still recommend against packing for an army).
You don't have to stare out of the window pensively watching the world go by anymore. You can stay glued to your screens for as long as you like and take advantage of the on-board Wi-Fi, infotainment facilities and GPS-based passenger information system.
The train is fitted with features that make it easier for Persons With Disability (PWD) to travel. This includes PWD-friendly toilets and ample space for wheelchairs in the coaches.
To save on energy and keep you from freezing unnecessarily, the train has an intelligent air-conditioning system that automatically adjusts according to the climate and occupancy of the compartments.
More features, including 360-degree rotating seats
The T-18 boasts of plush interiors, diffused LED lighting, charging points beneath every seat, individual touch-based reading lights, auto-sensor taps, modern pantry services and a modular luggage rack. The rotating seats are fitted in the executive coaches, so you can spin around to whichever direction you please.
The train will most likely replace the Delhi-Bhopal Shatabdi Express, and may even be introduced on the Howrah-New Delhi route, perhaps replacing the Rajdhani. It will be testing its systems starting from today, near the ICF in Chennai after which it will move to Delhi on 7 November. Let's hope the wheels start rolling soon!
© Ankit Barnawal, Student at Doon Business School, Dehradun.