The infamous Kallada Travels has made news yet again over the misbehaviour of their staff – this time, one of their drivers has been booked by Kerala police for trying to molest a woman passenger travelling on the bus.
The reserve driver, Johnson Joseph, a native of Puthupally in Kottayam, has been taken into custody by Thenhipalam police in Malappuram district based on the complaint filed by the woman passenger. The complainant, a resident of Trichy in Tamil Nadu, was on the bus travelling from Kannur to Kollam when the incident took place.
"The woman stated in the complaint that the reserve driver tried to molest her in the wee hours of Thursday. Other passengers stopped the bus when they came to know about the incident. The passengers got hold of the driver and handed him over to police," an official from Thenhipalam police station told.
Protestants Changed the name of Kallada Travels Bus as 'KOLLADA' – VIDEO
The police have registered a case under Indian Penal Code Section 354 (Assault or criminal force to woman with intent to outrage her modesty).
Meanwhile, Kerala Minister for Transport AK Saseendran told the media that action will be taken against the accused driver. He also stated that it is difficult to take appropriate action against buses in such cases since most of them are registered outside the state.
This is the third incident in three months where Kallada travels has come in the news for the behaviour of their staff. In April, the staff of one of their buses manhandled two passengers who were travelling from Kochi to Bengaluru. The passengers were chased and beaten up. Seven staff members of Kallada Travels were then arrested by Kochi police. The owner of the company, Suresh Kallada, was also summoned by the Kerala State Human Rights Commission in the issue.
Earlier this month, a 23-year-old woman had alleged that the Kallada Travels bus that she was travelling on left her behind at the location where they had stopped for dinner. The Bengaluru-based HR professional, who was travelling from Thiruvananthapuram to Bengaluru, had to run behind the bus for about five minutes on the highway around Tirunelveli at night before the bus was finally made to stop by other vehicles.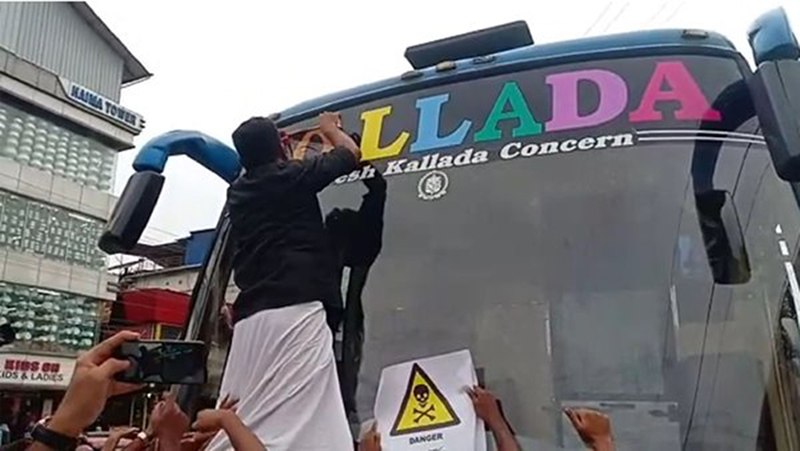 The office of Kallada Travels in various places was locked down by activists in protest against the incident. The activists destroyed the lights in front of the office and damaged the boards bearing the name of the travel agency. In an another protest, some protestants forcefully stickered the Name as 'Kollada' instead of Kallada on their buses.
Source – The News Minute.