Logic of Mercedes-Benz various classes
Mercedes-Benz (German pronunciation: [mɛʁˈtseːdəsˌbɛnts]) is a global automobile manufacturer and a division of the German company Daimler AG. The brand is known for luxury vehicles, buses, coaches, and trucks. The headquarters is in Stuttgart, Baden-Württemberg.
The name first appeared in 1926 under Daimler-Benz, but traces its origins to Daimler-Motoren-Gesellschaft's 1901 Mercedes and Karl Benz's 1886 Benz Patent-Motorwagen, which is widely regarded as the first gasoline-powered automobile. The slogan for the brand is "the best or nothing".
Mercedes-Benz offers a full range of passenger, light commercial and heavy commercial equipment. Vehicles are manufactured in multiple countries worldwide. The Smart marque of city cars are also produced by Daimler AG.
A-Class – Hatchback

B-Class

 – Multi Purpose Vehicle (MPV)

C-Class

 – Saloon, Estate, Coupé and Cabriolet
CLA-Class – 4 Door Coupé and Estate
CLS-Class – 4 Door Coupé and Estate
E-Class – Saloon, Estate, Coupé and Cabriolet
G-Class – Sports Utility Vehicle (SUV)
GLA-Class – Compact Sports Utility Vehicle (SUV)/ Crossover
GLC-Class – Sports Utility Vehicle (SUV)
GLE-Class – Sports Utility Vehicle (SUV)
GLS-Class – Large Sports Utility Vehicle (SUV)
S-Class – Luxury Saloon, Coupé & Cabriolet
SL-Class – Grand Tourer
SLC-Class – Roadster
V-Class – Multi Purpose Vehicle (MPV)/ Van

AMG GT

 – Sports car/ Supercar
Significant models produced
1928: SSK racing car
1930: 770 "Großer Mercedes" state and ceremonial car
1934: 500 K
1936: 260 D World's first diesel production car
1936: 170
1938: W195 Speed Record-breaker
1939: 320A A military vehicle
1951: 300, known as the "Adenauer Mercedes"
1953: "Ponton" models
1954: 300SL "Gullwing"
1956: 190SL
1959: "Fintail" models
1960: 220SE Cabriolet
1963: 600 "Grand Mercedes"
1963: 230SL "Pagoda"
1965: S-Class
1966: 300SEL 6.3
1968: W114 "new generation" compact cars
1969: C111 experimental vehicle
1972: W107 350SL
1974: 450SEL 6.9
1977: W123- Mercedes' first station wagon
1978: 300SD – Mercedes' first turbo diesel
1979: 500SEL and G-Class
1983: 190E 2.3–16
1989: 300SL, 500SL
1990: 500E
1991: 600SEL
1993: C-Class
1995: C43 AMG
1995: SL73 AMG, 7.3 V12
1996: SLK
1997: A-Class and M-Class
2004: SLR McLaren and CLS-Class
2007: BlueTec E320, GL320 Bluetec, ML320 Bluetec, R320 Bluetec
2010: SLS AMG
2013: CLA-Class
2016: AMG G
Until 1994, Mercedes-Benz utilized an alphanumeric system for categorizing their vehicles, consisting of a number sequence approximately equal to the engine's displacement in liters multiplied by 100, followed by an arrangement of alphabetical suffixes indicating body style and engine type.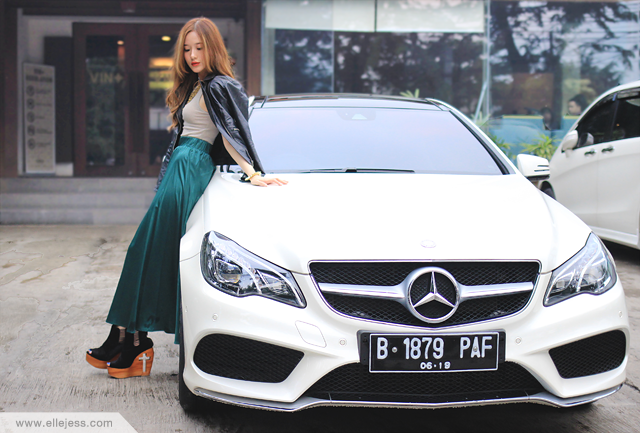 "C" indicates a coupe or cabriolet body style (for example, the CL and CLK models, though the C-Class is an exception, since it is also available as a sedan or station wagon).
"D" indicates the vehicle is equipped with a diesel engine.
"E" (for "Einspritzung") indicates the vehicle's engine is equipped with petrol fuel injection. In most cases (the 600 limousine and Mercedes E-Class being the exceptions), if neither "E" or "D" is present, the vehicle has a petrol engine with a carburettor.
"G" was originally used for the Geländewagen off-road vehicle, but is now applied to Mercedes SUVs in general (for example, the GLA and GLK).
"K" was used in the 1930s, indicating a supercharger ("Kompressor") equipped engine. Two exceptions : the SSK and CLK, where K indicates "Kurz" (short-wheelbase).
"L" indicates "Leicht" (lightweight) for sporting models, and "Lang" (long-wheelbase) for sedan models.
"R" indicates "Rennen" (racing), used for racing cars (for example, the 300SLR).
"S" Sonderklasse "Special class" for flagship models, including the S-Class, and the SL-Class, SLR McLaren and SLS sportscars.
"T" indicates "Touring" and an estate (or station wagon) body style.
Some models in the 1950s also had lower-case letters (b, c, and d) to indicate specific trim levels. For other models, the numeric part of the designation does not match the engine displacement. This was done to show the model's position in the model range independent of displacement or in the price matrix. For these vehicles, the actual displacement in liters is suffixed to the model designation. An exception was the 190-class with the numeric designation of "190" as to denote its entry level in the model along with the displacement label on the right side of the boot (190E 2.3 for 2.3-litre 4-cylinder petrol motor, 190D 2.5 for 2.5-litre 5-cylinder diesel motor, and so forth). Some older models (such as the SS and SSK) did not have a number as part of the designation at all.
For the 1994 model year, Mercedes-Benz revised the naming system. Models were divided into "classes" denoted by an arrangement of up to three letters (see "Current model range" above), followed by a three-digit (or two-digit for AMG models, with the number approximately equal to the displacement in litres multiplied by 10) number related to the engine displacement as before. Variants of the same model such as an estate version or a vehicle with a diesel engine are no longer given a separate letter. The SLR, SLS and GT supercars do not carry a numerical designation.
Today, many numerical designations no longer reflect the engine's actual displacement but more of the relative performance and marketing position. Despite its engine displacement in two litres, the powerplant in the A45 AMG produces 355 brake horsepower so the designation is higher as to indicate the greater performance. Another example is the E250 CGI having greater performance than the E200 CGI due to the different engine tuning even though both have 1.8-litre engines. From the marketing perspective, E200 seems more "upscale" than E180. Recent AMG models use the "63" designation (in honor of the 1960s 6.3-litre M100 engine) despite being equipped with either a 6.2-litre (M156), a 5.5-litre (M157) or even a 4.0-litre engine.
Some models carry further designations indicating special features:
"4MATIC" indicates the vehicle is equipped with all-wheel-drive.
"BlueTEC" indicates a diesel engine with selective catalytic reduction exhaust aftertreatment.
"BlueEFFICIENCY" indicates special fuel economy features (direct injection, start-stop system, aerodynamic modifications, etc.)
"CGI" (Charged Gasoline Injection) indicates direct gasoline injection.
"CDI" (Common-rail Direct Injection) indicates a common-rail diesel engine.
"Hybrid" indicates a petrol- or diesel-electric hybrid.
"NGT" indicates a natural gas-fueled engine.
"Kompressor" indicates a supercharged engine.
"Turbo" indicates a turbocharged engine, only used on A-, B-,E- and GLK-Class models.
"AMG Line" indicates the interior or engine, depending which car, has been fitted with the luxuries of their AMG sports cars
Model designation badges can be deleted at the request of the customer.
Rationalisation of the model nomenclature was announced in November 2014 for future models. The changes consolidate many confusing nomenclature and their placements in the model range such as CL-Class is now called the S-Class Coupé. The naming structure is divided into four categories: core, off-road vehicle/SUV, 4-door coupé, and roadster. AMG GT, and V-Class are unaffected by the change. In October 2016, Mercedes unveiled the X-Class; a pickup truck built on the Nissan Navara. At the 2016 Paris Motor Show, the company announced the EQ, a family of upcoming battery electric vehicles based on a modular platform, expected to represent up to 25% of its global sales by 2025.