How to book Ooty Toy Train? / Advance Booking
Ooty, the capital of the Nilgiri district is a town soaked in the rolling hills and beautiful landscape. Also popular as Udagamandalam, it is the favourite honeymoon destination for young couples and the newlyweds.
The train ride aboard the Nilgiri Mountain Railway makes your excursion to the coveted destination even more enticing. Hitch a ride on the Ooty Toy Train that provides you a mesmerizing railway journey amidst the gentle valleys, dense forests, gurgling waterfalls and rolling hills.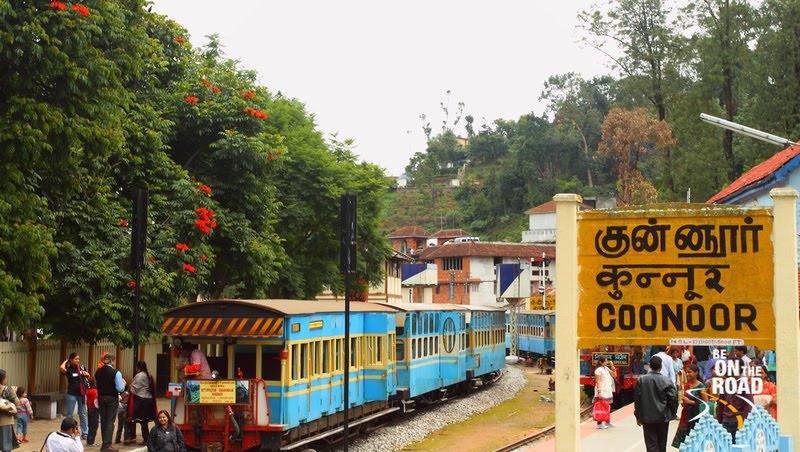 Nilgiri Mountain Railway
Britishers built the Nilgiri Mountain Railway in 1908 seeking a respite from the scorching heat of the plains. The train still maintains its legacy with its blue and cream coaches, wooden benches and large windows.
The only rack railway in India exemplifies the marvels of engineering involved in carving the railway line through the rugged mountainous terrain. There are four trains that you can board to enjoy the marvellous toy train journey.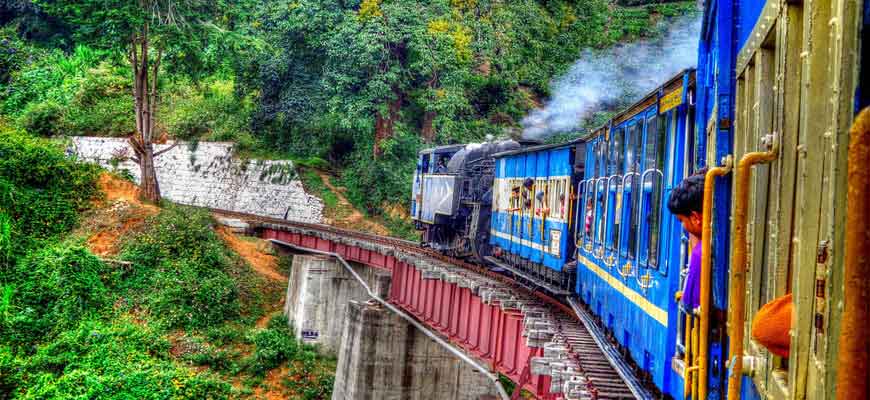 How to Book Ooty Toy Train in Advance?
There is a huge demand for the Ooty toy train ride, as such it is highly recommended to book your tickets in advance by either booking it online through the Indian Railways website www.irctc.co.in or purchasing them from the station ticket counters.
Option 1: Book Ooty toy train from Indian Railways (IRCTC) Website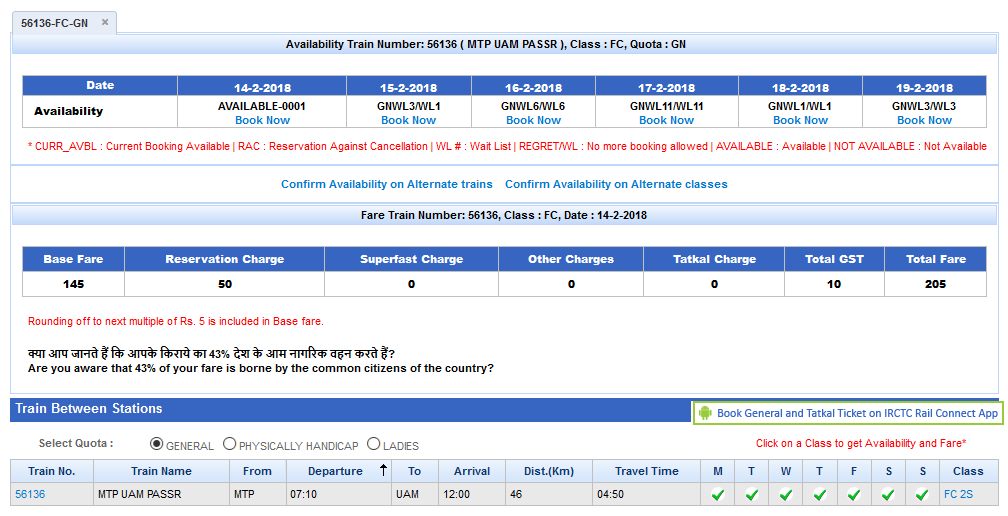 1. Visit www.irctc.co.in and either login or create an account if you don't have one (Registration is FREE).
2. Login by entering your username and password.
3. On the left side, you will find the section "Plan My Journey."
4. Enter A) From Station B) To Station C) Journey Date D) Ticketing type (E-ticket) and click on submit. See here list of stations and station code.
5. Then shows a list of train in the selected route.
6. Select the train from the train list, click on the type of class available in the selected train.
7. Train details with availability will be shown.
8. To book tickets, click on "Book Now" button under availability option.
9. Reservation page appears: enter the travellers detail like, name of the traveller, age, sex and berth preference.
10. Under "Payment Option" Select the Payment Mode and click on the "Make Payment."
11. After successful payment, ticket confirmation details will be provided. You can take a printout or show it on mobile to ticket collector while boarding the train.
Option 2: Book Ooty toy train from station ticket counter
If you are unable to book your tickets online in advance, you can reach early by an hour two and get your tickets from the ticket counter at the railway station. Despite of the computerized reservations, if you buy your tickets from the ticket counter it will be old card tickets rather than computer printed tickets. Do remember that no more than 4 tickets per person will be provided at the booking window.
Route Covered
The Toy Train winds its way through 16 dark tunnels, 250 bridges and 208 curves and stops at five railway stations namely Coonoor , Wellington, Aravankadu, Ketti and Lovedale.
Toy Train Numbers & Schedule
56136 Mettupalayam to Udagamandalam (Via Coonoor)
56137 Udagamandalam to Mettupalayam (Via Coonoor)
56138 Coonoor to Udagamandalam
56139 Udagamandalam to Coonoor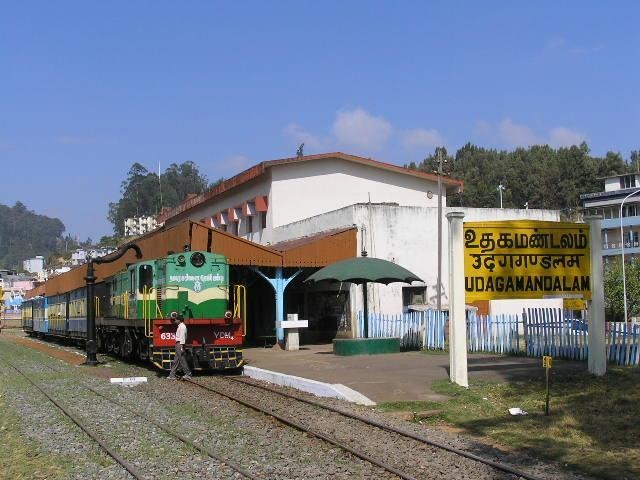 The 56136 Mettupalayam to Udagamandalam toy train departs from Mettupalayam at 7.10 am and reaches Udagamandalam at 12 noon. For the return you can board 56137 Udagamandalam to Mettupalayam that leaves Ooty at 14:00 hours to reach Mettupalayam at 17:35 hours.
Just in case if you do not get the seats in Mettupalayam to Udagamandalam train or if you run short of time you can board the Coonoor to Udagamandalam toy train to experience the enthralling train ride.
The 56138 Coonoor to Udagamandalam toy train leaves Coonoor at 16:00 hours and reaches Ooty at 17:15 hours. For the return journey you can board the 56139 Udagamandalam to Coonoor toy train which leaves from Ooty at 9:15 am and reaches Coonoor at 10:25 am.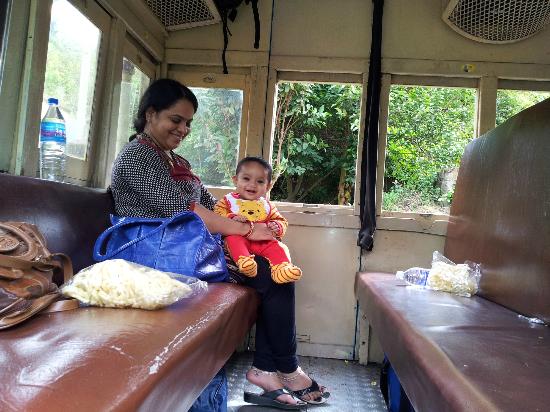 Railway Station Code
Mettupalayam (MTP)
Ooty / Udagamandalam (UAM)
Coonoor (ONR)
Seat Availability @ Nilgiri Mountain Railway
56136 Mettupalayam to Udagamandalam & 56137 Udagamandalam to Mettupalayam
First Class: 16 Seats
Second Sitting: 214 Seats
Unreserved/General
56138 Coonoor to Udagamandalam & 56139 Udagamandalam to Coonoor
First Class: 12 Seats
Second Sitting: 88 Seats
Unreserved/General
Things to note
1. No restrooms in toy train use them at Railway Station before boarding.
2. Not more than 4 tickets per person at the booking window.
3. Huge Crowd on holidays/weekends and during the peak season.
4. Book at least two to three months in advance.
Get invigorated amidst the rustic charm of this hill which is the ultimate destination for travellers looking to experience quaint landscapes.