Saranya Motors is a leading bus operator in the state of Kerala with regular services to various destinations across the districts of Thiruvananthapuram, Kollam, Pathanamthitta, Kottayam, Idukki and Ernakulam.
Saranya Motors is popular among the passengers in the region for its unbreakable record of accident free driving through the extremely difficult hairpin roads of Pathanamthitta, Kottayam and Idukki hill tops.
Saranya Motors is remarkable for its initiatives taken to improve the luxury and comfort offered to its passengers.
History of Saranya Motors; The Queen of Kottarakkara
Saranya Coach Builders is a subsidiary unit of Saranya Motors who are experts in building ultramodern luxurious stage carriers.
FREQUENTLY ASKED QUESTIONS TO SARANYA MOTORS
Is a printed ticket mandatory at the time of boarding?
Printed ticket is not mandatory. You only need to show the sms you received while booking the ticket.
I have lost my ticket. What should I do?
You can resend a copy of your ticket from our home page by clicking on the view ticket tab and then by proceeding to Print/SMS ticket. Follow this link (Link). You can also call our customer care helpline and our customer care executives would be happy to issue a new copy of your ticket.
What is a Mobile ticket?
A Mobile Ticket is an SMS that is sent to your mobile phone at the time of registration. Only mobile ticket and identity card is needed at the time of boarding.
What is the duration of advance booking?
You can book your bus journey tickets up to 7 days in advance.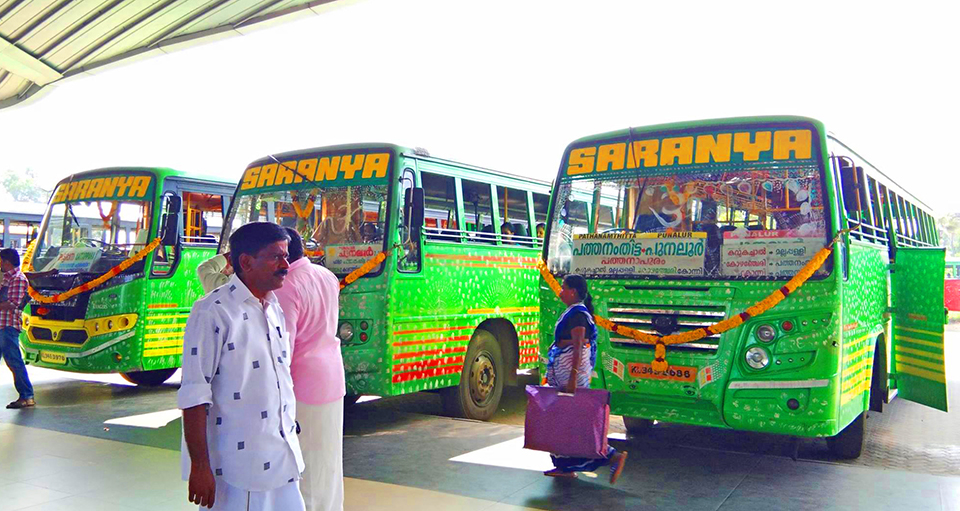 I forgot to carry my mobile phone. What should i do?
You can show your identity card that was used during the time of making the booking.
Does the holder/owner of credit card/ debit with which the ticket is purchased have to be one of the passengers?
Not necessary. A passenger can use any card to pay for the ticket, not necessarily their own. However, please note that the passenger in whose name the ticket is booked should carry a proof of his identity (along with the ticket) at the time of boarding the bus.
What are the payment options while making a ticket booking?
The different payment options are as follows:
Credit card.
Debit card.
Internet banking (Internet enabled online bank account).
How does the transaction appear on my card / account statement?
Transactions made on our website will appear as (saranya site) in your bank statement.
Is it safe to use my credit card on this site?
Your cyber safety is our priority. Transactions on saranya are encrypted with a high level of security. We employ the best-in-class security features and the transactions are completely secure. Apart from being certified by Verisign, Saranya uses Secure Socket Layers (SSL) for data encryption. Using SSL ensures that the information exchanged with us is never transmitted unencrypted, thus protecting the information from being viewed by unauthorized individuals and parties.
Can I cancel my ticket online?
Most of the tickets booked on Saranya can be cancelled online. However, there are some tickets that can only be cancelled through our customer care call center. Customers should kindly note that the cancellation fee and cancellation period may differ for specific bus services. Please contact any of our executives for cancellation details on any specific service.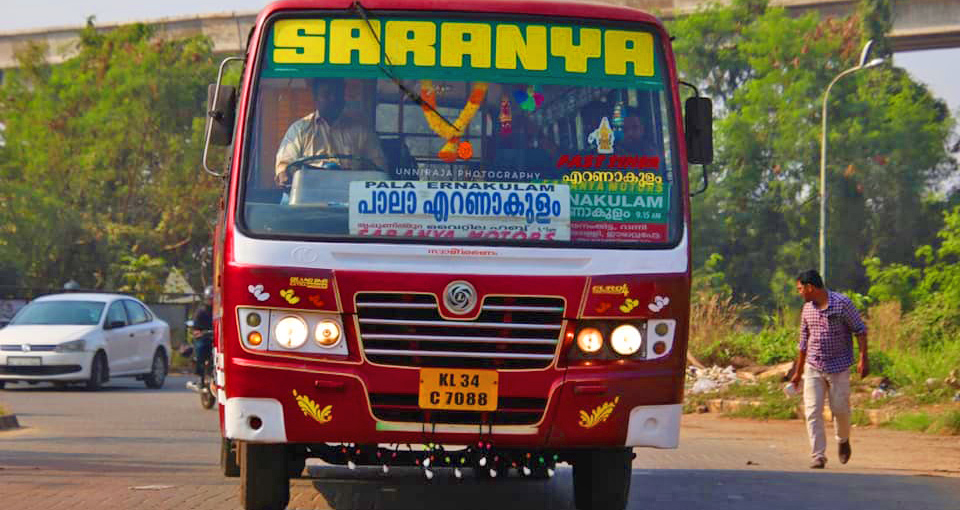 How can I cancel my bus ticket online?
You need to click on the 'cancellation' link provided on our home page. Enter your ticket number and the e-mail ID that was provided at the time of booking and click on 'cancel ticket'.
I missed the bus. Do I get a refund?
Saranya Motors provides a 100% refund if the bus is missed due to our fault. However, if the bus is missed due to any other reason not directly related to Saranya Motors no refund shall be provided.
How do I get a refund in case of a cancellation?
The refund is made provided it meets with the terms of our cancellation policy. The refund, if sanctioned will be credited to the source of payment (Example: debit card, credit card, net banking).