Elephants in front of TNSTC Bus in Manjoor route [VIDEO]
Passengers of a TNSTC bus had a scare after some wild elephants tried to attack the bus on Manjoor (Nilgiris) route. The bus driver tried to move the elephants with blowing horns repeatedly. But the elephants were not so much frightened.
Elephant warning system on buses
Perhaps for the first time in the country, the government buses are being used as an early warning system to reduce human-elephant conflict.
A unique automated announcement system in buses was launched in the highly human-elephant conflict prone Valparai plateau. This is in addition to the existing systems like TV crawls, elephant alert text messages and voice calls over people's mobile phones and elephant alert indicators.
"We already have a database of over 250 locations through eight years of elephant tracking information. The bus alert system will fill in one of the gaps," says Ananda Kumar of Nature Conservation Foundation, who won the Whitley Award (Green Oscar) in 2015 for the early warning systems that have helped reduced the human-elephant conflict in Valparai plateau.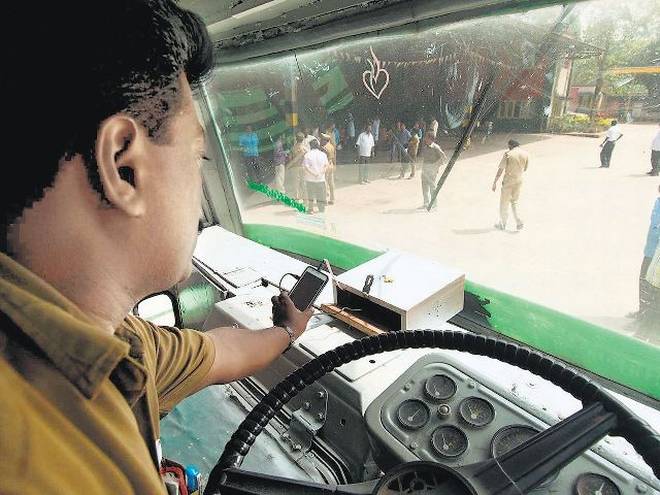 "A lot of schoolchildren have special classes and return home to various estates from Valparai town in buses around 7.30 p.m.
The children do not have mobiles and they have to walk to their homes. This is where the bus alerts help," he says.
Initially, six routes covering major part of the estates have been fitted with the announcement devices.
"It will also help people who don't own mobile phones and those who can't read messages," the scientist says.
The system will reduce conflict, as it will eliminate surprise encounters, prepare the bus passengers so that they have enough time to take precautions, he points out.
"A sudden encounter can be scary for both elephants and humans, ," he emphasises.
Anbu Abraham, general manager, TNSTC, inaugurated the system.
V. Asokan, District Forest Officer, Anamalai Tiger Reserve; K.S. Shanmuga Velayudham, deputy manager, Mr. K. R. Muthusamy and forest ranger officers participated.