Why is Bangkok Airport named Suvarnabhumi?
Suvarnabhumi Airport also known unofficially as Bangkok Airport, is one of two international airports serving Bangkok, Thailand. The other is Don Mueang International Airport. Suvarnabhumi covers an area of 3,240 hectares (8,000 acres), making it one of the biggest international airports in Southeast Asia and a regional hub for aviation.
Suvarnabhumi was officially opened for limited domestic flight service on 15 September 2006, and opened for most domestic and all international commercial flights on 28 September 2006.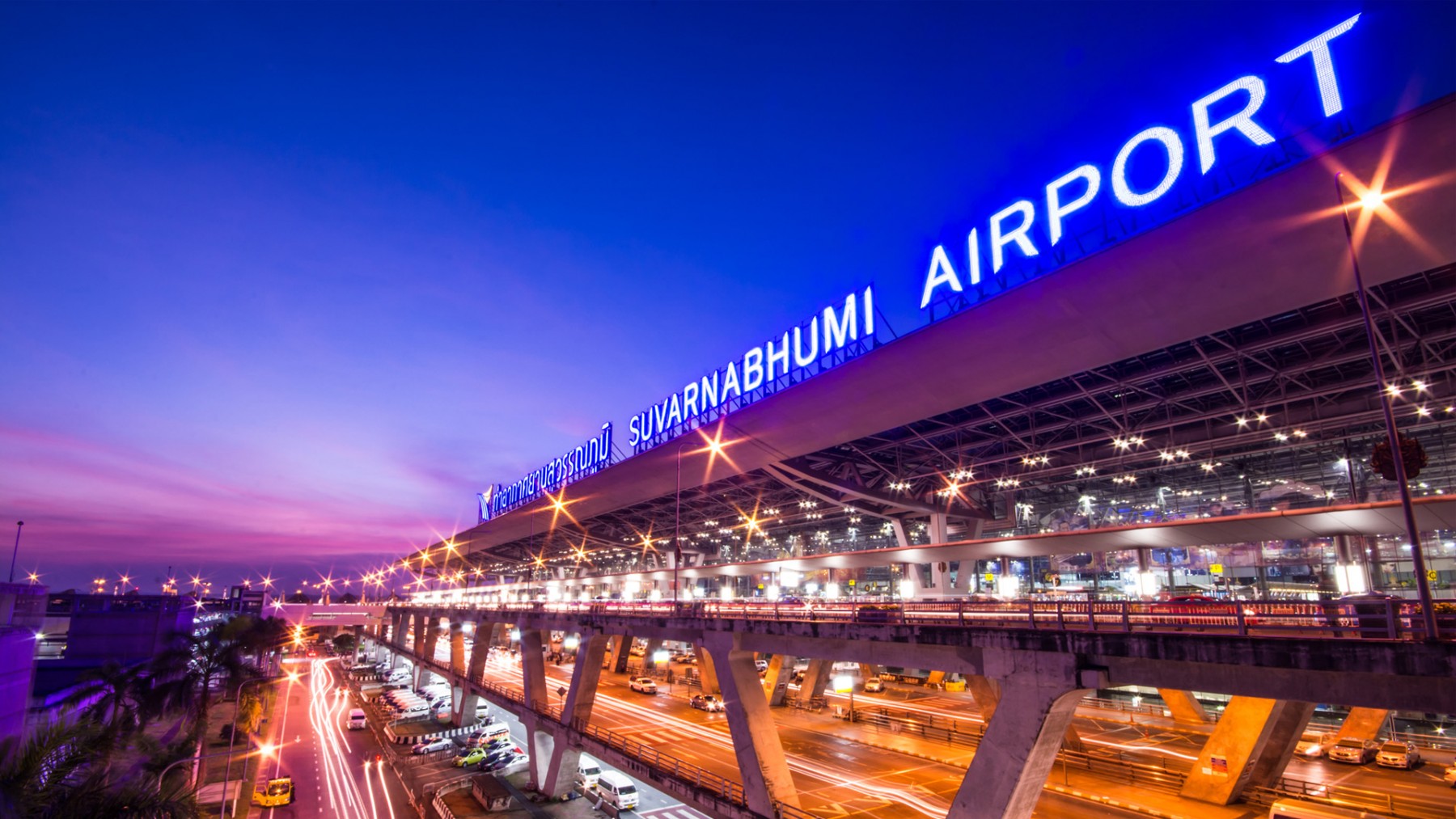 The airport is currently the main hub for Thai Airways International, Thai Smile Airways, and Bangkok Airways. It also serves as regional gateway and connecting point for various foreign carriers.
The airport is on what had formerly been known as Nong Nguhao (Cobra Swamp) in Racha Thewa in Bang Phli, Samut Prakan, about 25 kilometres (16 mi) east of downtown Bangkok. The terminal building was designed by Helmut Jahn of Murphy / Jahn Architects. It was constructed primarily by ITO JV. The airport has the world's tallest free-standing control tower (132.2 metres or 434 feet) from 2006 to 2014, and the world's fourth largest single-building airport terminal (563,000 square metres or 6,060,000 square feet).
Suvarnabhumi is the twentieth busiest airport in the world, ninth busiest airport in Asia, and the busiest in the country, having handled 53 million passengers in 2012, and is also a major air cargo hub, with a total of 95 airlines. On social networks, Suvarnabhumi was the world's most popular site for taking Instagram photographs in 2012.
The airport inherited the airport code, BKK, from Don Mueang after the older airport ceased international commercial flights. The modern Motorway 7 connects the airport, Bangkok, and the heavily industrial eastern seaboard of Thailand, where most export manufacturing takes place.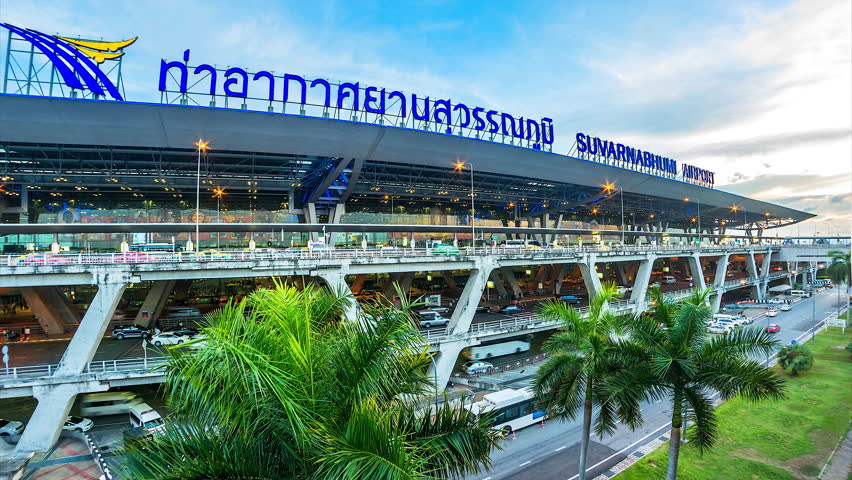 The name Suvarnabhumi is Sanskrit for "Land of Gold" (Devanagari: सुवर्णभूमि, IAST: Suvarṇabhūmi; Suvarṇa is "Gold", Bhūmi is "Land"; literally "Golden Land"). The name was chosen by the late King Bhumibol Adulyadej which the name Bhūmi was being part of the monarch's profile and as it named after him and refers to the Hindu-Buddhist golden kingdom, theorised to have been located to the east of the Ganges, possibly somewhere in Southeast Asia.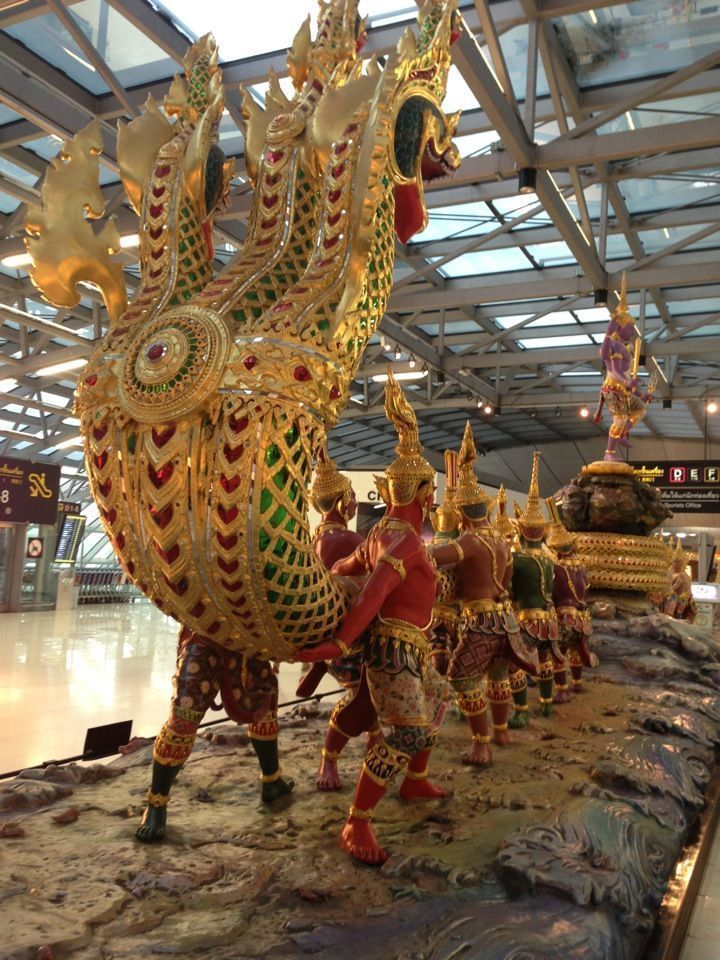 In Thailand, government proclamations and national museums insist that Suvarnabhumi was somewhere in the coast of central plain, near the ancient city of U Thong, which might be the origin of the Indianised Dvaravati culture. Although the claims have not been substantiated by any historical records, the Thai government named the new Bangkok airport Suvarnabhumi Airport, in celebration of this tradition.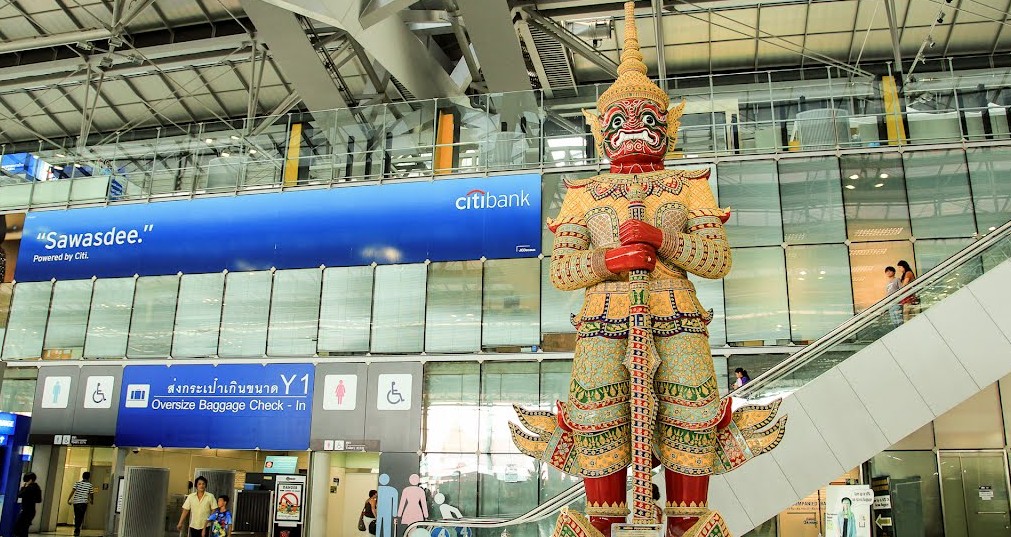 Suvarnabhumi Airport's main terminal roof is designed with structural elements and bays placed in a cantilevered, wavelike form to appear to "float" over the concourse beneath. This overall design principle was to express the former essence of the site, from which water had to be drained before construction could begin. The eight composite 2,710-ton trusses supporting the canopy of the main terminal are essentially diagrams of the bending moments acting on them, with the greatest depth at mid-span and over the supports.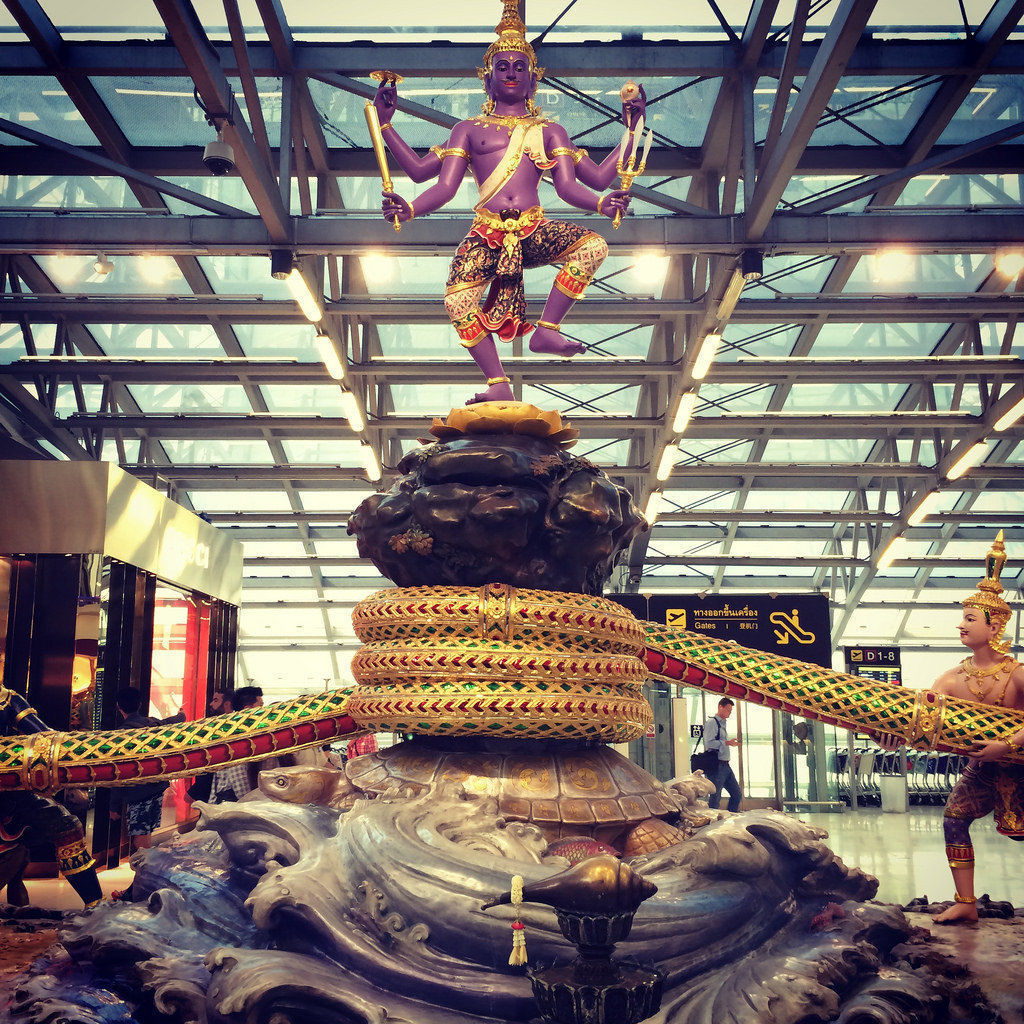 The result of Helmut Jahn's vision is a structure with performance materials serve in their total composition and in use more than in their conventional roles. This maximizes daylight use in comfort with substantial energy life-cycle cost savings. The installed cooling system reduced up to 50 percent compared to a conventional system. A translucent membrane with three layers was developed to mediate between the interior and exterior climate, dealing with noise and temperature transmission, while still allowing natural flow of daylight into building.

The new passenger terminal will be used only by Bangkok Airways and flag carrier Thai Airways (and its budget subsidiary Thai Smile). Upon completion of satellite terminal, expected opening in early 2019, other Star Alliance members will be given a check-in concourse of Thai Airways.