What is the difference between Chennai and Bengaluru?
Bangalore, the "Silicon Valley of India" is a melting pot of cultures. Once considered a Pensioner's paradise, it has metamorphosed into a bustling metropolis, with a vibrant night life that blends in with a rich cultural heritage. From a long walk in Cubbon Park to hundreds of cafes, from trails of trees everywhere to the amazing weather, you can't help falling in love with the city. So, here are some reasons why Bangalore is an awesome city.
Bangalore has umpteen things to offer when it comes to activities. Cycling, Microlight Flying, Rappelling – You name it, Bangalore has it!
While Bangalore has all these things going in its favor, there are a few things that act against it as well: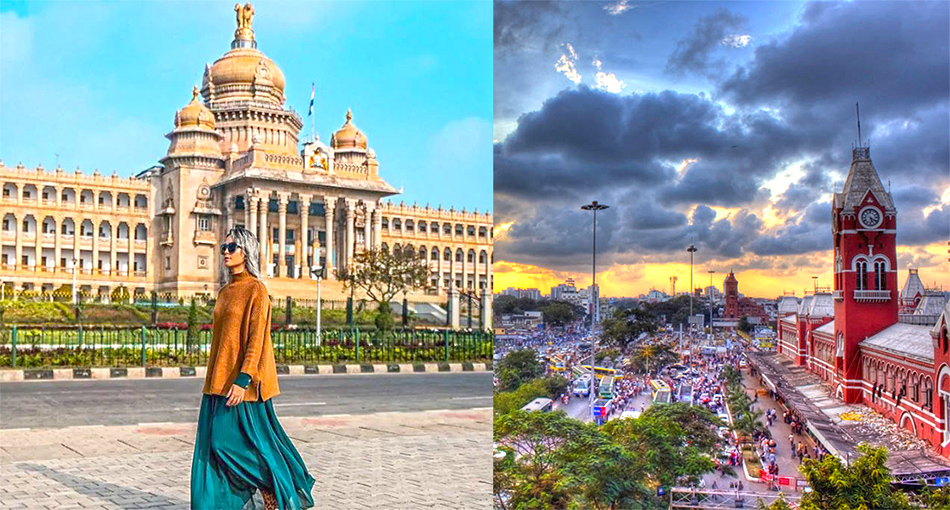 Road Traffic: Anyone who has ever tried crossing Silk Board Junction or Tin Factory Junction at around 7:30 to 9 AM will know what a gargantuan task it is! Bangalore has one of the highest car densities in India and the roads just aren't wide enough to accommodate everyone.
High cost of living: Land/Property prices have skyrocketed over the last couple of decades – primarily due to the IT boom. People have more money to spare and don't mind paying extra for house rent. This has led to uncontrolled increase in house rents.
Security Problems: Of late, it has become unsafe to travel late at night, even within the city limits.
Chennai has been named the 9th best city in the list of 2015's top 10 cosmopolitan cities in the world. According to the list by Lonely Planet, the city's Dravidian temples to explore, institutes that are dedicated to the study of Indian classical dance and its second largest movie industry and a beach packed with residents at all hours of the day and night makes it one of the best cities to visit – Chennai – Best in Travel 2015 – Lonely Planet. Chennai has also been listed as one of the best cities to live in by BBC.
That said, Chennai has its own cons too. Here are some, IMHO:
Lack of Night Life: Chennai's culture is more orthodox(at least when compared to Bangalore) and the night life is lacking when compared to other metros like Bangalore and Mumbai.
Water: Anyone who's lived in Chennai even for a short duration knows the water woes of the city!
Politics: Politics/politicians are involved in everything from land deals to movies to even eateries. This is a big turn off for me.
Lack of Green Space: Chennai is a pure concrete jungle with little of no green space. Uncontrolled urbanization has led to the killing of natural habitats like Buckingham Canal and many lakes. The coovum river is the best example of what could go wrong if good care is not taken in controlling growth!
Weather: Chennai has only 2 types of weather – hot and hotter. The humidity just kills you!

What is the difference between Chennai and Bangalore?

Bangalore has an advantage of good climate. It is located in an higher altitude than Chennai, a costal city. It is obvious that it will have a cooler winter and lower temperatures even in summer. Bangalore wins!
Bangalore is the highest software exporting city in India. Bangalore wins again! Chennai isn't far behind. Chennai's growth in SW development in the past 5 years is immense. With this rate continuing Chennai will grab the first position in 5 to 6 years! Bangalore wins!
Travel hub city. Bangalore wins! It is situated at the middle of south India. So it is! Three back to back wins!
Roads! Chennai wins hands down! Chennai has better roads, wide roads, ability to extend roads anytime. Chennai has one of the best traffic system. In fact, Chennai's waiting time in traffic is lesser than cities like Mumbai, Hyd, Calcutta, Delhi, of cours of competitior of the question Bangalore too! Chennai wins!
Access to other countries. Chennai wins! almost against all the city of the country. Chennai's sea port and large cargo air handling makes the city more assessible internationally. If Bangalore claims the geographical advantage of climate, Chennai can claim this as a geographical advantage. Chill bros! Chennai wins!
Cost of living. Chennai, Chennai, Chennai! Lot cheaper. Rented houses for a regular single bedroom is possible at 6000 Rupees. Yes, thats true. I am renting one for the same. Foods are much cheaper! Chennai wins!
Travel fare are cheaper! Bus fare, Share autos, not regular autos though! city train (one of the ancient service in the country), Chennai metro makes the city cheaper. Chennai wins!
Politics. Both the state are below par level. Both are equally bad! Nobody wins!
Movies! Chennai Wins! Even after GST, State Tax of Entertainment, Chennai movie ticket rates are cheaper than any city of the country including Bangalore. Chennai wins!
Pubs! Bangalore wins! no more talks on this!
Women safety! Chennai wins! As per the latest survey, Chennai tops the list with minimal crime rates, minimum incidents against women. Chennai win hands down!
Cultural activities. Bangalore cannot win the Cultural HQ of country, Chennai wins!
Hospitals and medicine services. Chennai Chennai Chennai. I have contacts of doctors who claim people from countries like Pakistan, Ghana, Venezuela come to Chennai for medical services
Automobiles! Chennai. sorry Bangalore! With 36% of Whole India share! Chennai tops the list
Conclusion: Bangalore is too much crowded for a small city! Chennai is a medium size city with acceptable population. Chennai is affordable! Bangalore is for luxury oriented living. Both cities can have all the global products. There is no product that is unavailable in these cities. But overall level, Chennai has the upper hand. TN's overall GDP is also way ahead than KA.
Written By – C. Kapil.