What are the best street food places in Mumbai?
Mumbai's streets offer a wide range of cuisines that cater to its massive population. Given the diverse communities that reside in the city, the category of cuisines that are available to pamper your taste buds are infinite. From Mumbai's special vada pav to the spicy and crunchy bhelpuri that is famous across the country, there are all kinds of dishes to give you the thrill. These are some of the places you need to visit to try the best of street food in Mumbai.
1. Guru Kripa Sion
Guru Kripa,Sion has been serving delectable pocket friendly food to its customers since ages. Their Chole Samosa and Ragda Pattis. is famous across Mumbai. If you are in the mood to begin your day with Dal-Pakwan, head down to Guru Kripa early morning in between 8am-9am. Complete your meal by indulging in their signature gulab jamuns or halwa and you would find another reason to fall in love with this iconic place.
Where: 40, Guru Kripa Building, Near Sies College, Sion West, Mumbai 
When: 8AM-11PM 
Call: 022 2407 4188 
Cost for two: INR 50-60
2. Cannon Pav Bhaji
Want to have the best Pav-Bhaji in Mumbai? Cannon Pav Bhaji surely stands out from the rest with it's lip-smacking Pav-Bhaji that is served with lots of cheese and a large dollop of Amul Butter. While the pavs are soaked into butter, the Bhaji is moderately spiced. The love that Mumbaikars have for this place is very much transparent from the crowd that comes here.
Where: Dadabhai Naoroji Road, Near CST Station, Azad Maidan, Fort
When: 7AM-1AM
Call: +912222074205
Cost for two: INR 160-170
3. Olympia Coffee House
Olympia Coffee House is located right opposite to the famous Leopold Cafe and has been attracting huge customers who fancy Parsi Food. The two "must-haves" which you need to try here from all the other heavenly items include Masala Keema and Mutton Fry Masala.
Where: Rahim Mansion 1, Scindia Society, Shahid Bhagat Singh Marg, Apollo Bandar, Colaba, Mumbai
When: 7AM-11:45PM
Cost for two: INR180-190
Call: +912222021043
4. Ashok Vada Pav
With so many options for Vada-Pav in Mumbai, if there is one place which can do justice to your craving for typical"Bambaiya" vada pav, it HAS to be Ashok VadaPav. Words and pictures cannot justify the taste of the vadapavs that are sold here.
Where: Kashinath Dhuru Marg, Dadar West, Dadar, Mumbai
When: 11AM-9PM
Cost for two: INR 90-100
Call: 99205 55113
5. Bipin Sandwich
Bipin Sandwich has been operating in Borivali since the mid 1970's and is a remarkable place for the ones who love sandwiches and paninis. Various pure-veg sandwiches like Veg Grill Sandwich, Peri-Peri Sandwich, Maharaja Sandwich, Veg-Tandoori Sandwich etc have been winning the hearts of many since ages. 3
Where: PAN BHANDAR, S.V.P. ROAD BORIVALI(W) NEAR BY GHOKUL HOTEL OPP TRIVENI, Sardar Vallabhbhai Patel Rd, Borivali West, Mumbai
When: 3pm-11pm
Cost for two: INR 90-100
Call: 98928 16642
6. Dashrath Sandwiches
Not all places do sandwiches as good as the ones that are served at Dashrath. This shop attracts the office-goers who stop by this shop for some quick-bites at a very cheap rate.
Where: 217, Punjabi Ln, Manek Nagar, Maharashtra Nagar, Borivali West, Mumbai
When: 1pm-11pm
Cost for two: INR 100-110
7. Maharashtra Chana Bhandar
Maharashtra Chana Bhandar in Bandra sells the best farsan in this part of Mumbai and is famous for snacks, chaat etc. Dahi Puri, Sev Puri, Samosas etc are some of the most famous eatables you can dig into when you are here.
Where: 3 Pali Naka, next to Janta Bar, Bandra (w), Mumbai
When: 10am-10pm
Cost for two: INR 70-80
Call: 022 2600 4652
8. Mac Craig
Consider this place to be your one stop destination for sweet goods apart from a variety of other Indian delicacies. Lemon tarts, rolls, cakes etc are some of the most frequently ordered food items from here.
Where: Shop No. 18, Gasper Enclave, St John St, Bandra West, Mumbai
When: 9AM-9PM
Cost for two: INR 110-120
Call: 022 2641 1985
9. Ghatkopar Khau Gali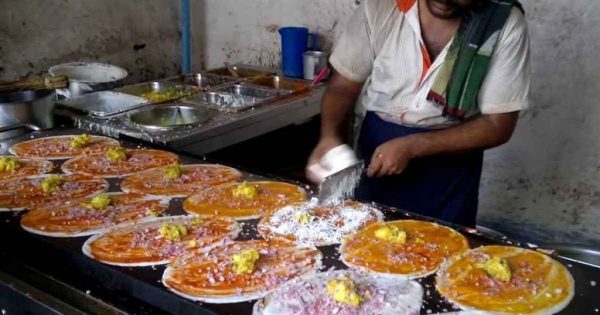 There are various Khau Galis in Mumbai but the one in Ghatkopar is famous amongst vegetarians for its wide array of food options suiting every pocket. Right from innovative dosas like Maggi Dosa, Chocolate Dosa, Pasta Dosta to juicy tikkas, pav-bhajis, golas they have everything and anything that can tantalize the taste buds of a foodie.
10. Gulati's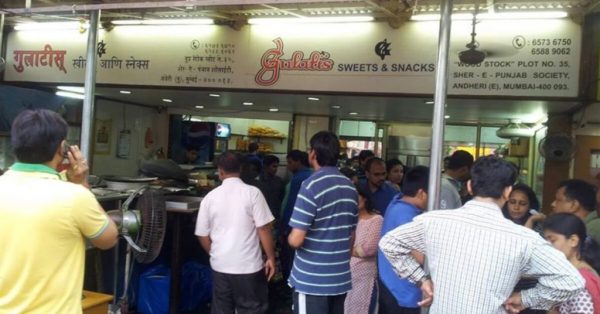 Piping Hot Chole Bhature and Sweets are one of the most savoured food items that is seen on the plates of most people who happen to visit Gulati's. Gulati's are considered as the pioneers of Chole Bhature in Mumbai but if you are someone who is equally fond of Samosas and Jalebis, there is hardly any eatery in Andheri that matches up to the taste and standards of this place.
Where: Plot no 35 shop, No. 2, Mahakali Caves Rd, Sher E Punjab Colony, Andheri (E), Mumbai
When: 8:30 am-9:30 pm
Cost for two: INR 80-90
Call: 022 2837 1282
11. National Restaurant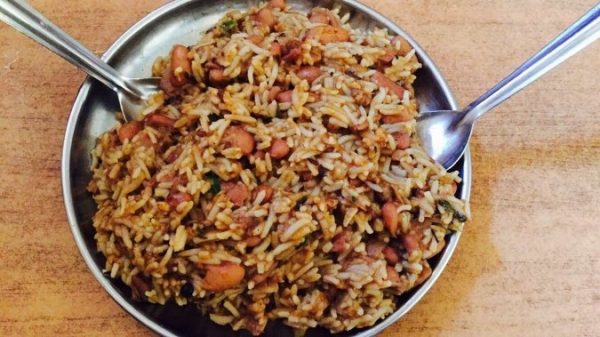 Don't form any opinions about this eatery by merely looking it from outside, for what comes later is a food affair you would relish for a long time. Unlike other places, the food that is served onto your table isn't cooked on gas but on coal which gives a very different taste to your food. Order for a plate of Kadhi Pakoda or Sarso Da Saag with Makke Roti if you love desi North Indian cuisine.
Where: 21-A, Near Sahakari Bhandar, Turner Rd, Patkar Blocks, Bandra West, Mumbai
When: 11AM-12AM
Cost for two: INR 150-160
Call: 98198 14949
12. Ram and Shyam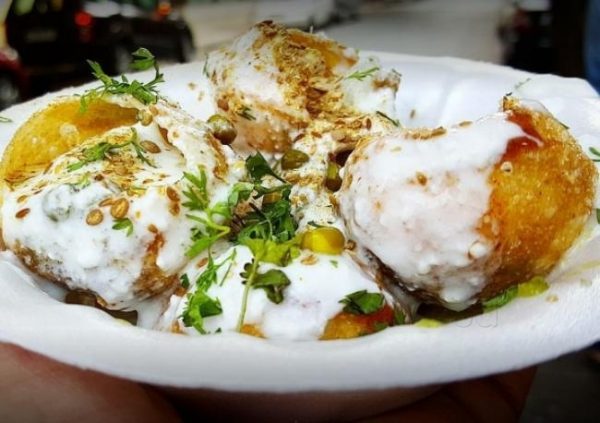 Ram and Shyam Chaatwala also known as Bisleri Chaatwala serve mouth-watering Dahi Puri and Ragda Pattice that make up for a perfect evening snack. If you are conscious about your health, they have a specially curated diet chaat which ensures that you get the best out from this place without any guilt trips.
P.S- The name Bisleri Chaatwala comes from the fact that they don't use any other water apart from Bisleri Water for the preparation of their chaat.
Where: North Avenue, Santacruz West, Mumbai
When: 3pm-10pm
Cost for two: INR 100-120
Call: 76666 66004
13. Ganesh Vadapav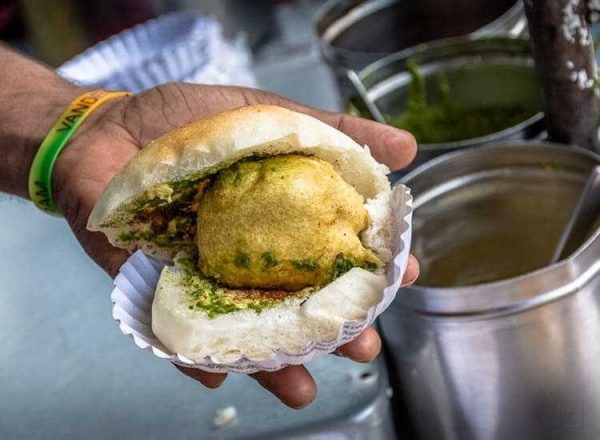 Ganesh Vada-Pav sells the most amazing vada-pav in Navi Mumbai and is a hot favourite for someone who loves vada-pav.
Where: Kharghar Station Rd, Railway Station, Sector 2, Kharghar, Navi Mumbai
When: 7am-9pm
Cost for two: INR 70-80
Call: 89769 60860
14. Oak's Misal Joint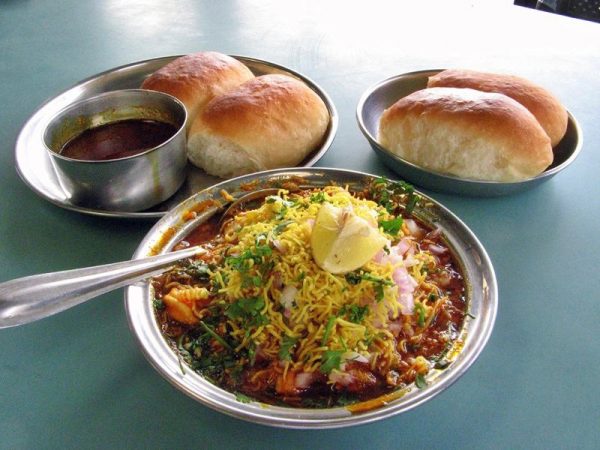 Oak's Misal Joint is flooded with people during mornings and evenings and even though this popular Misal Pav eatery has a very limited seating capacity,it doesn't discourage the people from coming here.
Where: Near Virupaksh Mandir, Old Panvel, Navi Mumbai
Cost for two: INR 80-90.
© Rajiv Dixit .