KSRTC Super Deluxe Review…
( By Antony Varghese )
Today (19-09-2013 ) I had a ride in KSRTC's new Super Deluxe air bus from Kozhikode to Ernakulam. The bus was RSC 678 (temporarily allotted to TVM now).
The looks and Build quality:
Except for the front, there is not much of difference in the exteriors when compared to the old RRC series deluxe buses. Livery and design is the same. But someone who enters the bus thinking that this is the same old style deluxe, then he will be surprised to see the interiors.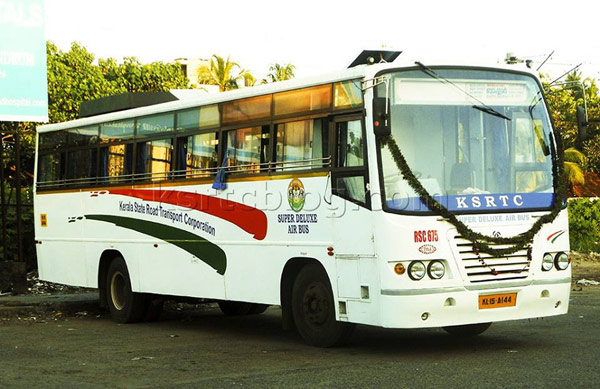 Fully illuminated by LED lights, the interiors looks awesome. For a bus build by KSRTC's own Workshop, by KSRTC's workers this is absolutely awesome…. All the lights inside the bus are LEDs. While the old buses had Fluorescent lamps. The blue night-lamp for me it felt a bit too bright.
The build quality has improved. Better materials, better finish. The luggage rack is now more spacious and more stylish.
The ride quality:
Ride quality was better than what I expected. I got seat no 29, which is right on top of the rear axle, but there was not too much jerking. The air suspension was perfect. The bus has enough body weight and also body roll was negligible when compared to old Deluxe buses and the present Super Fast or Express buses. Cabin separation has been done so there is absolutely no engine noise inside the passenger cabin. There was a question about leg room, whether it would be possible to incorporate 40 seats inside the bus with passenger cabin separated. But for a tall guy like me, I found that the leg room was adequate.
Speeds:
I tested the speeds using GPS on my mobile. I covered 196 km( according to GPS ) from Kozhikode to Edapally in 4h 45 mins. Top speed recorded on GPS is only 83km/h..!!!! The speeds might be locked at 80 km/h
Ratings: ( out of 100 )
Exterior Looks: 70/100
Interior Looks: 95/100
Body Quality: 95/100
Ride Comfort: 90/100
Leg room: 100/100
Overall Rating: 90/100