Top 4 Waterfalls in Wayanad !
Wayanad is one of the most visited tourist palace in Kerala, It is famous for its lakes, hills and waterfalls and also the home stays and resorts in wayanad are famous for their hospitality. Exploring the beauty of wayanad will give the visitors an awesome experience they can cherish for their lifetime. Among all the wonderful places in wayanad its waterfall's adds more awesomeness to the visit. Lets have a look at those beautiful waterfalls in wayanad.
1. Meenmutty waterfalls
Meenmutty lies in a location 29 kms from Kalpetta, it is the biggest among other waterfalls in the state with a height of 300m and also the most chilling sight in wayanad. The reason behind the name meenmutty is the concept that fishes gets blocked here. Meen means Fish and Mutty means Blocked in Malayalam which is the native language of Kerala.
The most thrilling part about reaching meenmutty is that you will have to trek a two kilometers distance through the forest. Which all the adventure tourists would love doing. And once you reach the waterfalls, it is a mesmerizing sight.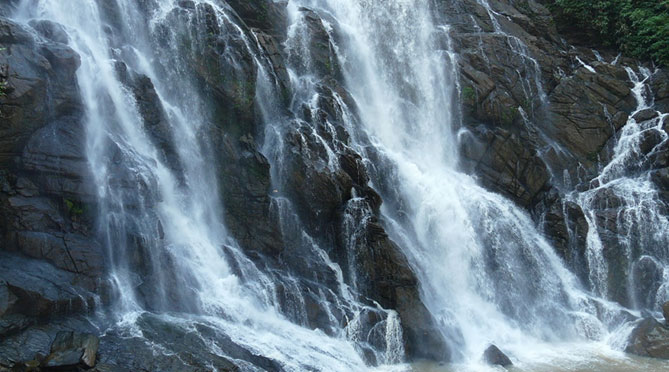 But you should very careful when you play around the waterfall because meenmutty is considered as one of the dangerous spots in wayanad and due to that reason visiting meenmutty during monsoon is not such a good idea. But October to May is recommended to be the best time to visit meenmutty.
2. Soochipara waterfalls
Soochipara waterfalls surrounded by dense green forest and located in Vellerimala is a three tired waterfall. It is known to be the sentinel Rock Waterfall in Wayanad. You can reach soochipara by travelling for just 20 minutes from Meppadi . It is named as Soochipara Because of needle shaped rock near the waterfall the words 'soochi' means 'needle 'and 'para' means 'rock' in the regional language Malayalam.
As the vehicles can't reach near the waterfall, you have to walk atleast 2kms to get there
A fee for entering and camera usage will be charged at the entrance.  The water falls down from a height of 200 ft and forms a pool beneath it where the visitors can swim and bath. This altogether makes soochipara and excellent location for rock climbing and trekking
Monsoon is recommended to be the best time to visit Soochipara waterfalls.
3. Kanthanpara waterfalls
Kanthanpara waterfalls is situated twenty kilometers away from Kalpetta, The most beautiful thing about Kanthanpara is the path leading to the waterfalls, it will definitely be a memorable experience for you. This waterfall is smaller compared to other major waterfalls like Soochipara and Meenmutty, water falls from a height of 30 mtrs here. And that makes Kanthanpara waterfalls safe for children.
The beauty of the greenery surrounding this waterfall makes it a major tourist attraction and also it is the only easily reachable waterfalls in Wayanad. Bus and taxi services are a lot available to reach kanthapara falls.
4. Chethalayam waterfalls
The amazing Chethlayam  waterfalls is just 12 kms away from Sulthan Bathery, Wayanad. Visiting chethalayam Waterfalls will give you an awesome experience that you will never forget. The adventure tourists will love this place as it is supposed to trek a 4km distance through the woods to get there.
If you are planning for trekking , you must visit chethalayam as it is one of the best trekking places in wayanad, Exploring the beauty of nature surrounding this place will leave an unforgettable experience in your heart.
So get your backpack ready and make a visit to these mesmerizing waterfalls in Wayand.
Videos © Various Youtube Channels