Aranmula Vallasadya with Over 70 Vegetarian Dishes – Largest Traditional Ritual Feast
Valla Sadya is a celebration in the Hindu temple at Aranmula, Kerala, India. During the festival the village conducts a snake boat race in the Pampa River, and there is a feast at the temple. The Valla Sadhya is conducted on Ashtamirohoni day. During Valla Sadhya, Lord Krishna, the main deity worshipped in the temple, will come to take the offerings from people. The legend is that in a Valla Sadya all dishes asked for must be given to the people in order to please the lord.
The Valla sadya is a unique mass feast with strong devotional moorings, given to the crew of Palliyodams (snake boats) which the devotees consider a divine vessel of Lord Krishna, presiding deity of Aranmula Sree ParthaSarathy Temple. People from different palliodams reach the temple in their respective boats to take part in the valla sadya.
Valla sadya is conducted by the devotees as a "Vazhipadu" to the lord ParthaSarathy. The Valla sadya is dedicated to any of the boat. On the valla sadya day, the oarsmen will come to the Temple in the boat through the river. The oarsmen offered Nirapara to the presiding deity at the Nadappanthal in front of the golden temple mast and went round the temple chanting Krishna bhajans (Vanchi pattu). The entire atmosphere was charged with the rhythmic vanchi pattu, songs in praise of Lord ParthaSarathy. The `vallasadya' began immediately after the utcha pooja at the temple. They were given a rousing reception. They circumambulated the temple, chanting the `vanchi pattu', verses in praise of Lord Krishna, before partaking of the valla sadya.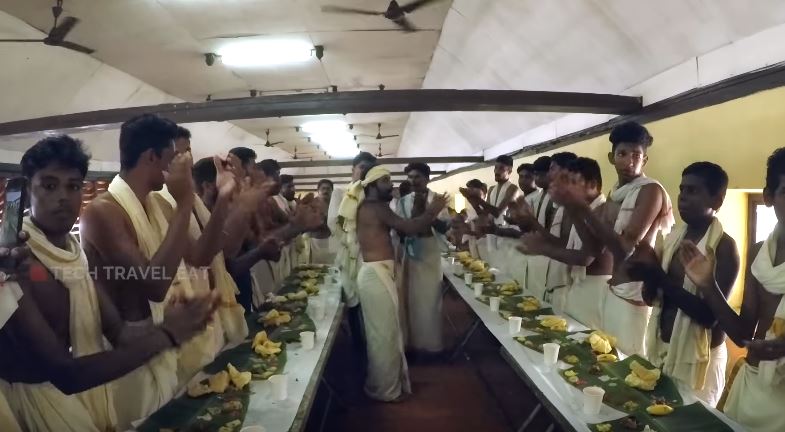 On the day of Krishna's Birthday – Ashtami Rohini day, the Valla sadya is conducted for all the devotees of lord ParthaSarathy. Around 1 lakh people are attended every year. Most of the palliodams are attending this feast.Rice with 45 side dishes were served at the Sadya on banana leaves including the following side dishes.
Adaprathaman. (Pudding); Aravana payasam. (Pudding made from rice, jaggery and ghee); Aval (flattened rice); Avial (Mixed vegetable curry); Banana chips; Chammanthi powder (Chutney with chillies); Chukku vellum (dried ginger water); Curd; Ellunda (gingelly ball); Fried banana; Ghee; Ginger curry; Holy water from river Pampa; Kaalhen (curry made from curds); Kaalipazham payasam (Pudding made of banana); Kalkandum (Sugar candy); Kadala Prathaman (made of Bengal gram) ; Kychadi (Curry made of rice and gram); Mango curry; Munthiri pachadi (Curry made of grapes); Olen, (mixed curry); Pacchadi (A vegetable curry); Paal payasm (Pudding made of Milk); Pachamoru; Pulisserry (Curry prepared with thick and sour buttermilk); Resam; Red Cheera Thoran (made with a variety of amaranthus); Sambar; Thakara Thoran (Thoran with cassia tora); Unniappam.