What are the things that we cannot carry in a domestic flight in India?
Items Which Cannot Be Carried In Hand Baggage And Even As Checked -in Baggage.
Sharp Objects
Box Cutters, Ice Axes/Ice Picks, Knives (any length and type except round-bladed, butter, and plastic cutlery), Meat Cleavers, Razor-type blades such as box cutters, utility knives, razor blades not in a cartridge, but excluding safety razors, Sabres, Sword
Sporting Goods
Baseball Bats, Bows and Arrows, Cricket Bats, Golf Clubs, Hockey Sticks, Lacrosse Sticks, Pool Cues, Ski Poles, Spear Guns.
Guns and Firearm
Ammunition, BB guns, Compressed Air Guns, Firearms, Parts of Guns and Firearms, Pellet Guns, Realistic Replicas of Firearms, Starter pistols.
Tools
Axes and hatchets, Cattle Prods, Crowbars, Hammers, Drills (including cordless portables power drills), Saws (including cordless portable power saws), Screwdrivers (except those in eyeglass repair kits), Tools (including but not limited to wrenches and pliers), Wrenches and Pliers.
Martial Arts/Self Defense Items
Billy Clubs, Black Jacks, Brass Knuckles, Kubatons, Mace/Pepper Spray, Martial Arts Weapons, Night Sticks, Nunchakus, Martial Arts/Self Defense Items, Stun Guns/Shocking Devices, Throwing Stars
Banner Items
Explosive Materials
Such as Flare Guns, Gun Lighters and Gun Powder, Explosive material. Blasting caps, Dynamite, Fireworks, Flares (in any form), Hand Grenades, Plastic Explosives and Realistic Replicas of Explosives.
Compressed gases
Such as (deeply refrigerated, flammable, non-flammable and poisonous) Such as Butane, Oxygen, Liquid nitrogen and Aqualung cylinders. (deeply refrigerated, flammable, non-flammable and poisonous)
Flammable Items
Such as Aerosol (any except for personal care or toiletries in limited quantities), Fuels (including cooking fuels and any flammable liquid fuel), Gasoline, Gas Torches, Lighter Fluid, Strike anywhere matches, Turpentine and Paint Thinner, Realistic Replicas of Incendiaries
Oxidizing materials
Such as bleaching powder, peroxides
Poisonous and infectious substances
Such as insecticides, weed-killers and live virus materials.
Radio-active materials
Corrosives
Such as acids, alkalis, mercury,wet cell batteries (except those in wheelchairs), oven or drain cleaners
Other dangerous articles
Such as magnetized, offensive or irritating materials.Briefcases and attaché cases with installed alarm devices
Restricted Items
Certain other items such as the following may be carried only with advance approval according to policies of Air India, interlining carriers and local regulations. Battery-powered wheelchairs with spillable/non-spillable batteries, dry ice, portable medical electronic devices etc.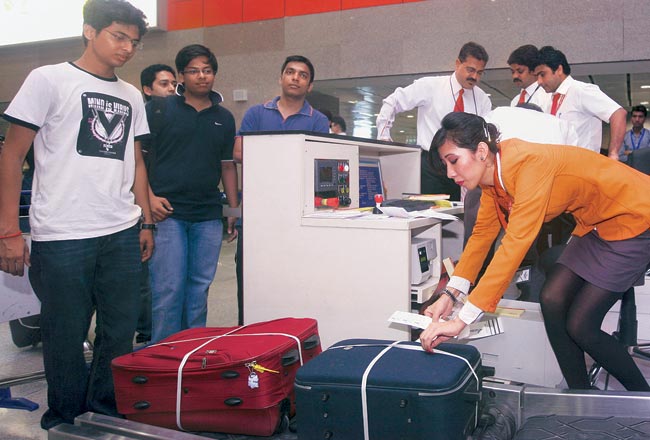 Ban on Carriage of Lithium Battery Powered Self Balancing Devices in Passenger Baggage.  Improper carriage of baggage can put one through a lot of inconvenience. Passengers are therefore advised to ensure their baggage is properly packed and tagged. The following tips will be handy.
Make sure you know your free checked baggage allowance. Don't pack any valuables in your checked baggage. Any items over your allowance will be charged as excess baggage. Label your bags correctly with your name and address and remove tags and labels left over from previous flights.
Make sure you know your hand baggage allowance and the latest restrictions on carriage of certain items in your hand baggage. Make sure you take medication, important documents, valuable items and cash in your hand baggage. Do not carry packages with unidentified contents on behalf of other people. In some instances you may be required to identify or claim your baggage, for security or local customs reasons, at the connecting point.
Do not accept any packets from unknown persons. Do not leave baggage unobserved at any time, especially within airport area. Unattended baggage may be removed by Airport Security Staff as an object of suspicion. Make sure you declare before checking-in, if carrying any arms or explosive substances. Concealment is an offence under the Aircraft Act and Rules.
Battery cells in any electrical / electronic items are permissible now & will now not be removed at the security point. Loose battery cells / dry cells carried in the hand baggage are liable to be removed and the airline would not be in a position to hand over the same at the destination. Please carry the same in the checked baggage.
Before approaching the check-in counters, you may be required to pass all your pieces of baggage to be checked in through the X-ray machines operated by security personnel
Credits – Prakash TamilNadu