Street Food In Chennai – Best Places To Munch On Some Tasty Food
Chennai, the place of origin of the "Chicken 65" dish, is a top food destination. It has a lot more to offer than just idli and dosa. Its rich and vibrant culture is reflective of its varied food palate. The capital of Tamil Nadu has a wide array of street foods. It was featured in the second spot in National Geographic's list of "Top 10 Food Cities" from around the globe. If you're a foodie, you cannot give this city a miss.
So here's your very own guide to scrumptious Street Food in Chennai.

1. Idly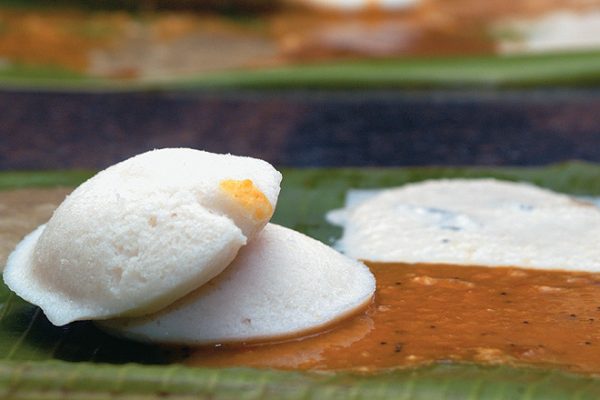 Being the staple food of Tamil Nadu, Idli is readily available on almost every street corner. It is made from rice and is usually served with sambar and coconut chutney. Murugan Idly Shop is a popular joint in Chennai which serves their idlis with a wide variety of chutneys. Although the process of making these is quite easy, however, not everyone can get them to be fluffy and as light as air.

Top 3 Places to Eat Idly in Chennai
1.Murugan Idly Shop
2.Idly Factory
2.Idly Express
Cost for two: INR 100 (approx)
2. Chaat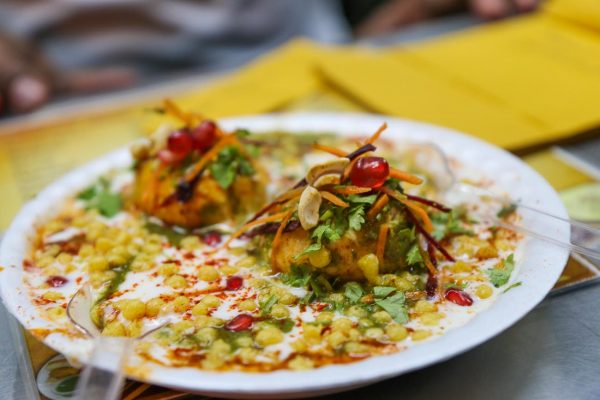 Mint Street in Chennai is the place to go to if you are looking for some good chaat. This North Indian street food is a hit among the locals. Kakada Ramprasad is a popular shop on this street that serves some delicious chaat items. You must try their Aloo Tikki chaat, which is just the right amount of crispy.

Top 3 Places to Eat Chaat in Chennai
1.Hemanth Chats
2.Kakada Ramprasad Chats and Sweets
3.Ganga Chats
Cost for two: INR 50 (Approx)
3. Atho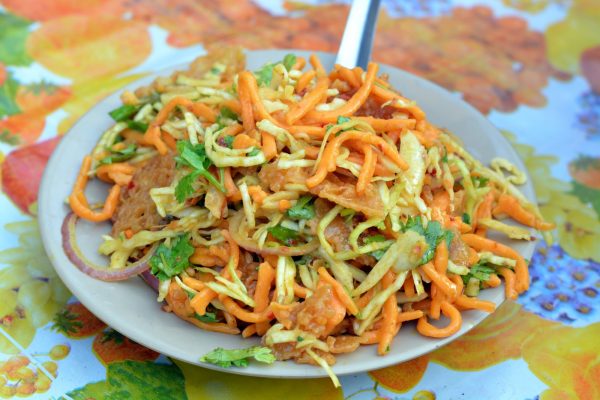 Originally a Burmese dish, Atho is a popular street food in Chennai. It consists of noodles served with vegetables. Head over to the Burma Bazaar or Beach Road where lines of roadside stalls sell this unique street food. Atho Man, a food joint on G.A. Road, serves various types of Athos and is worth a shot.

Top 3 Places to Eat Atho in Chennai
1.Atho Man
2.Atho Corner
3.Mulberry Star Burma Atho Shop

Cost for two: INR 200 (Approx)

4. Pani Puri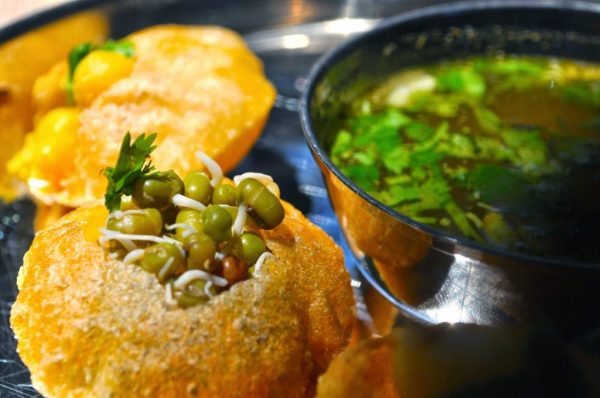 Pani Puri or Gol Gappa is a popular street food across India. In Chennai, the locals head over to Mint Street to snack on pani puris. Among the various street vendors, one particular vendor stands out. It is for Vishnu's Pani puris that people queue up. He has been in the business for more than 40 years and to this day sells pani puris from the exact same spot.

Top 3 places to eat Pani Puri in Chennai
1.Vishnu's Pani Puris
2.Gangotree
3.Shree Mithai
Cost for two: INR 40 (Approx)
5. Uthappam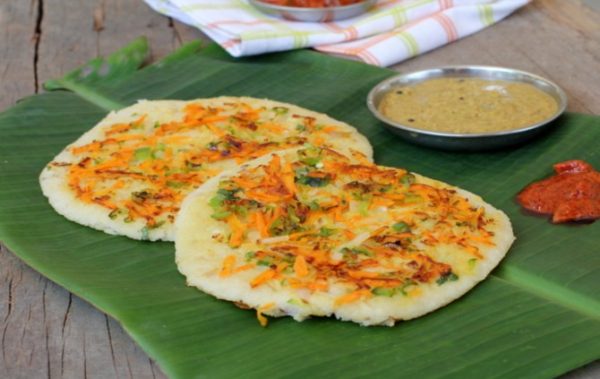 Uthappam is another popular South Indian dish. Unlike a dosa, it is a lot thicker and filled with vegetables and is usually served with sambar or chutney. No other place serves better Uthappams than Seena Bhai Tiffin Centrewhich has been selling the same items for 36 years. Located in Mint Street, George Town, people come here from all across Chennai to indulge in their only two dishes, ghee uthappam and ghee idli.

Top 3 Places to Eat Uthappam in Chennai
1.Saravana Bhavan
2.Anachi Dosai Kadai
3.Ratna Cafe
Cost for two: INR 150 (Approx)
6. Bhajji
Bhajjis, similar to a pakora, is a snack that is popular in many parts of India. In Chennai, this is served with different chutneys and is loved by the locals. Jannal Kadai in Mylapore is a small window shop where people line up to have their bhajis with a special chutney. One can also find some excellent bhaji outlets on East Mada Road.

Top 3 places to Eat Bhajji in Chennai
1.Mak N Bhajji Shop
2.Nair Mess
3. Jannal Kadai in Mylapore
Cost for two: INR 40 (Approx)
7. Jalebi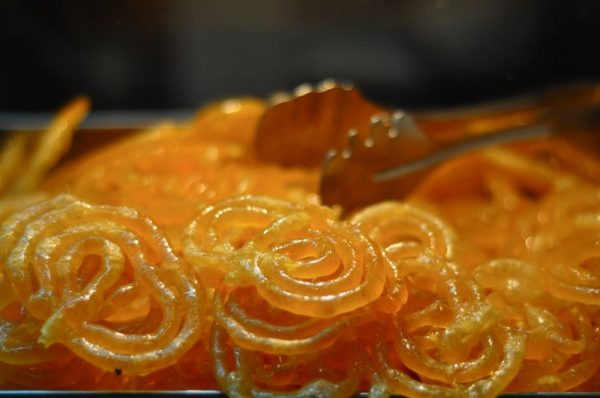 Jalebi is a sweet which is loved by one all. It is usually served with rabri, but one can have it by itself as well. Ram Prasad's Jalebii stall in Sowcarpet is where one can find the crispiest jalebis. He has been in business for more than 20 years and has a huge customer base.

Top 3 Places to Eat Jalebi in Chennai
1.Ram Prasad's Jalebi stall
2.Shubh
3.Rotiwala
Cost for two: INR 200 (Approx)
8. Puttu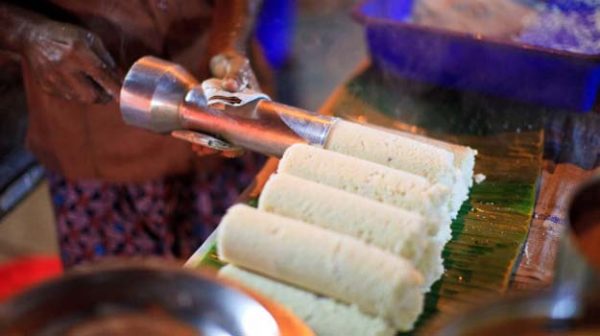 Puttu is a breakfast dish made from rice and topped with coconut. In Chennai, under the North Usman Flyover, a guy by the name of Ismail sells puttus made from black rice. The puttus are garnished with coconut and sugar and are priced at just INR 10 per packet. One must give these a shot.

Top 3 Places to Eat Puttu in Chennai
1.Maplai
2.Nair Mess
3.Ente Keralam
Cost for two: INR 300 (Approx)
9. Sundal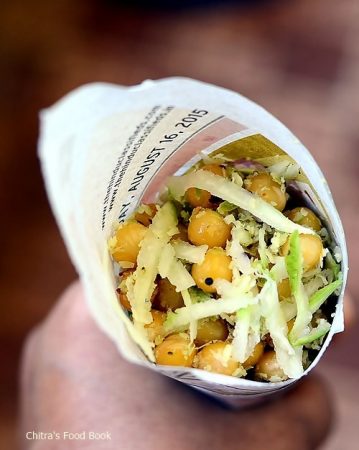 Sundal is one of the most popular street foods in Chennai. It is made from boiled chickpeas mixed with onions and finished off with shredded coconut. You can find this at many beaches in Chennai, but the one at the Marina Beachis worth trying.

Top 3 Places to Eat Sundal in Chennai
1.Mathsya
2.OSB hot and chat
3.Royal Sandwich
Cost for two: INR 30 (Approx)
10. Idiyappam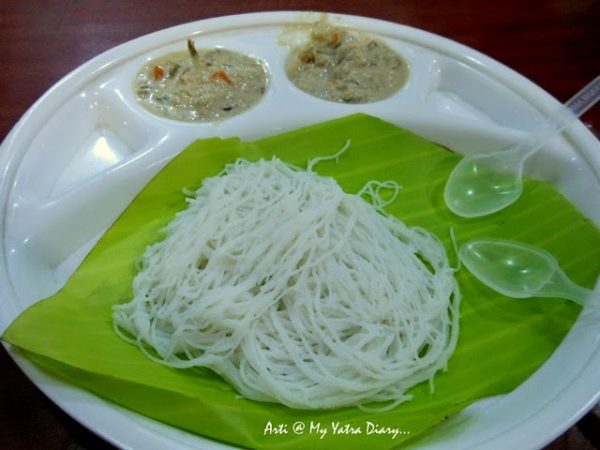 Idiyappam is a lot like noodles but is made with rice flour and is usually served with coconut milk or a curry. It is very popular in the Southern states of India and is mainly a breakfast dish. Head over to Srinivasan Road in T Nagar, where you'll find various food stalls selling this culinary treat.

Top 3 Places to Eat Idiyappam in Chennai
1.ID
2.Kaaraikudi
3.Kozhi Idli
Cost for two: INR 100 (Approx)
11. Kuzhi Paniyaram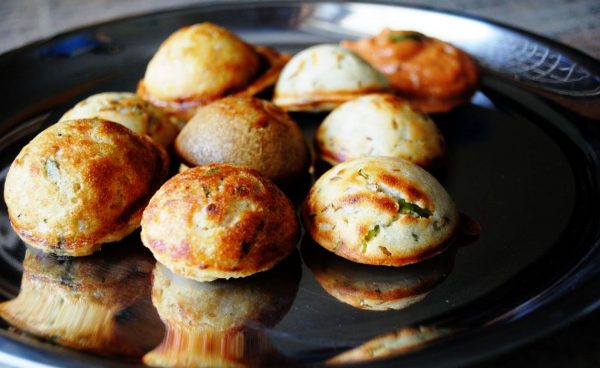 Kuzhi Paniyaram can be served as a savoury or a sweet. It is made from black lentils, and rice and the preparation process is similar to that of an Idli. You will find this speciality on the streets of T. Nagar, specifically on Venkatesan Street. There's one particular street vendor who sells Paniyarams, both sweet and spicy and is quite popular among the locals.

Top 3 Places to Eat Kuzhi Paniyaram in Chennai
1.The Old Madras Cafe
2.Murugan Idli Shop
3.Dakshina Puram
Cost for two: INR 250 (Approx)
12. Samosa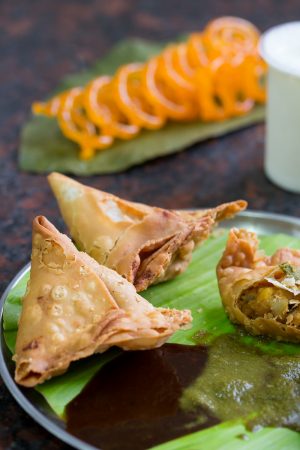 Samosa is the go-to snack for everyone on a rainy day or a cold winter afternoon. It is very popular in India and is of various kinds. In Chennai, people usually go to Sowcarpet to indulge in chaat items. However, Sri Karpagambal Kapali Sweet Stall in Mylapore is where you will find some lip-smacking onion samosas. They are tiny but are heavenly. You can also snack on mint pakoras, both being very easy on the pocket.

Top 3 Places to Eat Samosa in Chennai
1.Sri Karpagambal Kapali Sweet Stall
2.The Samosa Factory
3.Samosa Treat
Cost for two: INR 100 (Approx)
13. Kulfi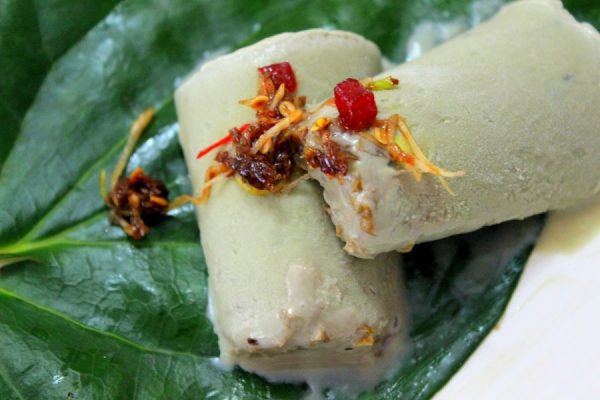 Kulfi, a denser and creamier version of ice cream, can be found everywhere across the country. In Chennai, people line up outside the small outlet of Tewary's in Lake Area which serves various types of kulfis from the traditional malai ones to the newer coffee flavour ones. You can also find various kulfi stalls on Mint Street.

Top 3 Places to Eat Kulfi in Chennai
1.Bombay Kulfi
2.King's Kulfi and Natural Ice cream
3.Kulfi House
Cost for two: INR 150 (Approx)
14. Dosa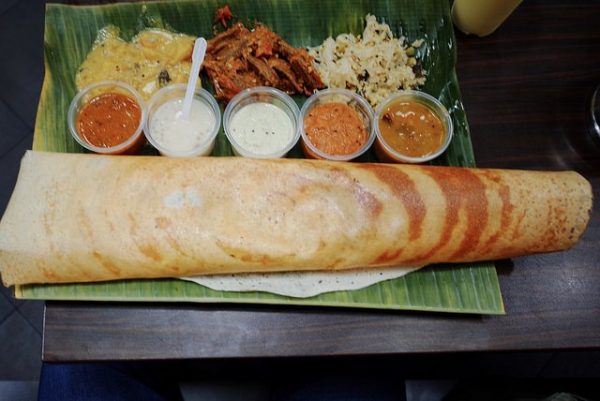 Dosa is a staple food of South India readily available at every street corner. They are made from rice and are crisp, light and also easy on the pocket. You can find various food stalls in T. Nagar area which serve Podi Dosa usually with ghee. They are available at a price of INR 30 and are delicious.

Top 3 Places to Eat Dosa in Chennai
1.Remix Dosa
2.Krishna's Dosa Kadai
3.Dosart
Cost for two: INR 200 (Approx)
15. Kothu Parotta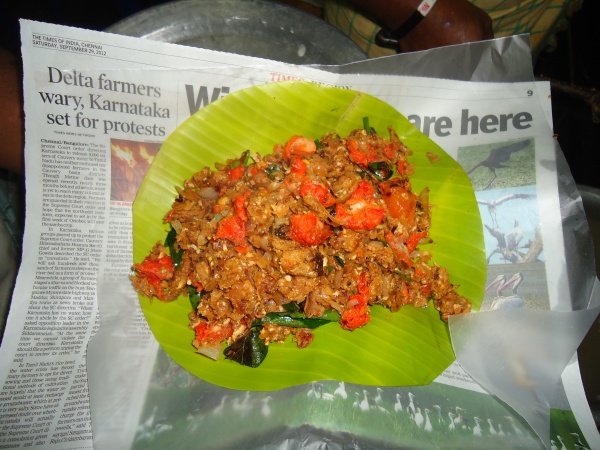 Parotta, made from flour, is a flatbread that is a typical street food and is much like the North Indian Lacha Parantha. Kothu Parotta is made from shredded parotta, mixed with either egg, meat or vegetables. A lot of restaurants also sell this delicacy. However, it tastes the best on the streets of Chennai.

Top 3 Places to Eat Kothu Parotta in Chennai
1.Thambi Vilas
2.Madurai Kumar Mess
3.Maplai
Cost for two: INR 350
Chennai is all about street food. A trip to the city is incomplete without visiting the streets of Sowcarpet which offer some of the best street foods of Chennai. You can find the most staple dish of Southern India to North Indian street foods like Gol Gappas, all in these lanes. So, the next time you are in the city, do not forget to try the street food in Chennai.
Article created by – Akshita Rawat. Source – holidify.