Mumtaz Kazi, the first woman diesel engine Train driver in Asia
We bring to you – a day in the life of Mumtaz Kazi. With an experience of over 20 years, she now serves one of the most crowded railways in the world, the Mumbai Local. She tells us what inspired her. (Audio in Hindi)
On International Women's Day,  Mumtaz Kazi Kathawala, says she is proud of her job and encourages women to be confident as they have the capacity to do all kinds of work
In September 1991, Mumtaz Kazi, barely 20 years of age, operated her first locomotive amid thundering applause from commuters and colleagues.
She became the first Indian woman to drive a diesel locomotive — an achievement that would inspire several young girls to dream the impossible, a feat, we believe, will also outlive her career.
Born in a traditional middle class family, all her parents cared was to give their kids the best education they could.
Little did they know that one of their daughters would soon write history.
When I met her at the Chhatrapati Shivaji Terminus where she was supposed to sign off for the day, she was dressed in salwar kameez.
When I obliged her for a picture, not once did she adjust her hair or look for a mirror to see if she was prepared.
She just sat in her chair and attempted to smile.
"I can laugh, but I cannot smile. I get conscious," she confessed later.
In a no-holds-barred conversation, the 44-year-old mother of two, recounts her life's journey in her own words and shares the secret to being independent, successful and grounded.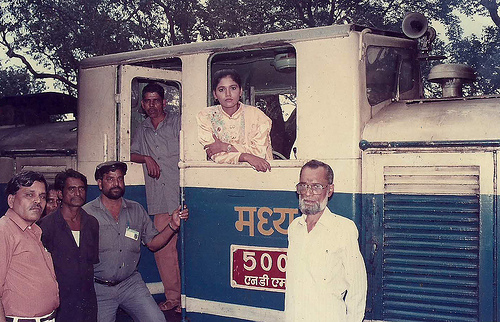 Inspiration
My Abba was a trunk superintendent with the Indian Railways and he had a lot of motorman friends.
Abba would come home and tell us interesting stories of motormen — the challenges they face everyday, the thrill of ferrying passengers etc.
When I was a child, I always loved speed.
I stayed in the railway quarters and grew up watching the local trains pass by our house.
Local trains being the lifeline of Mumbai, I always dreamt of driving one some day.
After completing class 12, I was pursuing Diploma in Medical Laboratory from the SNDT University when I got selected for motorman training.
I applied for the job in 1988 and appeared for a written test in 1989, followed by interviews and medical fitness tests, all of which I cleared with high marks.
During the training, I was the only female in the batch of 50 men.
Abba was very worried and expressed his concerns to our instructor — Bhupendra Singh.
Singh Sir told Abba that I was like his own daughter and that he need not worry. He promised to take good care of me, which helped Abba relax a bit.
I started my career in September 1991 as a diesel locomotive assistant driver.
I was the first woman to drive a diesel locomotive and my achievement is mentioned in the Limca Book of Records.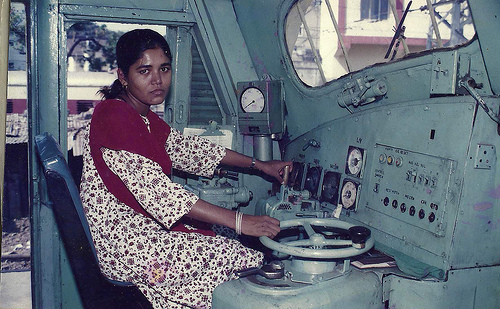 Challenges
In my 13-year-career I have performed rigorous tasks like shunting, coupling — tasks that were once assigned only to men.
I have never shied away from or given excuses from taking up a dangerous task because I am a woman.
Besides technical knowledge, judgement and presence of mind, there is a lot of physical labour and strength required to be a locomotive driver.
If you're driving a train from a car shed you have to climb up to reach the door using all your might. Also, the brakes in certain locomotives need to be applied by turning the wheel a good 20 or more times.
This requires a lot of physical strength which all women are not cut out for.
If you have a family to look after and you have an early morning or late evening shift, you need to have a proper system in place.
Unlike other professions, a motorman cannot afford to be late.
A few seconds delay can cause major traffic snarls and invite the wrath of commuters, who are reliant on our services.
In 2005, I was driving this train ahead towards Mumbai CST.
After crossing Mumbra station, just ahead of reaching the tunnel, a lady came out of nowhere and sat on the track.
I honked and gestured her frantically to move away while trying to apply brakes. But there was nothing I could do.
The woman simply sat there and refused to budge; I learned that she wanted to commit suicide.
I ran over her and for the next three days I could neither eat nor drink. I kept blaming myself for the incident.
It took me some time to get over that incident but those are some instances when you feel that this job comes with a lot of responsibility and risks.
The perks
I have lost count of the awards and recognition I have received in the last few years. Wherever I go, people look up to me with respect.
I started my career with a salary of Rs 3500 and today I earn at par with my male colleagues.
Besides maternity leave, women employees in the Indian Railways get a child care leave of up to 2 years, which we can claim any time before our children turn 18.
There is no denying the struggles we face, but there are lots of benefits that women enjoy that men don't, so we need to be thankful for that.
Lessons learned
In Quran there is a saying which translates that 'If you make a wish when you're travelling, it will almost certainly come true.'
I always start my journey with a small prayer — I pray to Allah that He help me and the passengers of my train reach their destinations safe. He has always protected me and I derive great strength from Him.
I have been very lucky and blessed to have encouraging colleagues who have supported me in this journey and helped me learn things without discriminating me for my gender.
Advice
By nature, women tend to be very negative and emotional.
When they have a problem, they fail to look at the solution and end up suffering in misery.
I would urge all — to encourage their children to study well and inculcate good moral values in them — religious or otherwise.
Parents should treat their daughters and sons with equal respect and give them a fair chance at education and life.